Water Treatment Media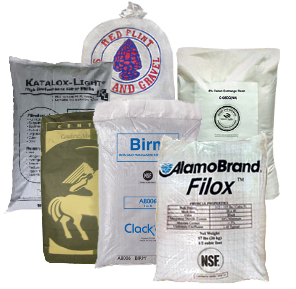 HomePlus Water is pleased to offer a range of water treatment media and resins for all common water treatment applications - ideal for re-bedding existing filters and water softeners.
If you need assistance in selecting the best media for your water treatment application, please do not hesitate to give us a call toll free at 1-866-376-2690. One of our certified water treatment professionals would be pleased to assist you.
Please note: if you are replacing media in an existing water treatment system and you want to change to an alternative media, please consult one of our staff for recommendations regarding possible changes to your control valve settings. You may need to adjust backwash and other settings to ensure optimal operation of your new media.
Choose a category:
Iron Filter Media
Sediment and Turbidity Reduction Media
Arsenic and Heavy Metals
Hardness Removal (Water Softener Cation Exchange Resins)
Tannins and Organics
Salt-Free Hard Water Conditioning (TAC) Media
Acid Neutralization Media
Chlorine Removal / Taste and Odor Improvement (Activated Carbon)
Hydrogen Sulfide
Underbed Gravel
Replacement Media Kits