Purolite&reg A860 Anion Tannin Removal Resin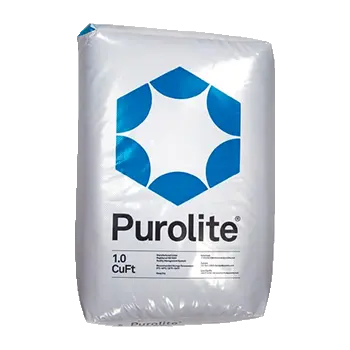 Purolite&reg
A860 Tannin Resin
MSRP: US$313.00

Starting at: US$

230.47

Choose Option:

Bulk quantity discounts available. For bulk

quantities, please call 1-866-376-2690 for price quote.


Found a Lower Price?
Request a Price Beat
Purolite&reg A860 is a highly popular and effective anion exchange resin for the removal of tannins and natural organics
Purolite&reg A860 is designed specifically for the removal of tannins and dissolved organic matter from surface water to improve color and taste, and reduce organic precurssors that could lead to disinfection by-products formation upon chlorination.
Purolite&reg A860 is a strong base anion exchange resin (type 1 macroporous) with an acrylic matrix. Purolite&reg A860 demonstrates excellent regeneration capacity with a standard 10% salt brine (sodium chloride). A860 has a high capacity and strong resistance to fouling. It is an excellent choice for most surface water treatment applications where general tannin and organics removal is a primary objective.
highly effective removal of tannins and other organic carbons
efficient regeneration
good resistance to organic fouling
certified by the WQA to NSF/ANSI 61 standard for material safety
safe and effective choice for potable water applications

Purolate&reg A860 is a popular replacement for Viqua Tannin Resin MIN-IRA958 which was used in all Viqua brand tannin filters prior to 2018.
Operating Conditions / Requirements:
Physical Form:
White/off white opaque spherical beads
Functional Group:
Quaternary ammonium
Regenerant:
Sodium chloride (Salt) - 10%
Rec. Service Flow Rate:
1-5 GPM/ft2
Flow Direction:
Downward Flow
Backwash Flow Rate:
5-6 GPM/ft2
Minimum Bed Depth:
24 Inches
Typical Freeboard:
50%-70%
pH Range:
6 to 11
Maximum water Temperature:
176F (80C)
Weight:
42.5 to 45.6 lbs per Ft3