Emergency Solenoid Valve Kits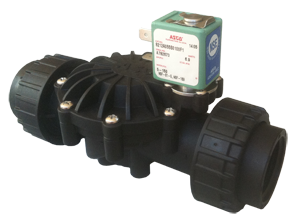 Many UV systems can be equipped with an emergency solenoid shut-off kit. A solenoid is an electromagnetic device that moves a plunger up and down when a current is passed through a coil that surrounds the plunger. The valve defaults to a specified fail-safe (turns off water supply), upon loss of power or a serious alarm condition such as decline in UV output or lamp failure. Therefore, the water flow will cease if there is a loss in power, a lamp failure, or a loss of UV output below a safe dosage level, thereby providing extra safety and security to your UV system.
Why is this important? In the event of a power failure or electrical outage to your home, your UV lamp in your UV system will lose power. This could leave your home unprotected if someone turns on a water faucet. Some bacteria and other waterborne pathogens can also swim past an un-powered UV lamp and reach the downstream portion of your water system and therefore not receive a dose of UV light once the power is restored. The same situation could occur in the event of a UV bulb failure or in the event of a reduction in UV lamp output (drop in UV intensity below safe dosage level). The solenoid emergency shut-off valve is normally installed at the output of your UV system and will physically close a valve in the event of a lamp burn-out, or power failure, thereby preventing any contaminant from passing through the system untreated. This feature will also turn off the water supply if there is a UV intensity decline below a safe treatment level in all for models equipped with a UV intensity monitor.
An emergency solenoid shut-off kit is highly recommended for all homes with a known bacterial, virus, or cyst contamination problem, and for all homes with an electrical supply that is prone to frequent outages.
Sterilight Solenoid Valve Kits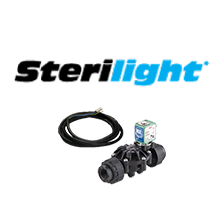 install an emergency shut-off valve (solenoid) for your Sterilight UV
- More Info -
UVMax Solenoid Valve Kits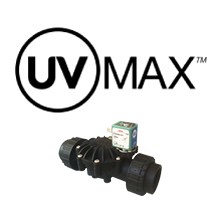 install an emergency shut-off valve (solenoid) for your UVMax UV system
- More Info -