Enpress PIONEER™ Premium Whole House Filter System
Designed and independently-certified for the removal of lead, PFOS, PFOA, and cysts. Also removes chlorine and chloramine. Ideal for city water treatment!
Note: Price includes required CT-05-CB-AMYCL cartridge. Some of our competitors do not include the cartridge with the system!
Enpress
PIONEER™ Filter System
INCLUDING CARTRIDGE
CTA0840BBKP5-04C00 + CT-05-CB-AMYCL
MSRP:

US

$

1,978.00
Our Price: US$1,232.76
You save: $745.24
Found a Lower Price?
Request a Price Beat


Lowest Price Guaranteed!
If you find a lower price on this product call us or Click here to request a price beat.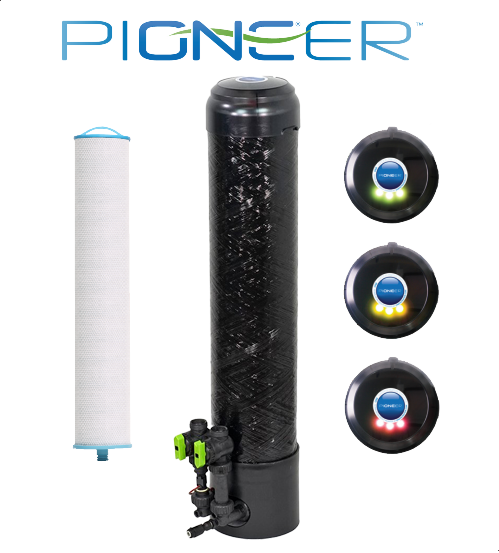 Description
Lead
PFOS / PFOA
Chlorine / Chloramine
Cysts
Specs
FAQ
Literature
Warranty
Description, Features & Benefits
Enpress Part Numbers: CTA0840BBKP5-04C00

Enpress PIONEER™ is an innovative whole house water treatment system designed specifically to address some of the most common and concerning contaminants found in modern city water. Moreover, it is one of the only whole house water filters that is independently tested and certified to remove these contaminants.
In addition to removing chlorine and chloramine which cause bad tastes and odors, dry skin and hair, and other aesthetic concerns, Enpress PIONEER™ is designed to remove both soluble and particulate lead, as well as PFOA and PFOS which are implicated in a wide range of serious health effects. PIONEER™ also removes extremely fine sediments down to 0.5 microns and is even certified to remove 99.95% of waterborne cysts like Cryptosporidium and Giardia (Beaver Fever). The Enpress PIONEER™ is based on the unique Enpress ONE cartridge tank. The lightweight, cost-effective tank connects to your plumbing at the point where water enters your home. It is designed for convenient and easy hook up to existing connections in most residential or light commercial installations. A convenient snap-ring design makes replacing the filters within the tank a breeze - no tools required!
The cartridges have a long life (100,000 gallons for lead, PFOA and PFOS removal; up to 300,000 gallons for chlorine removal, and up to 150,000 gallons for chloramine removal). Convenient status indicator lights let you know when to replace your filter cartridge.
See specifications tab for flow rate, contaminant removal, and other important performance data.
Features and Benefits:
ideal for city water treatment
independently tested and certified for the removal of soluble and particulate lead, cysts, PFOS and PFOA
removes chlorine and chloramine, and improves taste and odor
high flow rates with limited pressure drop
LED status lights provide visual notification of filter status and need for replacement
100% non-metallic - will not rust!
patented no-tools required snap ring design for fast and easy cartridge replacement
Press the red pressure relief button, pull the snap ring, and lift off the cap! It's just that easy!

The Cartridge Tank is NSF 44 and 61 listed and has been tested to 150 psi operating pressure with 4:1 Burst Safety Factor.
Lead Reduction

The Enpress PIONEER™ is independently tested and certified by IAMPMO, a leading testing authority, to meet NSF/ANSI 53 standard for the reduction of lead.
Until it was banned in new home construction in the mid 1980's, more than 70% of cities in the U.S. and Canada were using lead-based products for conveying water, because it was less expensive and more durable than iron. Lead pipe could be easily bent, allowing pipes to be shaped to conform to the contours of existing buildings or other structures. Lead was also used in solder to connect copper and brass pipes and fittings. Lead can enter drinking water when service lines, solder, and fittings that contain lead corrode, especially where the water is acidic or has a low mineral content. This most often happens in the pipes that carry water from the water treatment plant to water mains under the street supplying homes. Lead release is heavily influenced by the chemistry of the water delivered by the water system and by physical disturbances such as road construction or water main replacements.
Lead is widely recognized as being toxic and its level in drinking water is closely regulated by the U.S. EPA and Health Canada. There is no safe level of lead for the human body and unlike other metals, it has no useful biological function. Even low concentrations of lead in water can cause a significant increase in blood lead levels and any damage is irreversible.
The adverse effects of lead poisoning are shown most prominently in young children and fetuses where the brain is still developing, and can lead to permanent brain damage causing mental and physical retardation, learning disabilities, and a variety of behavioral problems. According to the Centers for Disease Control and Prevention, lead exposure can affect nearly every system in a child's body, inhibiting the development of both physical and mental abilities. For those of all ages, lead poisoning can lead to kidney problems, high blood pressure, organ damage/failure, anemia, and, in high enough levels, convulsions and even death. It is estimated that 18 million Americans live in communities where their water system is in violation of U.S. EPA guidelines for lead content in drinking water. Many more individuals drink water contaminated with lead levels that are below the federal action limit, but that still exceed goal levels. Moreover, the problem of correcting the underlying causes of the lead contamination is very complicated and in many cases involves massive public infrastructure replacement projects that require years of planning and billions of dollars. Accordingly, while regulators are well aware of the problems, in many cases these problems are likely to persist for a long time. Lead can occur in drinking water both as a dissolved or soluble form and also as very fine particles. You can't see it, taste it, or smell it, so many homeowners are unaware that there water is contaminated.
Fortunately, the Enpress PIONEER™ removes both forms of lead. Soluble lead chemically reacts with binders in the PIONEER's activated carbon matrix to create an ionic bond, kinetically removing lead from the water. Ionic bonding is a chemical bond that involves the electrostatic attraction between oppositely charged ions. Particulate lead is mechanically removed by the 0.5 micron rated filter which can remove particles more than 100 times smaller than the diameter of a human hair!
PFOS / PFOA Reduction

The Enpress PIONEER™ system has been tested and third-party certified to meet the PFOS and PFOA removal requirements under NSF/ANSI Standard P473, one of only a small number of whole house filter systems to have this certification.
Perfluorooctanoic acid (PFOA) and Perfluorooctane sulfonic acid (PFOS) are toxic compounds that have been used for decades in the production of non-stick cookware, leather products, stain resistant clothing, food packaging, microwave popcorn bags, cosmetics and other consumer products. They have been found to be contaminating the drinking water of millions of households throughout the United States and Canada.
According to the U.S. EPA, recent studies indicate that exposure to PFOA and PFOS over certain levels may result in adverse health effects, including developmental effects to fetuses during pregnancy or to breastfed infants (e.g., low birth weight, accelerated puberty, skeletal variations), cancer (e.g., testicular, kidney), liver effects (e.g., tissue damage), immune effects (e.g., antibody production and immunity), thyroid effects and other effects (e.g., cholesterol changes).
PFOA and PFOS were detected in blood serum in 99% of the U.S. general population between 1999 and 2012; however, the levels of PFOA in blood have been decreasing since U.S. companies began to phase out production. Water resources contaminated by PFOA and PFOS have been associated with releases from manufacturing sites, industrial sites, fire/crash training areas, and industrial or municipal waste sites where products are disposed of or applied.
In May 2016, the EPA released a Drinking Water Health Advisory for PFOA, citing associations between PFOA exposure and high cholesterol, increased liver enzymes, decreased vaccination response, thyroid disorders, pregnancy-induced hypertension and preeclampsia, and cancer (testicular and kidney). At the same time, it issued a similar advisory for PFOS which highlighted associations between PFOS exposure and high cholesterol, thyroid disease, immune suppression, and some reproductive and developmental parameters, including reduced fertility. Although some human studies suggest an association with bladder, colon, and prostate cancer, the literature is inconsistent and some studies are confounded by failure to control for risk factors such as smoking.
Read about the January 2020 discovery of PFOS and PFOA in the City of Summerville, Georgia, water supply.
Chlorine and Chloramine Reduction

In addition to removing lead, PFOS, PFOA and cysts, the Enpress PIONEER is also an excellent chlorine and chloramine filter. By removing these contaminants, the PIONEER improves the taste and smell of your water and reduces the drying effects of these disinfectants on your skin and hair. The large volume of activated carbon in the filter provides a longer filter life, better water pressure, and higher flow rate than competitive cartridge systems.
Chlorine Removal Capacity: >300,000 gallons at 15 GPM (1,135,533 L at 56.8 LPM) with >90% Reduction based on 2 ppm chlorine feed
Chloramine Removal Capacity: >150,000 gallons at 8 GPM (567,812 L at 30.3 LPM) with >85% Reduction based on 3 ppm chloramine feed
Cyst Reduction

The Enpress PIONEER™ is independently tested and certified by IAMPMO, a leading testing authority, to meet NSF/ANSI 53 standard for the reduction of cysts.
Microbial cysts like Giardia and Cryptosporidium can survive in cold water for several months, and can be highly resistant to chlorine disinfection especially when the water is cloudy or turbid. For this reason, these cysts have been responsible for some of the most widespread waterborne illness outbreaks in the U.S. and Canada in recent times. For example, in the spring of 1993 in Milwaukee, Wisconsin, municipal drinking water was contaminated with Cryptosporidium. An estimated 400,000 people became ill and the disease contributed to the deaths of some individuals with compromised immune systems.
The 0.5 micron filtration capacity of the Enpress PIONEER™ is effective at removing greater than 99.95% of these cysts, providing further assurance that your drinking water is safe. This safe fine filtration system also removes tiny sediment particles to improve water clarity.
Specifications & Operating Conditions - Enpress PIONEER™
| | |
| --- | --- |
| Size: | Approx. 8 Inches in Diameter x 40 Inches Tall |
| Inlet / Outlet: | 1 Inch NPT |
| Acceptable Pressure Range: | 20 to 125 psi (1.38 to 8.6 bar) |
| Pressure Relief Button?: | Yes |
| Filter Type: | Carbon Block |
| Micron Rating: | 0.5 Microns |
| Replacement Filter Cartridge: | CT-05-CB-AMYCL |
| Lead/PFOA/PFOS Treatment Capacity: | 100,000 gallons at 4.51 GPM (378,541 L at 17.1 LPM) with 99.62% lead reduction and 97.8% PFOA/PFOS Reduction |
| Chlorine Treatment Capacity: | >300,000 gallons at 15 GPM (1,135,533 L at 56.8 LPM) with >90% Reduction based on 2 ppm chlorine feed |
| Chloramine Treatment Capacity: | >150,000 gallons at 8 GPM (567,812 L at 30.3 LPM) with >85% Reduction based on 3 ppm chloramine feed |
| Certifications: | Independently tested and certified to NSF/ANSI Standard 53 for lead and cyst reduction, and NSF/ANSI P473 for removal of PFOS and PFOA when used in the Enpress PIONEER system. |
| Max. Recommended Flow Rate: | 15 GPM (57 LPM) |
| Operating Temp Range: | 34 to 120F (1 to 50C) |
| Electrical Requirements: | Grounded & Unswitched 110 V Outlet and Three AAA Batteries |
| Made in: | USA |
Performance claims are based on independent lab results and manufacturer's internal test data. Actual performance is dependent on influent water quality, flow rates, system design and applications. Your results may vary. Performance claims are based on a complete system, including a filter, housing, and connection to a pressurized water source. This filter must be operated according to the system's specifications in order to deliver the claimed performance. It is essential to follow operational, maintenance, and filter replacement requirements, as directed for each application, for this filter and system to perform correctly. Read the Manufacturer's Performance Data Sheet accompanying the system and change the filter as suggested. The contaminants or other substances removed or reduced by this water filter are not necessarily in all users' water.
Enpress PIONEER™ Filter System INCLUDING CARTRIDGE CTA0840BBKP5-04C00 + CT-05-CB-AMYCL Customer Questions & Answers
Manufacturer's Warranty
ENPRESS LLC warrants its line of PIONEER™ filtration systems, to be free of defects in material and workmanship for a period of one year, and replacement PIONEER™ filters for a limited thirty-day warranty, from the date of purchase. This warranty is extended to original purchaser, by authorized OEM customers. Use of this product constitutes Buyer's acceptance of this Limited Liability. See the Enpress PIONEER™ Manual for more details, limitations, exclusions and the "fine print" of the Enpress LLC warranty for this product.