Shower Filters
It's no secret that much of our water supply comes from polluted sources. As a result, most municipalities have little choice but to introduce chlorine or chloramine to our water supply to kill bacteria like E.coli and fecal coliforms and other harmful microbiological contaminants.
Unfortunately, it is widely recognized in the scientific community that chlorine and chloramine are not only unhealthy, but can be toxic to living organisms, including humans. After all, this is what makes these chemicals so effective at killing bacteria, viruses, and other waterborne pathogens. When we think of chlorine in our water supply, our first concern is our drinking water. What doesn't immediately come to mind is the fact that when we shower, our skin also absorbs chlorine. In fact, more chlorine is absorbed during the average shower than by drinking two quarts of water! Additional chlorine is contained within the water vapor that enters the air as steam, and is breathed into our lungs as we shower.
As if this wasn't already bad enough, chlorine and other water contaminants reduce the effectiveness of many shampoos, conditioners, lotions, oils, and skin creams, leaving your skin and hair dry and unnourished; additionally, money spent on quality personal care products is needlessly wasted.
Why a KDF media shower filter? :
effectively removes harmful chlorine and other contaminants
long life - lasts twice as long as most carbon shower filters
easy installation - installs in minutes with no special tools required
effective at higher temperatures and flow rates
helps control growth of mildew, mold, and algae (bacteriostatic)
inhibits mineral build-up in shower head, tile, and glass shower doors
soap & shampoos will develop richer lather
softer, more manageable hair, and reduced dry skin, flaking, and itching
Our shower water filters use KDF media to remove chlorine, rust, and many nasty odors, and other contaminants from your shower water. KDF-55 is a granular medium that permits fluids to flow without excessive back pressure or reduction in water pressure. Unlike most water filtration technologies, including activated carbon filters, KDF-55 filters work well in warm or hot water.
April Shower Water Filters
April Shower is one of the most comprehensive lines of shower water filters on the market today. Unlike the competition, the majority of which offer cheap disposable filters, the April Shower line uses replaceable filter cartridges and durable housings. For instance, the April Shower Deluxe shower filter is the first shower filter made of chrome-plated solid brass and polished to a mirror-like finish. In addition to its sleek, elegant design, it's tough! The manufacturer offers an impressive 5-year warranty against breakage of the housing!
The high-performance KDF-55 filter cartridges in each April Shower filter will remove up to 99% of chlorine in addition to rust water, sulfur smells and odors at a flow rate of 2.5 gallons per minute.
Unlike many competing filters, the April Shower is NOT a disposable unit. When the filter cartridge has reached the end of its service life, rather than throwing away the filter housing, you simply pop in a new filter cartridge! It's just that simple! Over time, this is more economical than buying new units every time and it is friendlier to the environment as well.
Available April Shower filter models, features, and specifications to match any shower water filtration task:
April Shower Filter Models
April Shower Original
High Output
Shower Filter
Part# HO-WH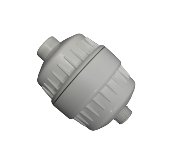 US$45.95
designed for optimal economy without sacrificing performance - 10 to 12 month cartridge life
- More Info -
Installation:
Simply unscrew your existing showerhead and screw on the April Shower - that's it! A complete installation guide will be provided with your unit.
Warranty:
The April Shower shower filter housing and showerhead are backed by a 100% 5-year manufacturer's warranty against manufacturing workmanship defects.