April Shower High-Output Shower Filter
high performance, yet economically-priced shower filter featuring KDF media and re-usable housing
Item #: HO-WH
April Shower
High Output Series Shower Filter
MSRP:

US

$

73.00
Our Price: US$49.95
You save: $23.05
Found a Lower Price?
Request a Price Beat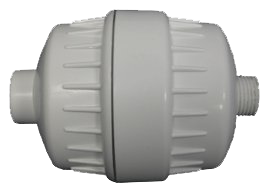 Description
Specifications
Related Products
Reviews
FAQ
Learn More About
KDF Shower Water Filters:
The High-Ouput Series shower filter by April Shower is designed for optimal economy without sacrificing performance. It features a re-usable housing and a cartridge that lasts 10-12 months, for about the same price as most disposable filters. When the filter cartridge has reached the end of its service life, instead of throwing away the filter housing, you simply pop in a new filter cartridge! It's just that simple! Over time, this is much more economical that buying completely new shower filter units every time - and, of course, it is friendlier on the environment as well. It also saves time - changing a cartridge only takes a couple of minutes.
The High-Output Series is designed to be used with your existing shower head. To install the High-Output Series shower filter, simply unscrew your existing showerhead and screw on the April Shower filter housing, then screw your shower head onto the filter housing - that's it! A complete installation guide will be provided with your unit.
The April Shower shower filter housing is backed by a 100% 5-year manufacturer's warranty against manufacturing workmanship defects.

Why choose an April Shower KDF media shower filter? ?
effectively removes harmful chlorine and other contaminants
long life - lasts twice as long as most carbon shower filters
easy installation - installs in minutes with no special tools required
effective at higher temperatures and flow rates
helps control growth of mildew, mold, and algae (bacteriostatic)
inhibits mineral build-up in shower head, tile, and glass shower doors
soap & shampoos will develop richer lather
softer, more manageable hair, and reduced dry skin, flaking, and itching
High Output Series Shower Filter Specifications
Specifications:
Media:
KDF-55
Removes/Reduces:
chlorine, sediment, trace metals, odors
Housing:
plastic, white
Maximum Water Temperature:
105F
Maximum Water Pressure:
100 PSI
Recommended Flow Rate:
2.5 GPM at 60 psi
Replacement Cartridge:
APRC - High Output Cartridge
Cartridge Life:
10-12 months
Options, Accessories and Replacement Parts:
April Shower High Output Series Shower Filter Reviews
Life Changing Discovery!

Before my initial purchase of the April Shower High Output Shower Filter, after my morning shower I would experience a severe energy "crash". The fatigue I felt was actually debilitating. I found it nearly impossible to function normally. I did a search as to why a shower would cause this fatigue and was fascinated to read a doctor's testimonial on the effects of the changes that occur to chlorine during a normal shower on this website. I took a chance and ordered the April Shower Filter and extra filters. I felt an unmistakeable difference in my energy the very first shower after I installed it! I now would not be without it. The instructions tell you to turn the filter over after 6 months and it will last for a year. When I lose sight of this and I don't "flip it" after 6 months I begin to feel the fatigue again which jogs my memory, I turn it over and all is well again! I highly recommend this product to anyone who is trying to get to the root cause of unexplainable fatigue. It's worth a try!
- John K
good but gac would be good along with kdf

Good output but would prefer it came with KDF and GAC combination
- noralk
April Shower High Output Series Shower Filter Customer Questions & Answers