Carbon Filters for Well and Surface Water
We are pleased to offer a wide range of residential and light commercial filters designed to improve the taste and smell of well and surface water by removing a wide range of organic contaminants. These filters will also remove a wide range of other trace contaminants as well. Great tasting, refreshing, and hydrating water from every faucet!
These filters are recommended for the treatment of well water, rainwater, and surface water (lakes, streams, springs, and rivers) that have been confirmed to be microbiologically safe through lab-grade testing. They are a great solution for general taste and odor problems. A UV sterilizer should be installed after the carbon filter if it is used on a water source with uncertain microbiological quality. We do not recommend activated carbon for the removal of hydrogen sulfide (rotten egg) odor as there are more effective solutions available for this particular problem - see hydrogen sulfide solutions here.
Choose from one of the following categories:
Cartridge-Based Carbon
Filter Packages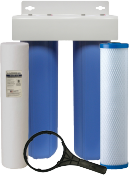 Starting at US$225.95
economical and highly-effective option for the removal of general sediment, dirt, bad tastes and odors
- More Info -
ClearPlus™ Backwashable Carbon Filters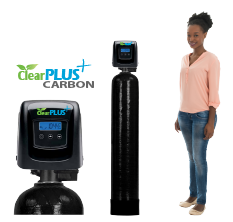 Starting at US$749.00
long-media life and no cartridges to replace! - completely automated system for bad taste and odor removal.
- More Info -
ClearPlus™ Backwashable Catalytic Carbon Filters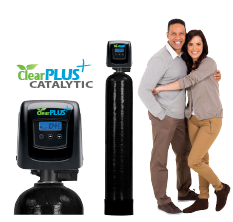 Starting at US$852.00
completely automated system for taste, odor, and organics removal - features Centaur catalytic carbon for longer life!
- More Info -