Big Blue Housing O-Ring - #151122
O-Ring for Pentek / US Filter Big Blue Housings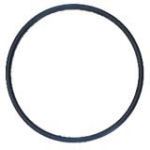 Pentek
Big Blue Housing O-Ring #151122
MSRP: US$13.05

Starting at:

US

$8.12Choose Option:


Found a Lower Price?
Request a Price Beat
This 5 3/4" diameter FDA-Grade Buna-N O-ring is used in all 10" and 20" Pentek / US Filter Big Blue housings and should generally be replaced at least annually or whenever physical O-ring damage is noticed (stretched, cracked, etc.). You should inspect and lubricate your housing O-rings with food-grade silicone lubricant every time you replace your water filters.
Size: Outside diameter 5 3/4"
This O-ring is used in all of our standard whole house water filter packages including the WH1, WH1B+, WH2, WH3, WH4, WH5 Series, WH1-HF, WH1B+-HF, WH2-HF, WH3-HF, WHC+, and WH Chloramine.
This O-ring is also used in a wide variety of private-labeled water filter housings manufactured by Pentek including:
Pentek 150237, 150239 & 150469
Pentek BBFS-22 & BBFS-222
Culligan HD-950
Ace Hardware 49561
Ametek Kleen-Plus HD-10-R50 BBS
American Plumber W10-PR (152014)
American Plumber W2010-PR (152015)
American Plumber W15-PR (152016)
American Plumber W2015-PR (152017)
American Plumber WWHC (152022)
Alternative Part Numbers:
Pentek 151122
Culligan OR-100
True Value 852-574
True Value W10-OR
Ace Hardware 4001756
American Plumber 152032
American Plumber W10-OR
Ametek Kleen-Plus 151122-03
Culligan 151122-27
Culligan 01019189
Accessories: