Viqua SteriPEN Ultra RP-V Portable UV Water Purifier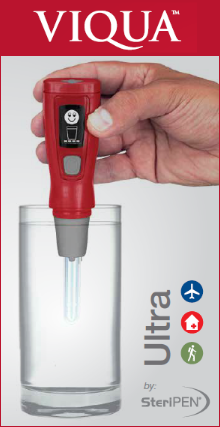 Viqua
SteriPEN Ultra RP-V Portable UV Water Purifier
MSRP:

US

$

191
Our Price: US$
69.95
You save: $121.05
Sorry, this item is not
currently available.
(0 Reviews)
Be the first to write a review.
Found a Lower Price?
Request a Price Beat


Part #: SteriPEN Ultra RP-V
You trust UV technology to keep your tap water safe at home. Why not take that same technology with you when you're on the go? With the VIQUA SteriPEN Ultra, you can! The SteriPEN Ultra RP-V offers safe, non-chemical water disinfection in a portable hand-held device. Ideal for backpacking, trekking, camping, emergency preparedness, and international travel, it delivers treated water in only seconds. No more chlorine and iodine tablets with questionable health effects, or difficult to use (and heavy) pump filters.
safe, non-chemical UV disinfection technology to destroy bacteria (99.9999%), viruses (99.99%), and protozoa (99.9%)
tested certified by the WQA to meet the U.S. EPA Microbiological Water Purification Standard
simple display shows you everything you need to know.
USB rechargeable from a computer, wall or solar panel - treat up to 50 liters (13.2 gallons) on a single charge!
reusable for up to 8,000 liters (2,113 gallons) - that's more than 7 years of safe drinking water!
comes complete with USB cable, carrying case and user's guide
ultra-portable - weighs only 5 oz. (140 grams)!
3-year warranty!

The easiest way to purify unsafe water just got easier. The SteriPEN's high-contrast digital display makes water treatment simple and fun. Just remove the cap, press the button and stir until you see the smile. Treat 0.5L in just 48 seconds or 1L in only 90 seconds. The digital display shows treatment success/failure, treatment status, treatment volume and battery status. The SteriPEN Ultra RP-V is USB-rechargeable so you'll never have to buy and replace batteries! The internal lamp is not replaceable, but it lasts for up to 8,000 1L treatments! That's over 2,100 gallons!
Cities around the world have been using UV technology to make water safe to drink for over 100 years. A lethal dose of UV light attacks the DNA of Illness-causing microorganisms and alters their ability to reproduce. Harmful bacteria and viruses are deactivated, and you and your family are safe!
Features & Specifications:
Usage:
up to 50L (13.2 gallons) per charge
Battery Type:
USB rechargeable, internal, non-replaceable
Battery Life:
8,000 treatments
Dimensions:
7.3 x 1.7 x 1.3 in. (18.6 x 4.2 x 3.3 cm)
Weight:
5 oz. (140 g)
Warranty:
3 Years



Water Quality Association: SteriPEN tested and certified
by WQA against US EPA Microbiological Water Purifier Standard.

SteriPEN Testimonials
I hiked about 2000 miles through Nepal and India. Many water sources were disgusting, nasty, and contaminated. I never got sick thanks to the SteriPEN!
Justin Lichter
Himalayas Trip 2011,
California, USA
Having adequate water supply probably is the most important on any hurricane preparation list...the SteriPEN uses ultraviolet light to purify water.
Miami Herald
Florida, USA
So glad to have clean water when traveling! Since we are traveling in a dugout sailing canoe it has been great - we are now able to drink the water we are paddling and sailing in!
Amy Lukas
Lake Michigan, USA