ecoTAC™ Series Salt-Free Hard Water Conditioners
Environmentally-friendly alternative to conventional water softeners prevents the formation of hard water scale in your plumbing system, water treatment equipment, tankless and traditional water heaters, dishwashers, and more
HomePlus
ecoTAC™ Series
Salt-Free Hard Water Conditioners
MSRP: US$1,012.00

Starting at:

US

$688.00Choose Option:


Found a Lower Price?
Request a Price Beat
Factory Direct Savings!!!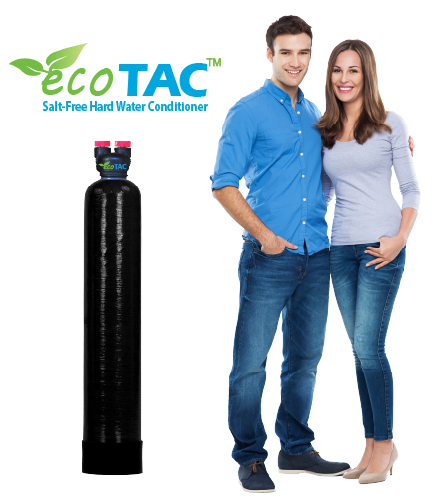 Description & Benefits
How It Works
Specifications
Install / Manuals
Reviews
Validations
Warranty
Description & Benefits
Our ecoTAC™ hard water conditioners use a salt-free water treatment technology called Template Assisted Crystalization ("TAC" for short) to prevent hard water scale problems in your plumbing system, appliances, and more. Some of our competitors incorrectly refer to this technology as a "salt-free water softener."
ecoTAC™ salt-free hard water conditioners are an environmentally-friendly alternative to traditional water softeners to prevent hard water mineral scale from coating surfaces inside your plumbing system, water heater, dishwasher, and other appliances. Unlike a traditional water softener, ecoTAC™ conditioners do not require regeneration with salt, backwashing, or expensive electronic control valves. Accordingly, they require almost no maintenance and are easier to install.
Environmentally friendly
Simple operation with no day-to-day maintenance
No salt, no chemical regeneration, and no brine discharge!
No backwash - save thousands of gallons of water per year
Does not remove beneficial minerals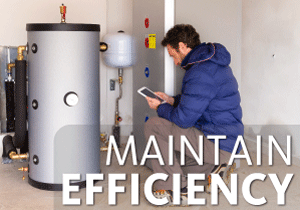 Protect your plumbing system from hard water scale...
Improve water heater efficiency and life
Prevent clogging of pipes and faucets
Prevent pressure loss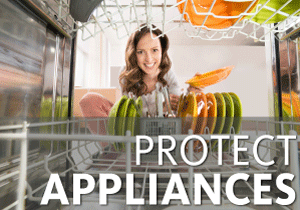 Protect your appliances...
Reduce mineral build-up in dishwasher
Prevent hard water damage to clothes washer
Extend appliance life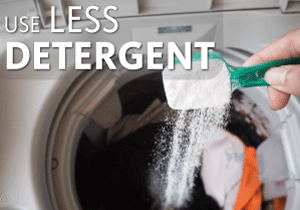 Improve the performance of soaps, shampoo, and detergents...
Reduce detergent and soap use
Keep laundry bright
Softer hair and skin

What makes ecoTAC™ better than other TAC units?
Brand-name (Pentair Structural) treatment tank
Brand-name Clack valve with bypass and connection fittings included at no extra charge
More power! The media is the most critical part of the system, but it is also the most costly, so many of our competitors reduce the media volume to cut costs. More media means more performance and longer life. We give you roughly 15% more media!
Third-party validated components for your assurance of material safety and structural integrity
Let's Get Technical For a Moment: How it Works...

Hard water scale always precipitates onto something. It does not readily form on its own in the water stream. The scale has to find a surface (wall of a pipe, a water heater element, etc.) to serve as a nucleation seed to form onto. ecoTAC™ salt-free hard water conditioners use a highly specialized media consisting of polymeric beads which serve as a powerful catalyst for the formation of nano-crystals of calcium and magnesium carbonate that remain suspended in solution instead of forming hard mineral scale on surfaces.
Some of our competitors refer to salt-free hard water conditioning as a "salt-free water softener." While this is technically not correct, this technology does provide most of the same benefits of a water softener.
The process by which a salt-free hard water conditioner works is called Template Assisted Crystallization, or "TAC," (sometimes referred to as Nucleation Assisted Crystallization or "NAC"). It is widely recognized as the most effective alternative hard water treatment.
When water begins to flow into the bottom of the treatment tank, the TAC media is lifted and dispersed throughout the treatment tank in a fluidized bed which enhances contact with the calcium and magnesium ions in the water. A contact time of only 5 seconds is required for the treatment of up to 25 grains per gallon (approx. 425 ppm or mg/l) of hardness. Since the system is operated in a fluidized upflow configuration, the system will not clog with sediment and no backwashing is required.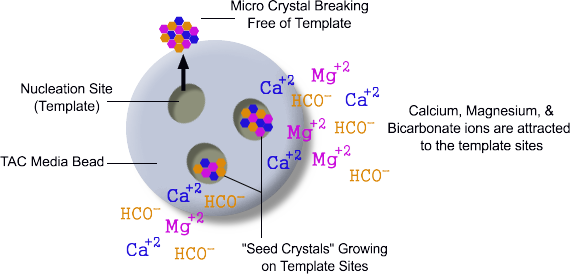 The nucleation sites on the TAC media attract calcium, magnesium, and bicarbonate ions. At these template sites, these building blocks of mineral scale combine to form microscopic (nanometer-sized) calcium carbonate and magnesium carbonate crystals. However, instead of forming typical calcite crystals (normal mineral scale), the template surface guides the formation of a crystal structure that does not stick to surfaces. As the crystals grow, they break off and become suspended in the water stream and are carried away in a crystal form that is stable, and does not easily revert back to its dissolved form or stick to surfaces. If the water is allowed to evaporate on a surface, such as a glass shower screen, the crystals will be deposited and will leave a spots the glass since the minerals are not actually removed; however, they should be easy to wipe away as they will not stick to the surface.
During the first few weeks after the installation of an ecoTAC™ conditioner, a de-scaling effect (whereby existing hard water scale built-up in the plumbing system is released) will often occur. Over time, this added benefit will enhance performance of water heating equipment and restore flow performance of plumbing fixtures.
Does it really work?
TAC technology was first employed as an alternative to conventional water softeners roughly 15 years ago in Germany. It was introduced to the U.S.A. and Canada about 7 years ago and has gained widespread acceptance.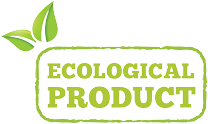 Testing performed by the German Technical and Scientific Association for Gas and Water (DVGW) according to the Standard W512, determined the TAC media to be 99.6% efficient in preventing hard water mineral build up on the test heating coils and pipes. Standard W512 is considered to be the most rigorous accreditation standard for certifying water softener alternatives for scale-reduction performance.
A study conducted in 2011 by Arizona State University entitled, "Evaluation of Alternatives to Domestic Ion Exchange Water Softeners," backed these results. It determined that TAC technology was the most effective of all non-salt water conditioners at preventing mineral scale, with reduction levels consistently in excess of 90%. The results showed that TAC conditioners were far more effective than magnetic and electronic water conditioners at preventing hard water scale formation. This study also used the DVGW Standard W512 test protocol.
ecoTAC™ conditioners operate in "upflow" so they do not trap sediment or suffer from channeling, which reduces the effectiveness of competitors' products. Backwashing is not necessary. The only required maintenance is to replace the TAC media roughly every 3 to 5 years. Some competitors suggest that their TAC media can last even longer; this is generally unrealistic. We would rather give you honest expectations based on real-life typical conditions, not overly-optimistic expectations that only a few people will experience. We recommend that you budget for media replacement every 3 years on well water or 5 years on city water to be conservative. The replacement of the TAC media is quite straight forward and takes about 30 minutes.
Specifications
Models:
ecoTAC™ 10
ecoTAC™ 15
ecoTAC™ 20
Home Size:
1 - 3
Bathrooms
3 - 5
Bathrooms
6+
Bathrooms
Max. Service Flow Rate (GPM):
10
15
20
Tank Size (Inches):
8 x 44
9 x 48
10 x 54
Total Height (Inches):
49
53
59
Media Quantity:
3.5 Litres (L)
5 Litres (L)
7 Litres (L)
Inlet/Outlet Connections:
1" MNPT
Replacement Media:
Next ScaleStop
Media Life:
3 to 5 Years
Price:
Switch to CDN pricing

The presence of elevated levels of chlorine, iron, manganese, hydrogen sulfide, copper, and certain other contaminants can damage TAC media, reducing its effectiveness and shortening its life. While the media can handle the typical chlorine levels found in municipal water sources, to maximize media life, it is generally recommended that chlorinated city water be pre-filtered through activated carbon to remove free chlorine before the TAC system. Pre-treatment is required if any of the parameters noted below are exceeded.
Operating Conditions / Pre-Treatment Requirements:
Maximum Hardness:
75 grains per gallon (1,275 mg/l)
Call for sizing recommendations if your hardness exceeds 25 grains per gallon (425 mg/l)
pH Range:
6.5 to 8.5
Max. Water Temperature:
43C (110F) (Install only on cold water supplies)
Min. Water Temperature:
must not freeze
Recommended Pressure:
15 to 80 psi
Chlorine:
< 3 ppm (mg/l)
Hydrogen Peroxide:
<0.5 ppm (mg/l)
Iron:
< 0.3 ppm (mg/l)
Manganese:
< 0.05 ppm (mg/l)
Copper:
< 1.3 ppm (mg/l)
Hydrogen Sulfide (H2S):
must be removed
Polyphosphates and Oils:
must be removed
Installation / Manuals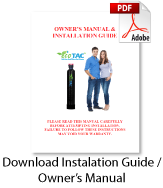 We have designed our ecoTAC™ systems for ease of installation. We provide a bypass valve with each system and 1" male NPT threaded fitting connections for the inlet and outlet. Optional John Guest style quick-connect (push-in) fittings are available at extra cost for easy connection to copper or PEX lines. If your water lines are less than 1" diameter, you will require basic couplers to expand to the 1" connections. These are readily available at any hardware store.
The ecoTAC™ conditioner is designed to be installed after any treatment for iron, manganese, hydrogen sulfide, sediment, and chlorine, but before a UV disinfection system and before a chlorinator (if equipped). Polyphosphate feeders should never be placed before a TAC conditioner. TAC treatment should also be done prior to any water heating equipment.
We recommend that ecoTAC™ systems be installed by a licensed plumber; however, your warranty is valid as long as your system is installed in accordance with local plumbing codes and the Owner's Manual.
HomePlus ecoTAC™ Series Salt-Free Hard Water Conditioners Reviews
.
Had it for 5 weeks, so far impressed

I am an over-educated engineer and did research on TAC before I bought the unit. So far it has done all they claim. Our only water issue was high calcium. It appears to be resolving that issue with no new build up and removal of some existing buildup. Ask me again in 6 months!!
- David U
EcoTAC 10 is a Great Product

Moved to northern Virginia where the water hardness was 18.5 gpg. Dish washer and shower glass always had mineral deposits. Salt restricted diet and space restrictions nixed using a salt water softener. Investigated salt free water conditioners. The EcoTAC 10 seemed to be a good choice. Ordered on line and a week or so it arrived. Plumber installed and within a day or two we could see an amazing difference. The dishwasher now has shining stainless steel and the shower glass stays clear for weeks. It is doing what it was designed to do. Eliminate scale buildup. Too soon to know if the media will last for five years. Hopefully it will.
- John H
Love the ecoTAC.

Hope after while since we talked, this email finds you well. I am still so appreciative of your help and patience with me. Love the ecoTAC. Had it just over 3 years. Still works fine..... Thanks for your help as usual! ....Plus [water] tastes great:) Pretty cool:)
- A.P.
Soft water

My wife remarked that the water feels soft from this water conditioner! We are very pleased that we see no lime or cam Jim deposits whatsoever on our fixtures and do in. All of this without purchasing salt!!!! Very happy and these folks are pleasant to deal with!
- Bob T.
Great

At this time I think it is great. It has only been in a little while.
- Judith M.
Great Salt Free Conditioner

Have had the product several months now and unit is working great. First few weeks did notice a good amount of sediment and very small bubbles in the water. Re-read the instructions that came with the unit and this was reported as normal. Water is back to crystal clear and have noticed a marked improvement on the build up inside the dishwasher. Also the jetted tub has significantly less mineral build up where the jet drain. Overall easy to install, used SharkBite connectors and install was a snap, done in less than l5 minutes. Very pleased so far.
- W Mullen

-
So far so good

It seems to be working just as advertised four weeks in. I was skeptical that existing scale would start to break up, but it is happening. Of course the build up of new scale has been basically stopped. Very pleased!
- Brad

Love this product. No need for salty water. Plants and fish are happy with this water. Less spots on glasses and bathroom fixtures.
- Cindy Critch
Works great

I've had this for over 5 years and just replaced the media. It works great! Replaced a nasty salt softener with the Ecotac 10.
- StanH
Fantastic Product

We (my wife and I) recently moved to a new home that had an ion exchange (salt) water softener, due to moderate hard water in the municipal water supply. We disliked the feel of the water on our skin, need to restrict our salt intake, and are concerned about ongoing costs to operate the system, and the environmental impact our salt water back flushing is doing to the environment. As a result of these issues, we needed to find a viable alternative. After extensive research and study, it seemed that a TAC water conditioner was what would solve the problem. I spoke with Tanner at Home Plus Products for an extended period on several occasions and not only did he teach me about TAC conditioners, but answered every question I had professionally and without sales talk or bias. I purchased the conditioner from Home Plus Products, and it was delivered without any fanfare in a few days as promised. I installed the unit, with a few carbon and sediment pre-filers, and could not be happier. We both find the water to feel good on our skin, it leaves no water spots on the the glass doors of our shower or glassware, and tastes great! I have spoken to a lot of our neighbors about the TAC conditioner, the great customer service and price we received from Home Plus Products. I cannot recommend them enough, and urge all interested in better water, without salt and the associated costs to your pocket and our environment to give Tanner a call. Highly Recommended, A+++ One last thing, I am not affiliated with Home Plus Products in any way, and have not received any compensation for this review.
- Roger O.
Other Similar ecoTAC Reviews
Easy to replace

I have owned a EcoTAC water conditioner for about five years and recently noticed it was time to replace the media. I ordered the replacement media from Home Plus Water and it arrived shortly thereafter. It was a breeze to replace only took about 30 minutes using the funnel. We love our ECOTEC water conditioner. Great for the environment - NO SALT to buy or dump in the waste water!
- Stan H
Water conditioner

Recently had our new Eco TAC water conditioner installed & we can already see a difference. The shower hardware & sink faucets have less spotting & lime buildup on them. Our skin feels softer & less dry & the water tastes great. A great choice over the water softener since it doesn't require any salt.
- Linda Orice
Quick delivery easy install

Was surprisingly quick delivery and easy install. We're quick to respond to email question. Satisfied so far with ecotac system.
- M Gregory
Great service, easy install, does the job

Called first and got great phone answers to my questions. I ordered online and it shipped quickly. The install was easy and I have noticed big reduction in scale. It's not a softener but does great job removing scale. Excellent value vs competitor TAC solutions and better option for me because I just needed to reduce scale.
- David L
Purchased Three EP1000TAC Systems

First I bought an ep1000tac for my house and love it. My wife said, no more water spots and the water pressure when way up. Doesn't take and electricity, salt, and doesn't need any back flushing! No water waste like the salt water system I replaced. Then my daughter's salt water softener went out. So I replaced hers. And last, I bought my grandparents 107 year old house, renovated it, and my wife and I are going to live there. So I'm sold on the product, service, and performance.
- Mike
Validations
Only the best components go into our ecoTAC™ water treatment systems. They are sourced from some of the leading manufacturers in the business, and assembled at our factory in Canada. You can be assured that only the finest materials have gone into the manufacture of all ecoTAC™ systems and that the materials used are safe for potable water contact. The following is a list of key system components: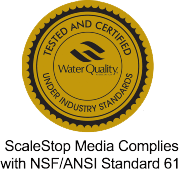 Valve & Bypass Assembly
Clack Corporation
Windsor, WI, USA
Made in USA
NSF/ANSI Standard 44
NSF/ANSI Standard 372
Media Tanks
Pentair PLC
Milwaukee, WI, USA
Made in USA
NSF/ANSI Standard 42
Salt-Free Conditioning Media
Next Filtration Technologies Inc.
Lake Worth, FL, USA
Made in USA
NSF/ANSI Standard 61
Warranty Details
ecoTAC™ systems are backed by a comprehensive warranty program.
Subject the limitations noted below, ecoTAC™ system components are warranted by HomePlus Products Inc. to be free of defects in material and workmanship for the following periods:
Clack Control Valve and Bypass: 5 Years
Media Tank: 10 Years
All Other Components (except as noted*): 1 Year
*Note: Due to the wide variety of potential feed water conditions, there is no warranty on the ScaleStop media.
The term of these warranties begins on the date of delivery of the product to the customer and continues until the earlier of:
the end of the warranty term noted above; or
the date in which the product(s) is/are removed from the original location of installation; or
the date in which the original purchases sells or otherwise transfers ownership of the home in which the product(s) was/were originally installed.
Only products purchased from an Authorized Dealer or HomePlus Products Inc. directly are eligible for this warranty. The products must have been installed and operated accordance with the instructions and operating conditions stated in the Owner's Manual.
Customer must register his or her warranty with HomePlus products Inc. within 90 days of original purchase for the warranty to remain valid.
This warranty applies only in Canada and the United States of America.
In the event that a part is deemed defective, the user must immediately inform HomePlus Products Inc. who will furnish a replacement part at no cost to the user. HomePlus' obligation to the customer shall be limited to the replacement of the defective part by prepaid standard freight to the original point of installation. Expedited shipping is available at the discretion and cost of the customer. When required, the return of defective parts to HomePlus is the responsibility of the customer.
This warranty does not cover any labour costs including labour costs related to troubleshooting, repair, installation, or maintenance.
This warranty does not apply to the following situations: misuse; normal wear and tear; neglect; unauthorized repair or damage caused through installation, adaptation, or modification; use in an improper manner or manner inconsistent with the manufacturer's installation, operating, and maintenance instructions; misapplication; wear or deterioration due to environmental conditions; damage occurring during transit; mishandling; improper storage; incorrect supply of water; tampering or alteration; fire, freezing; Act of god; or any cause beyond the control of HomePlus Products Inc.
The original warranty period does not change in the event of part replacement by HomePlus Products Inc.
This warranty is issued exclusively to the original consumer purchaser of record so long as the product remains installed in the original location of installation, and is not transferable.
The provisions of the foregoing warranties are in lieu of any other warranty, whether expressed or implied, written or oral (including any warranty of merchantability or fitness for a particular purpose). HomePlus Product Inc.'s liability arising out of the manufacture, sale, or supplying of the products or their use or disposition, whether based upon warranty, contract, tort, or otherwise, shall not exceed the actual purchase price paid by the authorized distributor or consumer for the product. In no event shall HomePlus Products Inc. be liable to the distributor or any other person or entity for special, incidental, consequential or punitive damages (including, but not limited to, property loss, loss of incomes, or loss of use damages) arising out of the manufacture, sale, or supplying of the products, even if HomePlus Products Inc. has been advised of the possibility of such damages or losses. These warranties are governed by the laws of the Province of British Columbia, Canada, and may change without notice.
To report a warranty problem with your system or request warranty service, please call HomePlus Products Inc. Toll free: 1-866-376-2690