MultiSoft™ Filter Systems with Ecomix&reg-C
MultiSoft™ water treatment systems w/ Ecomix&reg-C not only soften your water, but they also remove high levels of iron and manganese, and low levels of tannins/organics, making them one of the most versatile water treatment systems available today. Ecomix can treat much higher levels of iron and manganese than traditional ion-exchange media used for water softening, without the risk of fouling. At the same time, it can also remove low levels of naturally occurring organics that interfere with disinfection, discolor the water, and make it smell musty.
MultiSoft™ Series
Water Softeners w/ Ecomix&reg-C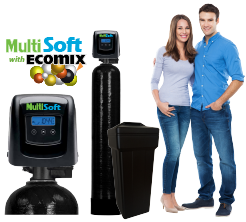 innovative water softener with abilty to remove elevated levels of iron, and manganese.
- More Info -
MultiSoft™ Premium Series
Water Softeners w/ Ecomix&reg-C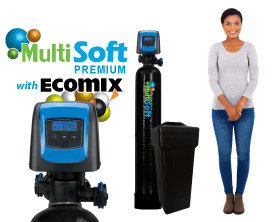 innovative water softener with abilty to remove elevated levels of iron, and manganese with premium control valve
- More Info -
MultiSoft™ Ultimate Series
Water Softeners w/ Ecomix&reg-C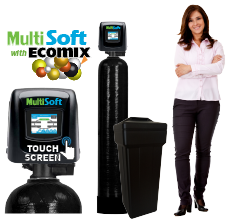 innovative water softener with abilty to remove elevated levels of iron, and manganese w/ premium color LCD touch-screen control valve
- More Info -