Filox Iron Removal Media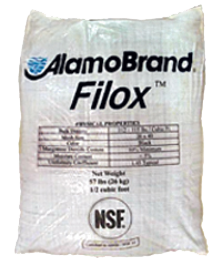 Watts
Filox
MSRP: US$122.00

Starting at: US$

97.50

Choose Option:

Bulk quantity discounts available. For bulk

quantities, please call 1-866-376-2690 for price quote.


Found a Lower Price?
Request a Price Beat
the most powerful iron, manganese, and hydrogen sulfide removal media available!
Watts' Alamo brand Filox is an extremely powerful iron removal media. It is an excellent choice for where very high levels of contaminants are present.
Filox is a natural ore that is composed of 75 to 85% manganese dioxide, giving it dramatically more active ingredient that almost all other iron removal media. As a solid media as opposed to a coated media, it is not subject to performance loss due to mechanical wear on the outer layers of the granules caused by the backwash process.
As a solid media, Filox is significantly heavier than other iron removal media (about 114 lbs per cubic foot). Accordingly, it requires a more frequent backwash (daily recommended) and higher backwash flow rates. Consideration should be given to the well's water yield to ensure that sufficient water is available for backwash. Some water treatment dealers dismiss Filox due to its weight but ignore the fact that due to its potency, higher service flow rates can be achived with smaller treatment tanks and less media volume. This helps counteract the backwash flow rate requirements as the backwash rate is directly related to tank diameter. In our experience, an 8" diameter tank with 0.5 cubic feet of Filox will perform as well or better than a 10" tank with twice as much Birm&reg for instance, and will have similar backwash flow rate.
Comparison to Other Media
Media
% Active Ingredient
Relative Life Expectancy
Filox
75 to 85%
7500
Katalox Light&reg
10%
1000
Manganese Greensand
3%
50
Birm&reg
1%
1
concurrent treatment of iron, manganese and hydrogen sulfide (rotten egg odor)
more active ingredient than all other iron removal media - 20 to 100 times the oxidation/filtration capability of other manganese-based media
less media is required to do a comparable job as compared to other iron removal media
almost indefinite life
effective over extremely wide pH range
excellent filtration capabilities
regeneration generally not required
ANSI/NSF 61 validated
high tolerance of oxidizers such as chlorine, hydrogen peroxide, and potassium permanganate (which can be used to boost performance in extreme treatment cases)
removal of arsenic and certain heavy metals possible through co-precipitation (see below)
Where iron removal is a pre-treatment to an arsenic filter, Filox is an excellent choice as an iron removal media as Filox will convert trivalent arsenic to pentavalent arsenic to enhance removal at subsequent treatment steps. Where the iron level is at least 20 times the arsenic level, indirect removal of arsenic is also likely through adsorption to the ferric hydroxide particles created during iron removal (co-precipitation), so a dedicated arsenic filter may not even be required. Follow-up testing should be done to confirm satisfactory arsenic reduction.
Filox is a direct substitute for Pyrolox iron removal media.
Operating Conditions / Requirements:
Service Flow Rate:
6 GPM/ft3
Flow Direction:
Downward Flow
Typical Pressure Drop:
<5 psi
Backwash Flow Rate:
12 - 15 GPM/ft2
Typical Freeboard:
30-50%
Minimum Bed Depth:
20 Inches
Recommended Bed Depth:
30 Inches
Maximum Feed Temperature:
100F
Recommended pH:
5.0 to 9.0
Weight:
114 lbs per Ft3

A daily backwash is highly recommended, but not always necessary, depending on the water's chemistry. More freuquent backwash is required where the raw water contaminant levels are higher. Because of Filox's superior oxidation/filtration capabilities, it loads up much faster than other iron removal media. Daily backwashing is recommended to maximize Filox's removal capacity. Since Filox has such particle strength, it is able to withstand frequent backwashing.
Filox media is stable within a pH range of 5.0 to 9.0. However, it should be remembered that the generally acceptable pH range for drinking water is 6.5 to 8.5 pH. At extreme ranges of pH (both low and high), contaminant removal and bed stability are adversely affected. This should be considered in applications operating at the high and low ends of Filox's 5.0 to 9.0 pH range. Accordingly, we recommend pH correction where pH is less than 6.5 or higher than 8.5 to improve the performance of your iron filter and to prevent corrosion damage to your plumbing system.
Recommended Configurations for Residential and Light Commercial Applications
Tank
Size:
8 x 44
9 x 48
10 x 54
12 x 52
13 x 54
14 x 65
16 x 65
Filox Volume
(Cubic Feet):
0.75
1.0
1.5
2.0
2.5
3.0
3.5
Bed Depth
(Inches):
26*
27*
33
30
32
34
30
Rec. Service
Flow Rate (GPM):
4.5
6.0
9.0
11.8
15.0
18.0
20.9
Maximum Rec.
Flow Rate (GPM):
6.0
8.0
12.0
15.7
20.0
24.0
27.9
Backwash Flow Rate
@ 40F (GPM):
4.5
5.5
7.0
10.0
12.0
15.0
20.0
Backwash Flow Rate
@ 70F (GPM):
5.5
7.0
9.0
12.0
15.0
20.0
20.0
* Bed Depth not optimal due to tank height.

---
Watts Filox Customer Questions & Answers
Katalox Light&reg is a registered trademark of Watch Water.
Birm&reg is a federally registered trademark of Clack Corporation.