Manganese Greensand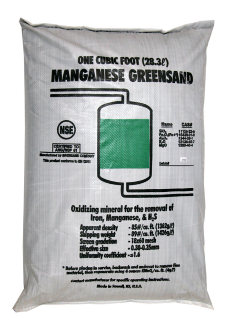 Discontinued
Common media used for the removal of iron, manganese, and hydrogen sulfide
Manganese greensand has been one of the most popular iron, manganese, and hydrogen sulfide treatment mediums used in the water treatment industry over the past 30 years or more. Its popularity was due to its predictable performance and reasonable price.
However, in recent years, modern media choices like Filox, Katalox Light&reg, and Birm&reg have surpassed manganese greensand in popularity. This is largely due to the fact that manganese greensand requires periodic or continuous regeneration with potassium permanganate ("Pot-Perm"), whereas these modern media do not. Potassium permanganate is a strong oxidizer and causes nasty staining - most water treatment professionals and homeowners prefer not to have to handle it.
Since Filox and Katalox Light&reg have become available to us, we have found little or no need to continue using manganese greensand as these alternative medias do not require chemical regeneration and are capable of treating similar or even higher levels of iron, manganese, and hydrogen sulfide (rotten egg odor) as manganese greensand. However, we do find that many customers with existing manganese greensand systems would prefer to re-bed their existing systems than switch to an alternative media.
proven technology
concurrent treatment of iron, manganese and hydrogen sulfide (rotten egg odor)
effective over wide pH range
ANSI/NSF 61 validated
high tolerance of oxidizers such as chlorine
Manganese Greensand is formulated from a glauconite greensand which is capable of reducing iron, manganese and hydrogen sulfide from water through oxidation and filtration. When the oxidizing capacity power of the manganese greensand bed is exhausted, the bed has to be regenerated with a weak potassium permanganate (KMnO4) solution thus restoring the oxidizing capacity of the bed. 1.5 to 2 ounces of potassium permanganate, in solution, per cubic foot of manganese greensand is considered sufficient for normal regeneration. It is required to vigorously backwash and regenerate the bed when it is placed in service and before its oxidation capacity is totally exhausted. Operating the bed after oxidation capacity is exhausted will reduce its service life and may cause staining.
Manganese greensand is heavier than most alternative iron removal media other than Filox and Pyrolox and other non-coated manganese-based media. Therefore, it requires high backwash flow rate and volumes.
Operating Conditions / Requirements:
Service Flow Rate:
3-5 GPM/ft2 (8-10 GPM/ft2 short term)
Flow Direction:
Downward Flow
Typical Pressure Drop:
<5 psi
Backwash Flow Rate:
10-12 GPM/ft2
Typical Freeboard:
40%
Minimum Bed Depth:
30 Inches
Recommended Bed Depth:
30 to 36 Inches
Maximum Feed Temperature:
80F
Recommended pH:
6.2 to 8.5
Weight:
85 lbs per Ft3

Recommended Configurations for Residential and Light Commercial Applications
Tank
Size:
8 x 44
9 x 48
10 x 54
12 x 52
13 x 54
14 x 65
16 x 65
Manganese Greensand Volume
(Cubic Feet):
0.75
1.0
1.5
2.0
2.5
3.5
4.5
Bed Depth
(Inches):
26*
27*
33
30
32
39
39
Rec. Service
Flow Rate (GPM):
1.7
2.2
2.7
3.9
4.6
5.3
7.0
Maximum Rec.
Flow Rate (GPM):
3.5
4.4
5.5
7.9
9.2
10.7
14.0
Backwash Flow Rate
@ 40F (GPM):
3.5
4.5
5.5
8.0
10.0
12.0
15.0
Backwash Flow Rate
@ 70F (GPM):
4.5
5.5
7.0
9.0
12.0
12.0
15.0
* Bed Depth not optimal due to tank height.
Katalox Light&reg is a registered trademark of Watch Water.
Birm&reg is a federally registered trademark of Clack Corporation.