Birm&reg Iron Removal Media (Clack Part #A8006)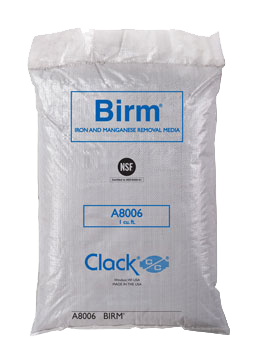 Clack
Birm (Part #A8006)
MSRP: US$99.00

Starting at: US$

79.11

Choose Option:

Bulk quantity discounts available. For bulk

quantities, please call 1-866-376-2690 for price quote.


Found a Lower Price?
Request a Price Beat
light-weight media for the removal of iron
Birm&reg is a relatively light-weight and economical media for the reduction of dissolved iron. Like most iron removal medias, Birm&reg acts as an insoluble catalyst to enhance the reaction between dissolved oxygen and the iron compounds to form ferric hydroxide which is then removed through mechanical filtration in the media bed. As a catalyst, Birm&reg is not consumed in the iron removal process and it does not need to be regenerated. Over time, mechanical wear and fouling by other contaminants will reduce Birm&reg's effectiveness and it will need to be replaced.
economical price - cheaper than most other iron removal medias
light weight (under 40 lbs per cubic foot) allows for less frequent backwash and lower backwash flow rate
no regeneration required

While popular due to its economical price and light weight, Birm&reg is not ideal for all iron treatment applications. It has specific operating conditions that must be met for successful treatment. While in the right conditions, Birm&reg can be successfully used to remove manganese as well as iron, it is our opinion that other media options including Filox™, Katalox Light&reg, and Iron Rival Light generally have better manganese performance characteristics. If used for manganese reduction, the pH of the raw water should be between 8.0 and 8.5 if you are also attempting to treat iron, or 8.0 and 9.0 if treating only manganese. pH greater than 8.5 could cause formation of colloidal iron which is very hard to filter.
Other important considerations when using Birm&reg media:
Manufacturer recommended service flow rates are much lower than other iron removal flow rates - locally favorable operating conditions may allow higher flow rates
pH must be at least 6.8
Birm&reg should not be used if organic matter exceeds 4 ppm, or if oil or hydrogen sulfide (rotten egg odor) are present
If the dissolved oxygen content is not at least 15% of the iron level (and 29% of manganese content), pre-aeration is required (we recommend pre-aeration with all Birm&reg filters)
Free chlorine levels above 0.5 ppm may greatly reduce Birm&reg's effectiveness and may damage the media, reducing its service life
Alkalinity should be 2 times the combined sulfate and chloride concentration
Do not pre-treat with polyphosphates
NOT FOR INSTALLATION IN CALIFORNIA
Operating Conditions / Requirements:
Service Flow Rate:
3.5 to 5 GPM per ft2
Flow Direction:
Downward Flow
Typical Pressure Drop:
2-4 psi
Backwash Flow Rate:
10-12 GPM per ft2
Typical Freeboard:
50%
Backwash Bed Expansion:
20-40%
Minimum Bed Depth:
30-36 Inches
Recommended Bed Depth:
30-36 Inches
Maximum Feed Temperature:
100F
Recommended pH:
6.8 to 9.0
Weight:
35-40 lbs per ft3

Recommended Configurations for Residential and Light Commercial Applications
Tank
Size:
8 x 44
9 x 48
10 x 54
12 x 52
13 x 54
14 x 65
16 x 65
Birm&reg Volume
(Cubic Feet):
0.75
1.0
1.5
2.0
2.5
3.0
4.0
Bed Depth
(Inches):
26**
27**
33
30
32
33
34
Rec. Service
Flow Rate (GPM)*:
1.2
1.5
1.9
2.7
3.2
3.7
4.9
Maximum Rec.
Flow Rate (GPM)*:
1.7
2.2
2.7
3.9
4.6
5.3
7.0
Backwash Flow Rate
@ 40F (GPM):
3.0
3.5
4.5
7.0
8.0
9.0
12.0
Backwash Flow Rate
@ 70F (GPM):
3.5
4.5
6.0
8.0
9.0
10.0
15.0
* Manufacturer recommended flow rates. In our experience, successful treatment at higher flow rates is possible with pre-aeration.
** Bed Depth not optimal due to tank height.

---
Clack Birm (Part #A8006) Customer Questions & Answers
Birm&reg is a federally registered trademark of Clack Corporation.