Katalox Light&reg Iron Removal Media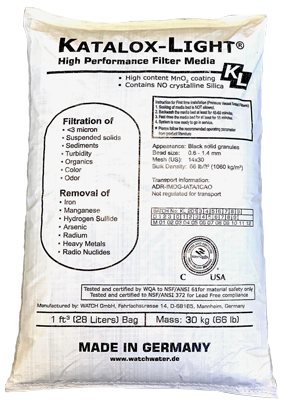 Watch Water
Katalox Light
MSRP: US$150.00

Starting at: US$

119.95

Choose Option:

Bulk quantity discounts available. For bulk

quantities, please call 1-866-376-2690 for price quote.


Found a Lower Price?
Request a Price Beat
top selling iron removal media - versatile, potent, and light weight
Watch Water's Katalox Light&reg is a remarkable new iron removal media from Germany. It combines the versatility and high performance characteristics of Filox™ media with the light weight properties of Birm&reg, resulting in a economical treatment option for high levels of iron, manganese, and hydrogen sulfide that is easy to backwash. This results in substantial water savings making Katalox Light&reg an ideal option for wells with low water yield.
Like most iron removal medias, Katalox Light&reg acts as an insoluble catalyst to enhance the reaction between dissolved oxygen and the iron compounds to form ferric hydroxide which is then removed through mechanical filtration in the media bed. As a catalyst, Katalox Light&reg is not consumed in the iron removal process and it does not need to be regenerated. Also like most other iron removal media, the active ingredient in Katalox Light&reg is manganese dioxide. Kaltalox Light&reg is composed of a manganese dioxide coated zeolite, containing about 10% manganese dioxide, far higher than Birm&reg but less than Filox™.
concurrent treatment of iron, manganese and hydrogen sulfide (rotten egg odor)
low back wash flow rate
longer life and much more active ingredient than Birm&reg
excellent filtration capabilities (down to as low as 3 microns under ideal conditions)
regeneration generally not required
WQA validated to ANSI/NSF 61 and 372 standards
high tolerance of oxidizers such as chlorine, hydrogen peroxide, and potassium permanganate (which can be used to boost performance in extreme treatment cases)
removal of arsenic and certain heavy metals possible through co-precipitation (see below)
Where iron removal is a pre-treatment to an arsenic filter, Katalox Light&reg is a good choice as an iron removal media as it will convert trivalent arsenic to pentavalent arsenic to enhance removal at subsequent treatment steps. Where the iron level is at least 20 times the arsenic level, indirect removal of arsenic is also likely through adsorption to the ferric hydroxide particles created during iron removal (co-precipitation), so a dedicated arsenic filter may not even be required. Follow-up testing should be done to confirm satisfactory arsenic reduction. We strongly recommend that you contact one of our Certified Water Technicans to discuss your application in detail if you plan to use Katalox Light&reg for arsenic removal as there are numerous factors that can impact performance.
Operating Conditions / Requirements:
Service Flow Rate:
6 to 12 GPM per ft2
Flow Direction:
Downward Flow
Typical Pressure Drop:
<5 psi
Backwash Flow Rate:
8 - 10 GPM per ft2
Typical Freeboard:
25-35%
Minimum Bed Depth:
29.5 Inches
Recommended Bed Depth:
30+ Inches
Maximum Feed Temperature:
100F
Recommended pH:
5.8 to 10.5
Weight:
66 lbs per ft3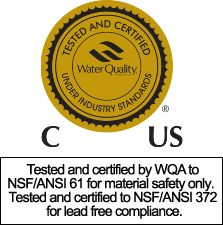 Recommended Configurations for Residential and Light Commercial Applications
Tank
Size:
8 x 44
9 x 48
10 x 54
12 x 52
13 x 54
14 x 65
16 x 65
Katalox Light&reg Volume
(Cubic Feet):
0.75
1.0
1.5
2.0
2.5
3.5
4.5
Bed Depth
(Inches):
26*
27*
33
30
32
39
39
Rec. Service
Flow Rate (GPM):
2.8
3.5
4.4
6.3
7.4
8.6
11.2
Maximum Rec.
Flow Rate (GPM):
4.2
5.3
6.5
9.4
11.1
12.8
16.8
Backwash Flow Rate
@ 40F (GPM):
3.0
3.5
4.5
7.0
8.0
9.0
12.0
Backwash Flow Rate
@ 70F (GPM):
3.5
4.5
6.0
8.0
9.0
10.0
15.0
* Bed Depth not optimal due to tank height.

---
Customer Questions & Answers
Katalox Light&reg is a registered trademark of Watch Water.
Birm&reg is a federally registered trademark of Clack Corporation.