Crystal-Right™ CR-200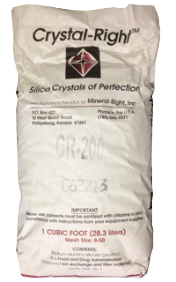 Mineral-Right
Crystal-Right CR-200

Sorry, due to established distribution territories,
we are unable to ship this
product to the U.S.A.


man-made cation exchange zeolite used for water softening and the concurrent removal of iron and manganese
Developed early in the 20th century by Emmitt Culligan and Fred Linsey, Crystal-Right™ media remains today as a top ion exchange media for the removal of hardness, iron, and manganese in a single pass. It has a much higher tolerance of iron and manganese than conventional cation exchange resins and due to its angular surfaces, makes a much better general filtration media to remove suspended particulate. Filtration to 20 microns or better is achievable.
removes hardness and high levels of iron and manganese in a single pass
superior particulate filtration as compared to standard cation softening resin
high tolerance of chlorine - will not break down the media
NSF/ANSI-61 validated for material safety requirements by WQA

Crystal-Right™ CR-200 is designed specifically for water treatment applications where the pH level exceeds 7.0. For applications where the pH level is less than 7.0, we recommend Crystal-Right™ CR-100 media which has the additional capability of neutralizing low pH.
CR-200 should be regenerated with basic sodium chloride salt with no resin cleaning additives. It has a maximum ion exchange capacity of approximately 22,000 grains per cubic foot at 6 lbs of salt per cubic foot.
In Canada, Crystal-Right™ media is used in Viqua brand Sanitizer Series water softeners and may be purchased in a cubic foot bag or half cubic foot bag for the purpose of re-bedding an existing Viqua Sanitizer Series water softener. Due to established distribution territories, we do not ship Crystal-Right media to the U.S.A. or otherwise outside of Canada or for purposes other than re-bedding an existing unit.
CR-200 is the recommended replacement media for the following Viqua Sanitizer series water softeners:
AWP1054SE2, AWP1054SE2-HS, AWP1354SE2, AWP1354SE2-HS, AWP1465SE2, AWP1465SE2-HS, AWP1665SE2, AWP1665SE2-HS, TUV1054SE2, TUV1054SE2-HS, TUV1354SE2, TUV1354SE2-HS, TUV1465SE2, TUV1465SE2-HS, TUV1665SE2, TUV1665SE2-HS.
Operating Conditions / Requirements:
Regenerant:
Sodium chloride (Salt)
w/ no additives/cleaners
Minimum TDS:
80 ppm or mg/l
Minimum Hardness:
3 Grains per Gallon (51 ppm or mg/l)
Maximum Hardness:
50 Grains per Gallon (855 ppm or mg/l)
Maximum Iron/Manganese:
15 ppm or mg/l combined
Rec. Service Flow Rate:
5-10 GPM/ft2
Flow Direction:
Downward Flow
Backwash Flow Rate:
6-8 GPM/ft2
pH Range:
7 to 11
Weight:
50 lbs per Ft3
Crystal-Right is a registered trade name of Mineral-Right, Inc