Corosex&reg (Clack Part #A8011)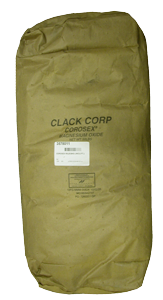 Clack
Corosex (Part#A8011)
Starting at: US$

5.18

Choose Option:

Bulk quantity discounts available. For bulk

quantities, please call 1-866-376-2690 for price quote.


Write a review.

Found a Lower Price?
Request a Price Beat
fast-acting pH neutralization media used for large pH corrections
Corosex&reg is a fast-acting magnesium oxide media used in high flow rate applications or where large pH corrections are required (raw water pH level of less than 6.0).
On a per weight basis, Corosex&reg can neutralize five times more acidity than can calcite. This results in greatly reduced media usage for the same pH correction. Under certain low flow conditions, Corosex&reg may overcorrect and raise the pH beyond the desired level. For this reason, it is usually blended with calcite at a ratio that achieves the desired pH correction without over-correcting during lower flow conditions.
Where the feed water is greater than about 5 grains per gallon (85 ppm or mg/l) of hardness, pH correction with Corosex&reg can cause hardness minerals to precipitate out of solution, resulting in cementing or solidification of the Corosex&reg mineral bed. To prevent this cementing effect, upflow service is generally recommended with hardness exceeding 5 grains per gallon (85 ppm or mg/l). If downflow configuration is used, frequent backwashing should be undertaken to prevent hardening of the media bed. This is generally effective where the Corosex&reg to calcite blend does not exceed 50/50.
Corosex&reg Advantages:
fast acting
capable of large pH corrections - effective over a wide pH range of 4.5 to 6.0
certified to NSF/ANSI Standard 60

Corosex&reg Disadvantages:
may over-correct
increases water hardness

As Corosex&reg's magnesium oxide neutralizes the water, it will increase hardness of the water and a softener may become necessary after the neutralizing filter.
Depending on the amount of water you use, your original pH level, and other water chemistry parameters, the Corosex&reg will need to be replenished as it is used up. Most customers have to add Corosex to their filter periodically. Corosex&reg filters are often designed with media fill ports either built in to the control valve or into the tank (dome hole tanks) for this reason. Corosex&reg filters can be run in downflow with a backwash control valve or in upflow with a simple "in/out" variety head. A gravel support bed is recommended.
We strongly recommended using a blend of Corosex&reg and calcite. Start with a relatively low ratio of Corosex&reg (10%) and continue increasing the ratio until the desired pH correction is achieved without over-correcting.
Corosex&reg is is manufactured by Martin Marietta Magnesia Specialties, LLC under the name FloMag&reg PWT 6x16.
Operating Conditions / Requirements:
Service Flow Rate:
5 to 6 GPM/ft2
Flow Direction:
Upflow or Downflow
Backwash Flow Rate (Downflow Service):
10-12 GPM/ft2
Typical Freeboard:
50%
Minimum Bed Depth:
24 Inches
Recommended Bed Depth:
24-30 Inches
Recommended pH:
4.5 to 6.0
Weight:
75 lbs per Ft3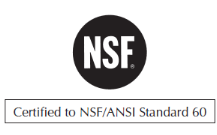 Corosex&reg is a federally registered trademark of Clack Corporation.
FloMag&reg PWT 6x16 is a trademark of Martin Marietta Magnesia Specialties, LLC