KDF&reg-85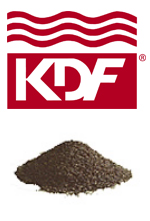 KDF Fluid Technologies
KDF-85 Media
MSRP: US$21.00

Starting at: US$

16.50

Choose Option:

Bulk quantity discounts available. For bulk

quantities, please call 1-866-376-2690 for price quote.


Found a Lower Price?
Request a Price Beat
effective but very heavy media for iron and hydrogen sulfide removal
KDF&reg-85 is a water treatment media composed of high purity copper and zinc granules that can be used to remove dissolved (ferrous) iron and hydrogen sulfide (rotten egg odor) through a oxidation/reduction (redox) reaction.
Due to its heavy weight (171 lbs per cubic foot! - much heavier than all other iron removal medias that we sell), careful consideration of backwash flow rate is required. Backwash flow rates are more than double many other iron removal media, however, service flow rates are also much higher so smaller treatment systems can be very effective and help counteract the high backwash flows - much less media volume is required for a given treatment task. Backwash is recommend every 2 days. KDF&reg-85 is often added as a relatively thin layer to a wide range of backwashable filters to add iron or hydrogen sulfide removal capacity. For instance, many models of the Viqua Sanitizer Series water softener contain KDF-85 to provide hydrogen sulfide removal capacity. It should be noted that when using KDF&reg-85 as a shallow layer, contaminant removal expectations should be lower than when the full recommended bed depth is used, especially where the layer is less than 10 inches deep.
#8 garnet is recommended as the underbed material.
very high service flow rates for given filter surface area and media volume
concurrent treatment of iron and hydrogen sulfide (rotten egg odor)
effective over relatively wide pH range
ANSI/NSF 61 validated
bacteriostatic
Operating Conditions / Requirements:
Service Flow Rate:
15 GPM/ft2 at 5ppm iron/H2S levels
Flow Direction:
Downward Flow
Typical Pressure Drop:
<10 psi
Backwash Flow Rate:
30 GPM/ft2
Typical Freeboard:
20%
Minimum Bed Depth:
10 Inches
Recommended Bed Depth:
10 to 25 Inches
Maximum Feed Temperature:
212F
Recommended pH:
6.5 to 8.5

Recommended Configurations for Residential and Light Commercial Applications
Tank
Size:
8 x 44
9 x 48
10 x 54
12 x 52
13 x 54
14 x 65*
16 x 65*
KDF&reg-85 Volume
(Cubic Feet):
0.33 (1 drum)
0.50 (1.5 drums)
0.66 (2 drums)
1.0 (3 drums)
1.33 (4 drums)
1.6 (5 drums)
2.33 (7 drums)
Bed Depth
(Inches):
12
13
14
16
16
18
20
Rec. Service
Flow Rate (GPM):
5.5
6.0
8
11
13
15*
20*
Maximum Rec.
Flow Rate (GPM):
5.5
6.0
8
11
13
15*
20*
Backwash Flow Rate
@ 40F (GPM):
10
12
15
20
25
30*
40*
Backwash Flow Rate
@ 70F (GPM):
10
15
20
25
30
30*
40*
* Hub and lateral distributor recommended.
Related Products:
KDF&reg is a registered trademark of KDF Fluid Treatment, Inc.