Viqua UVMax Pro24-100 High Dose (100 mJ/cm2) UV Sterilizer (Part #660095-R)
independently tested and certified to the USEPA UVDGM protocol for 2-Log Adenovirus inactivation for flow rates up to 24 GPM for regulated residential and commercial applications
Viqua
UVMax Pro24-100 High Dose UV Sterilizer
(USEPA UVDGM Validated)
Part #660095-R
MSRP:

US

$

6,985.00
Our Price: US$5,495.00
You save: $1,490.00
This Product is Currently Backordered
Write a review.
Found a Lower Price?
Request a Price Beat

Lowest Price Guaranteed!
If you find a lower advertised price anywhere, we will beat it by 10% of the difference!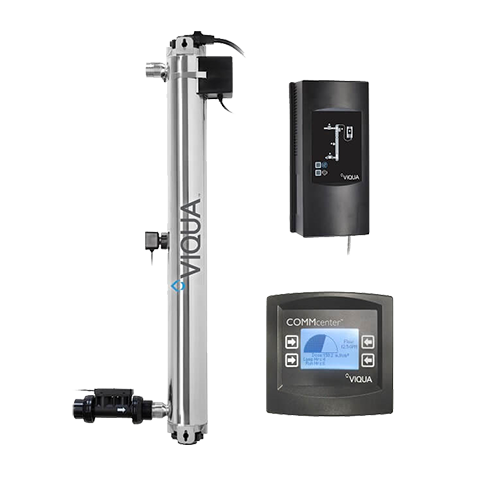 Description
Specs
Parts & Accessories
Similar Models
Reviews
About UV
Install / Manuals
Warranty
Description, Features & Benefits
Viqua's Pro series UV sterilizers are arguably the most advanced light commercial UV sterilizers currently available on the market. They are packed with technology while providing peace-of-mind operation and regulatory compliance.
The Viqua UVMax Pro24-100 is fully third-party validated to the U.S. EPA UV Disinfection Guidance Manual (UVDGM) protocol for 2-Log Adenovirus reduction for flow rates up to 24 GPM (based on UV dose of not less than 100 mJ/cm2 at 95% UVT). UV transmittance (UVT) should be taken into account to determine the maximum flow rate capacity for your specific application based on Viqua's published dose curve for the Pro24-100 (see "Specs" tab for details). Dose values in the dose curve are calculated based on set-points determined by third party verified bioassay testing completed in compliance with the UV Disinfection Guidance Manual (UVDGM) protocol. We recommend that a dynamic flow restrictor be used to cap your flow rate at the level validated by the dose curve.
UV disinfection is safe, effective, economical, and best of all, does not add undesirable chemicals to your water like chlorine or chloramine.
For regulated applications requiring third party validation and 2-Log Adenovirus inactivation!
UV disinfection is safe, effective, economical, and best of all, does not add undesirable chemicals to your water like chlorine or chloramine.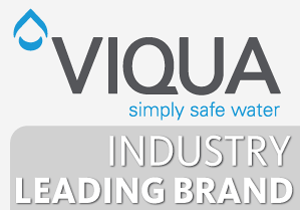 Industry leading brand you can trust...
World leader in UV water disinfection
Quality at an economical price
Made in Canada (Lamps Made in USA)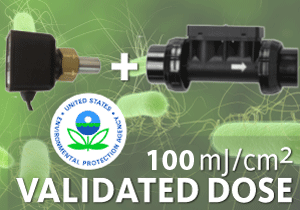 Performance confidence...
USEPA UVDGM validated (2006 Standards)
2-Log Adenovirus inactivation
True dose monitoring with intensity & flow sensors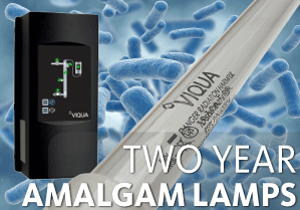 Amalgam lamp technology...
2X the lamp life of competitors' systems
Compact size due to ultra high lamp output
Consistent UV output in varying temperatures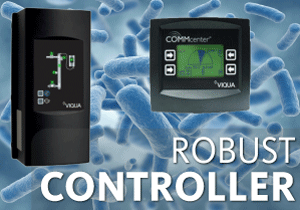 Intuitive contoller...
LED status lights to monitor all components
Consistent output in varying power conditions
COMMCenter datalogger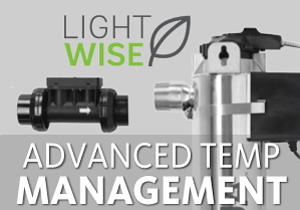 Advanced temperature management...
CoolTouch fan cooling system
Lightwise technology - lamp dimming saves energy
Air convection cooling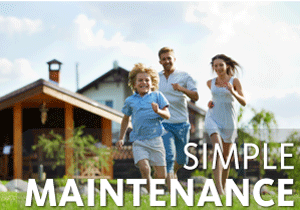 Simple maintenance...
Simple annual lamp replacement
No tools lamp replacement
LightWise technology - reduced sleeve fouling
The Pro24-100 comes equipped with real-time UV dose monitoring which utilizes data from both UV intensity sensors and a dedicated flow meter. The system will go into alarm at different points depending on input from these components. The Pro24-100 ensures safety and compliance at all timesi with a four-point stepped validation.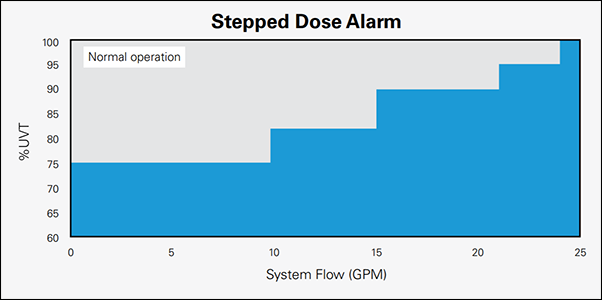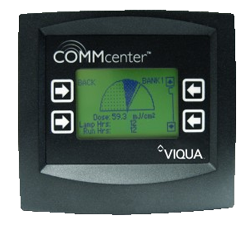 The Pro24-100 comes with Viqua's COMMCenter Data Logger which provides real-time dosage and flow rate display so you an monitor the performance of both UV sterilizers. In addition to UV dose, the system displays current water flow rate, alarm history, lamp hours, and other performance parameters. Moreover, the COMMCenter can be installed just about anywhere - simply connect the COMMCenter to the sterilizer using a standard computer cable. The COMMCenter can also be connected directly to your computer where you can use a standard spreadsheet program to obtain real-time dose data, track alarm and dose history, etc. for any given period of time. This data logging capability allows operators to demonstrate proper system operation to regulators and consumers, provides troubleshooting insights, and allows for proactive maintenance. These features make the COMMCenter an excellent choice for commercial applications where dosage reporting and logging is desirable to prove compliance with health regulations. It also accepts standard mini-SD memory cards (same type used more many digital cameras, one is included with the COMMCenter) so you can download data and transfer to a computer so you can view and analyze the data in any standard spread sheet program.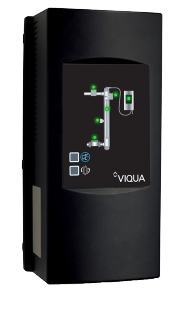 The Pro24-100 is a full featured unit offering convenient color-coded plug & play connections, sophisticated UV intensity monitors (one per sterilizer chamber), innovative high-output amalgam lamps with 2 year service life, dynamic flow restrictor, true UV dose monitoring incorporating UV intensity and flow rate data, built-in cooling system, and a host of other performance and convenience features designed to make installation, operation, and maintenance as simple as possible.
The Pro24-100 is suitable for the treatment of private wells and surface water supplies, as well as municipal water for those seeking a higher level of confidence in the safety of the water supply. The Pro24-100 is ideal for residential and light commercial water treatment applications where 2-Log Adenorivirus inactivation is desired or required by regulators. The Pro24-100 makes complying with the Ground Water Rule and LT2 regulations easy.
The Viqua Pro series controller includes a unique and intuitive display with a LED status lights that correspond to each component of the system. At a quick glace, the operator can identify the status of each component - green means all is good, orange means maintenance is required, and red means there is a fault. The controller automatically senses line voltage between 100 and 240 volts for consistent UV output and performance in varying electrical operating conditions.
The Pro24-100 uses Viqua's industry-leading amalgam lamp technology which offers up to double the lamp life of competitors' systems - 2 years! That means less maintenance and lower lamp costs over the life of the system. The amalgam lamps are also more stable thereby producing more consistent output at varying temperatures and over the life of the lamp.
The system continuously monitors the UV dose to ensure that the water is receiving an adequate dose of UV light to kill the bacteria, viruses, etc. The Pro24-100 takes UV dose monitoring to a new level by measuring both UV intensity and the flow rate of the water rather than simply assuming that the system is always running at full capacity. Accordingly, when the water flow rate is less than the system's capacity (which is the majority of the time), the system can use its excess treatment capacity to handle temporary reductions in UV transmittance that would cause nuisance alarms in competitors' UV systems. This technology represents one of the greatest advancements in UV performance monitoring that the residential/light commercial UV market has ever seen.
Data from the system's flow meter is also used in the Pro 24-100's LightWise technology, which dims the UV lamps when the water is not flowing to save power, reduce heat built up and decrease sleeve fouling.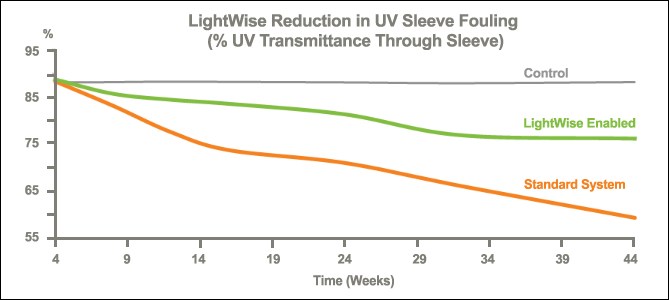 Combined with the LightWise technology, the CoolTouch fan system which is integrated into every Pro Series model, assists in system cooling during periods of inactive water use where conventional UV systems can often heat the water considerably as the water absorbs heat from the UV lamp. The CoolTouch fan thereby helps ensure maximum UV dose under all conditions.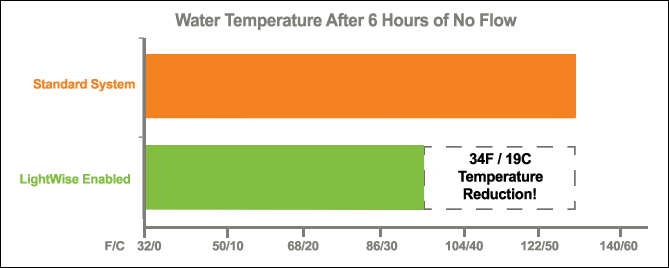 The Pro24-100 features combination 1 inch female NPT / 1 1/4 inch male NPT inlet and outlet connection ports. It can be equipped with an optional solenoid emergency shut-off kit, as often required by regulators. For more information on the emergency shut-off valve, CLICK HERE.
Not all UV systems are created equal...A good UV sterilizer is far more than a UV lamp in a tube. You rely on your UV sterilizer to protect the quality and safety of your drinking water and the health of your family and/or customers. You deserve the best insurance that you can buy for your money. Viqua and its parent company Trojan Technologies are literally the world leaders in UV water treatment technology. Their systems are backed by decades of bio-assay validation, computer-aided flow dynamics testing, and literally millions of dollars in lamp and ballast/power supply research and development. The result is a product that you can have confidence in to work when you need it.
Proper pre-treatment is important to ensure that your UV system performs at its best. See UV Pre-Treatment Requirements for details.
Why UV? - UV Advantages
UV water treatment offers many advantages for the treatment of microbiological contaminants like bacteria (including coliform and e.coli), viruses, molds, algae, yeast, and oocysts like cryptosporidium and giardia. Every year, these contaminants are responsible for thousands of serious illnesses due to the failure of city treatment plants or consumption of untreated well or surface water.
Unlike other disinfection options, UV sterilizers do not add any chemicals to the water, do not produce harmful by-products (THMs and HAs), and do not alter the taste, pH, mineral content, or other properties of the water. Accordingly, in addition to producing safe drinking water, UV disinfection is not harmful to your plumbing and septic system. Furthermore, it is easy and cost-effective to install and maintain without any special training.
UV sterilizers are one of the most popular and respected water treatment technologies in use today. They can be found in a wide range of water treatment applications ranging from simple under sink water filters to huge city water treatment plants.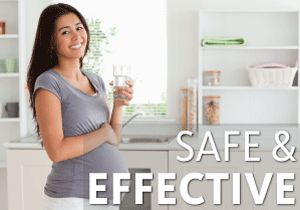 Safe and effective...
Treats bacteria including coliforms and e.coli
Treats very wide range of harmful viruses
Inactivates cryptosporidium and giardia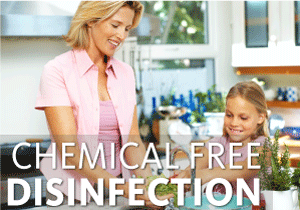 Chemical-free disinfection...
Absolutely no chemicals added
No disinfection by-products
Doesn't change taste or smell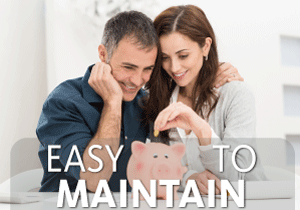 Easy to maintain...
Just clean the sleeve and replace the lamp once per year (or 2)
No tools maintenance
Low operating cost
With the infrastructure of cities all over North America crumbling under neglect and budget constraints, many customers have asked us if there was a product that they could add to their water system that would provide them with additional insurance and peace-of-mind against the possibility of a failure of their municipal water treatment system. These concerns have arisen due to several high-profile cases of contamination in city water supplies across the continent, some of which have resulted in illness and even death. UV disinfection is a great option to provide this extra level of insurance in your water supply.
Specifications & Operating Conditions - Viqua UVMax Pro24-100
Viqua UVMax Pro24-100 Features & Specifications
Manufacturer Part Number:
#660095-R
Application:
commercial applications requiring third party performance validation and 2-Log Adenovirus reduction
Maximum Flow Rate at UV Dose > 100mJ/cm2 at 95% UVT*:
24 GPM (91 LPM)
Validation:
USEPA UVDGM 2006 Standards
2-Log Adenovirus Inactivation
UV Intensity Monitor & Alarm System:
Real-Time Flow-Based Dose Monitoring:
LightWise Technology / Lamp Dimming:
Amalgam Lamp Technology w/ Extended 2 Year Lamp Life:
CoolTouch Cooling Fan:
Capability to Support Emergency Solenoid Shut-Off Valve:
(solenoid kit sold separately)
Visual Power-on Indicator:
Audible Lamp Failure Alarm with Mute:
Lamp Replacement Reminder:
Color-Coded Plug & Play Connections:
Integrated Dynamic Flow Restrictor:
Optional
RJ55 Communications Ports:
Electropolished Exterior:
No Tools Maintenance:
COMMCenter Data Logger:
Water Chamber Material:
Stainless Steel (316)
Inlet/Oulet:
Combination 1" FNPT / 1 1/4 MNPT
Electrical:
120-240v, 50/60HZ
Max. System Power (Watts):
230
Max. Lamp Power (Watts):
200
Replacement Lamp Part #:
#602856
Replacement Quartz UV Sleeve Part #:
#602976
Replacement Lamp/Sleeve Combo Part # (SAVE!):
#602850-003
Replacement Controller Part #:
Call for Assistance
Replacement UV Intensity Sensor #:
650580
Chamber Length:
41 inches / 103 cm
Chamber Diameter:
4 inches / 10 cm
Controller Size:
13 x 6.5 x 4 inches / (33 x 16.5 x 10 cm)
Installation:
Vertical Only
Electrical Safety Certification:
UL U.S. / Canada
Country of Manufacture:
Made in Canada (Lamps Made in U.S.A.)
*If your UV transmittance is less than 95%, see the UVMax Pro24-100 dose curve below to determine treatment capacity. A dynamic flow control device should be installed to ensure the validated flow rate for your UVT level cannot be exceeded. We recommend that your pre-treatment be designed to address turbidity, organics, or other factors that are reducing the UVT. If you would like assistance in selecting appropriate pre-treatment or model for your conditions, please feel free to call us toll free at 1-866-376-2690.
---
Pre-Treatment Requirements
Minimum pre-filtration shall consist of a 5 micron sediment filter. All UV sterilizers required sediment pre-filtration to reduce or eliminate the possibility that a targeted contaminant could "hide" behind a sediment particle in the "shadow" of the UV light and therefore not receive a full dose of UV light. Accordingly, the manufacturer strongly recommends sediment pre-filtration down to a level of 5 microns or smaller.
Water exceeding 120 ppm in hardness (7 grains per gallon) should be softened or treated with a salt-free hard water conditioner to reduce the risk that hard water mineral scale will build-up on the UV sleeve thereby reducing UV light distribution into the UV chamber. Similarly, iron levels exceeding 0.3 ppm or manganese levels exceeding 0.05 ppm should also be treated to prevent staining of the UV sleeve.
Elevated levels of certain other contaminants, such as tannins, can cause a reduction in UV transmittance (the ability of the water to transmit UV light). If the UV transmittance (UVT) of your water is less than 85% after the above-mentioned pre-treatment, treatment is recommended to improve UV transmittance. The majority of deep wells have a UVT of 85% or greater. Surface water is more likely to contain organics and turbidity that reduce UVT.
We recommend that you have your water tested for the following parameters before selecting a UV sterilizer. Proper pre-treatment to ensure that your water meets these parameters will maximize the performance of your UV system. It will also reduce your maintenance requirements. If your conditions do not meet these parameters, please call us toll free at 1-866-376-2690 to discuss pre-treatment options or to discuss how the performance of your UV system will be affected.

Not sure about your feed water quality? We do free water testing to test for all of the parameters necessary to ensure proper operation of you UV sterilizer! Click Here for details!
Feed Water Quality Parameters
UV Transmittance (UVT):
Minimum 75% (85%+ recommended)
Hardness:
less than 120 ppm (7 grains per gallon)
Iron:
less than 0.3 ppm (0.3 mg/L)
Manganese:
less than 0.05 ppm (0.05 mg/L)
Maximum Water Temperature:
86F (30C)
Maximum Recommended Water Pressure:
90 psi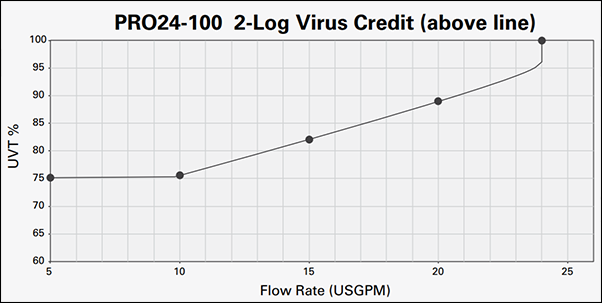 Replacement Parts and Popular Accessories
Similar Models
The following UV models are similar to the UVMax Pro24-100 in that they provide similar treatment capacity and are third-part validated (but to NSF/ANSI Standard 55 Class A instead of U.S. EPA UVDGM protocol). Viqua also offers a 186mJ/cm2 dose unit for 4-log Adenovirus inactvation.
Models Similar to the UVMax Pro24-100
Viqua UVMax Pro20

US$3,234.00
20 GPM - NSF 55 Class A validated
- More Info -
Viqua UVMax Pro30

US$4,242.00
30 GPM - NSF 55 Class A validated
- More Info -
Viqua UVMax Pro24-186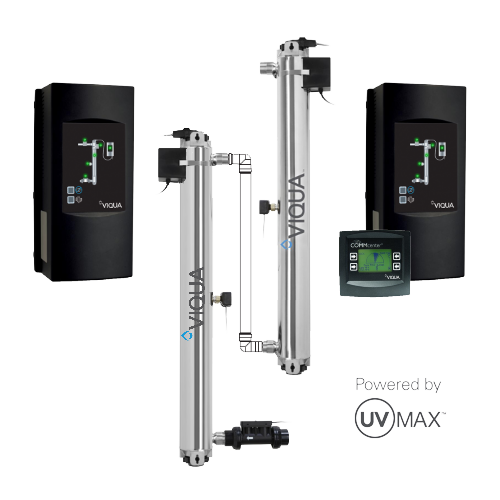 US$9,762.00
up to 24 GPM - 4-log Adeno virus validated (U.S. EPA UVDGM)
- More Info -
Viqua UVMax Pro24-100 High Dose UV Sterilizer (USEPA UVDGM Validated) Part #660095-R Reviews
There are currently no reviews for this product.
Be the first to
write a review.
How Ultraviolet (UV) Disinfection Works
UV sterilizers are an innovative technology that kills bacteria, viruses, and other microbiological water contaminants without the use of chemicals.
A great way to think about a UV sterilizer is to consider the effect of ordinary sunlight when we spend too much time outdoors in the sun - we can get a sunburn and our skin can be damaged. UV water disinfection is a similar process except it is dramatically more powerful then sunlight. A special lamp, surrounded by a quartz glass sleeve inside the stainless steel chamber that the water flows through, produces UV light concentrated at a specific wavelength that is most damaging to microorganisms. Inside the chamber, the contaminants are exposed to the UV light which damages their DNA. Once the DNA of the organism is damaged, the microorganism is unable to regulate its functions and reproduction. It either dies or is no longer able to reproduce and cause illness. We call this inactivation.
Just as the extent of your sunburn can vary depending on how much time you spend in the sun and the intensity of the sunlight on a hot summer day, the amount of UV light the contaminants are exposed to determines the effectiveness of the UV sterilizer. This is known as the UV dose. The 2 factors that contribute to UV dose are the exposure time which is directly related to the flow rate of the water through the UV chamber, and the intensity of the UV light is related to the effectiveness and design of the UV lamp and chamber, the age of the lamp, the clarity of the sleeve, and the clarity of the water being treated. We refer to the clarity of the water as UV transmittance or UVT. It is important to note that sometimes water with a high level of organics can appear virtually clear but have poor UVT since many organics can absorb UV light. We recommend that you have the UVT of your water tested.
UV Dose = UV Intensity x Exposure Time (Flow Rate)
To ensure a high UV intensity, it is important that the UV sleeve be cleaned periodically and that the water is properly pre-treated to remove minerals that can foul the UV sleeve (hardness, iron, and manganese). It is also important to pre-treat to remove sediment as well as organics and tannins that could absorb UV light. Pre-filtration to a minimum level of 5 microns is required by all UV manufacturers.
This model is equipped with a special sensor that continuously monitors the intensity of the UV light in the treatment chamber. If the UV intensity ever drops so low that the UV system is no longer able to safely disinfect your water, the system will produce an audible alarm to notify you. If the system is equipped with an optional emergency solenoid shut-off valve (sold separately), the system will also shut your water off. This is an excellent feature to have on systems that are subject to water quality variations or where additional safety is desired (children, elderly, or immune compromised).
As a UV lamp ages, the intensity of the UV light it produces will decline. UV manufacturers test the performance of their UV systems to ensure that they are capable of safely treating the water based on the UV output of their lamp at the end of its stated life. Beyond this point, the UV lamp might still be illuminated, but the specific wavelength of UV light might not be intense enough to safely disinfect the water. This is why it is very important to replace the UV lamp based on the manufacturer's stated lamp life. Most UV lamps have a service life of 9,000 hours or 1 year.
Many of our competitors advertise the capacity of their UV sterilizers based on a dosage of 30 mJ/cm2. We provide this information for comparative purposes, however, we strongly recommend that you size your UV sterilizer based on a dosage of 40 mJ/cm2. This ensures better disinfection when the UVT is less than optimal and provides extra protection against more resistant viruses. See our UV dose chart for a list of UV dosage levels required to treat common bacteria and other pathogens.
With proper pre-treatment and scheduled lamp replacement, UV disinfection is a highly effective and economical means of disinfecting drinking water. It is the most popular disinfection technology for well water and other private water supplies. It is also growing in popularity as a whole house treatment for homes connected to a city water supply as homeowners seek additional assurance that their water supply is safe, especially in light of recent prominent infrastructure failures in the news across the country.
Learn More
UV dose required to kill common bacteria, viruses, and cysts
Alternative treatment technologies
Recommended Viqua (Trojan) UVMax UV sterilizer accessories
Installation, Manuals & Resources
We recommend that UV sterilizers be installed by a licensed plumber; however, your warranty is valid as long as your system is installed in accordance with local plumbing codes and the manufacturer's Owner's Manual. For a homeowner with basic plumbing experience, the installation of a UV sterilizer is relatively simple.
The disinfection chamber MUST be installed vertically as the chamber orientation plays an important role in the cooling system operation. When installing your UV system, be sure to allow appropriate clearance above the chamber for lamp and sleeve removal.
You will need access to a nearby standard electrical outlet to power the unit.
Viqua UVMax Pro24-100 UV Sterilizer Manufacturer's Warranty
All Viqua UV sterilizers are backed by a comprehensive manufacturer's warranty against defects in material and workmanship so you can have the highest confidence in your UV system. In addition to the manufacturer's warranty, when you purchase from HomePlus Water, you have access to some of the country's foremost experts in residential and light commercial UV treatment. We would be pleased to assist you in resolving any technical problem you encounter.

Ten-Year Limited Warranty for VIQUA UV Chamber

VIQUA warrants the UV chamber on the VIQUA product to be free from defects in material and workmanship for a period of ten (10) years from the date of purchase. During this time, VIQUA will repair or replace, at its option, any defective VIQUA UV chamber.

Five-Year Limited Warranty for Electrical and Hardware Components

VIQUA warrants the Pro Series (Models H, H+, K, K+, Pro10, Pro20, Pro30, Pro50 and Pro24-186) electrical (controller) and hardware components to be free from defects in material and workmanship for a period of five (5) years from the date of purchase. During this time, VIQUA will repair or replace, at its option, any defective parts covered by the warranty.

Two-Year Limited Warranty for Amalgam Lamps

VIQUA warrants its Pro Series Amalgam lamps to be free from defects in material and workmanship for a period of two (2) years from the date of purchase. During this time, VIQUA will repair or replace, at its option, any defective parts covered by the warranty.

One-Year Limited Warranty for Sleeves and UV Sensors

VIQUA warrants sleeves, and UV sensors to be free from defects in material and workmanship for a period of one (1) year from the date of purchase. During this time, VIQUA will repair or replace, at its option, any defective parts covered by the warranty.
Note: Use only genuine VIQUA replacement lamps and sleeves in your system. Failure to do so may seriously compromise disinfection performance and affect warranty coverage.
General Conditions and Limitations
None of the above warranties cover damage caused by improper use or maintenance, accidents, acts of God or minor scratches or imperfections that do not materially impair the operation of the product. The warranties also do not cover products that are not installed as outlined in the applicable Owner's Manual.
Parts repaired or replaced under these warranties will be covered under warranty up to the end of the warranty period applicable to the original part.
The above warranties do not include the cost of shipping and handling of returned items The limited warranties described above are the only warranties applicable to the VIQUA range of products. These limited warranties outline the exclusive remedy for all claims based on a failure of or defect in any of these products, whether the claim is based on contract, tort (including negligence), strict liability or otherwise. These warranties are in lieu of all other warranties whether written, oral, implied or statutory. Without limitation, no warranty of merchantability or of fitness for a particular purpose shall apply to any of these products.
VIQUA does not assume any liability for personal injury or property damage caused by the use or misuse of any of the above products. VIQUA shall not in any event be liable for special, incidental, indirect or consequential damages. VIQUA's liability shall, in all instances, be limited to repair or replacement of the defective product or part and this liability will terminate upon expiration of the applicable warranty period.
If you are unsure whether an equipment problem or failure is covered by warranty, contact the Viqua Technical Support team at 1-800-265-7246 or e-mail technicalsupport@viqua.com. Their technicians will help you troubleshoot the problem and identify a solution. Have ready the model number, system serial number, the date of purchase, the name of the dealer from whom you purchased your VIQUA product, as well as a description of the problem you are experiencing.