ClearPlus WH1B+-HF High Flow Series 5 Micron
Whole House Sediment Filter Package
ClearPlus
WH1B+-HF High Flow Series 5 Micron
Whole House Sediment Filter Package
MSRP:

US

$

189.00
Our Price: US$137.95
You save: $51.05
Found a Lower Price?
Request a Price Beat


Lowest Price Guaranteed!
If you find a lower price on this product call us or Click here to request a price beat.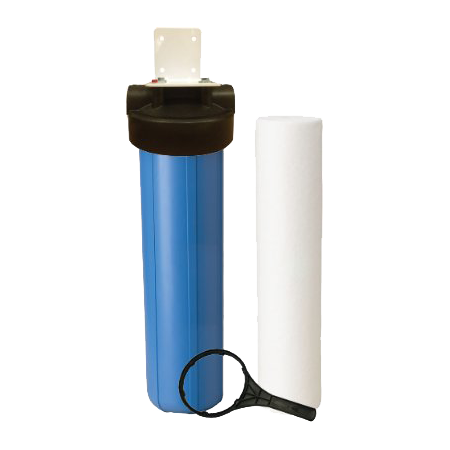 Description
Applications
Specifications
Why WH1B+
Reviews
Related Products
FAQ
Installation
This whole house filter package is designed specifically to remove fine dirt, sediment, rust particles, and other particulates down to a level of 5 microns in high flow rate applications (up to 20 gallons per minute). This filter improves water clarity, taste, and odor, and protects your plumbing system (including other water treatment equipment) from damage and pre-mature clogging due to sediment build-up.
This package features Pentek's DGD Series dual-gradient sediment filter. This filter uses the entire depth of its media by trapping the largest sediment particles on the outside of the filter, then gradually stepping down the size of particles it will reject as the water moves closer to the core of the filter. The outer layer is rated at 50 microns and the inner core is rated at 5 microns (nominal). The result is longer filter life, greater dirt-holding capacity, higher flow rates, and remarkably low pressure drop.
The WH1B+-HF features an authentic brand-name Pentek Big Blue filter housing. The housing is made of polypropylene and is NSF 42 validated for material requirements so you know it is safe for potable water contact.

Included in package:
one (1) heavy-duty Pentek Big Blue 20" filter housing (1" NPT) w/ pressure relief button
one (1) heavy-duty mounting bracket and related screws
one (1) Pentek DGD-5005-20 dual-gradient 5 micron sediment filter cartridge
one (1) spanner wrench
Do you like this filter but need less flow rate capacity?
Check out our WH1B+ Sediment Filter
Applications & Suitability:
The WH1B+-HF is well suited to general sediment filtration on a whole house basis for large homes, homes with heavy sediment contamination and for many commercial applications where flow rates are not expected to exceed 20 gallons per minute. Two or more units can also be plumbed in parallel where even higher flow rates are required. The 100% pure polypropylene filter media is highly resistant to bacteria, making the WH1 an excellent choice for well water, lake water, stream water, and municipal (city) water treatment applications. The WH1B+-HF is a very popular choice for whole house sediment pre-filtration for larger (>10 GPM) UV water sterilizers (Viqua (Trojan) UVMax and Sterilight models).
ClearPlus WH1B+-HF Specifications
Micron Rating:
5 microns nominal
Max. Recommended Flow Rate
(Gallons per Minute):
20 GPM (76 LPM)
Pressure Drop @ Maximum Flow Rate:
<2.5 PSI
Housing:
Heavy Duty Pentek Big Blue Housing (20")
Inlet/Outlet:
1" NPT (female)
Replacement Filter:
Pentek DGD-5005-20
Recommended Operating Temp. Range:
40-100F (4.4 to 37C)
Maximum Recommended Water Pressure:
90 PSI (6.2 bar)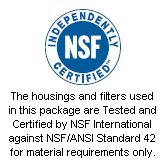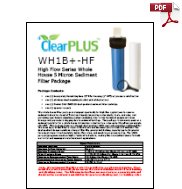 Download WH1B+-HF Owner's
Manual & Installation Guide
Adobe PDF Format
Why choose the WH1B+-HF Whole House Sediment Filter Package?
we use only the highest quality heavy duty filter housings with large diameter inlet and outlet for less pressure drop and better flow dynamics
housings and filters are NSF Certified (Standard 42 for material requirements)
we use standard filter sizes from the industry's largest manufacturer (Pentek)so you will always be able to obtain replacement filters for your system
many competitors use small 2.5" x 10" filters in their whole house filter systems, resulting in poor water pressure, short filter life, and less than optimal flow characteristics
the WH1B+-HF uses huge 4.5" x 20" filters with much greater surface area and dirt-holding capacity to reduce filter replacement frequency, maximize contaminant removal, improve water pressure and flow characteristics, and extend filter life so you have less maintenance to do!
sturdy powder-coated steel mounting bracket, and spanner wrench included!
great pricing on system packages are replacement filters - guaranteed best prices in USA and Canada on all replacement filters purchased by the case!
ClearPlus WH1B+-HF High Flow Series 5 Micron Whole House Sediment Filter Package Reviews
Filter rebel and sediment filter

I ordered rebel material for my chlorine filter and needed help with the process. They sent me instructions and helped when I called when I was not sure about something. Great guys. I also bought 2 20x4 sediment filters that I used before in another house and the bracket is much heavier than others I used. Real quality stuff. Great to do business with. Thanks
- Tom Sullivan
Options, Accessories and Replacement Parts
ClearPlus WH1B+-HF High Flow Series 5 Micron Whole House Sediment Filter Package Customer Questions & Answers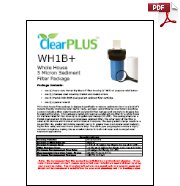 Download WH1B+-HF Owner's
Manual & Installation Guide
Adobe PDF Format
Please Note: The contaminants or other substances removed by this water treatment device are not necessarily present in your water.