ClearPlus Cartridge-Based Whole House Sediment Filter Packages
economical cartridge-based filters for the removal of sediment, rust particles, and debris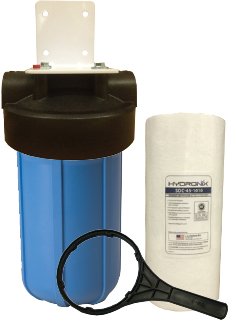 We offer a series of popular whole house sediment filters designed to remove dirt, sediment, rust particles, and other particulates from both city and well water thereby improving water clarity, taste, and odor, and protecting your home's plumbing system (including other water treatment equipment) from damage and pre-mature clogging due to sediment build-up. All of our sediment filters use multi-gradient spun polypropylene filter cartridges. These cartridges use the entire depth of their media by trapping the largest sediment particles on the outside of the filter, then gradually stepping down the size of particles they will reject as the water moves closer to the core of the filter. The result is longer filter life, greater dirt-holding capacity, higher flow rates, and remarkably low pressure drop. The 100% pure polypropylene media is highly resistant to bacteria and chemicals, making this an excellent choice for both well water and municipal water treatment applications.
Our filter housings are made by the largest manufacturer of water filters in the world. The housings are NSF-certified (Standard 42 - material requirements) and are constructed of heavy duty polypropylene. They feature large diameter 1" inlet and outlets for low pressure drop, as well as a convenient pressure relief button. You can use simple plumbing fittings from your local hardware store to connect to your pipes if you have 3/4" or 1/2" pipes. A sturdy mounting bracket and screws, as well as a spanner wrench are also included with every sediment filter package.
Our standard systems are designed for flow rates up to 10 gallons per minute and suit the needs of most average homes, in fact, even our standard units have more flow capacity, less pressure drop, more dirt-holding capacity, and longer-filter life than most competitors' models. If you need even higher flow rates, our High Flow Series models (WH1-HF, WH1B+-HF, and WH1-1-HF) are designed for applications up to 20 gallons per minute.
Our 5 micron WH1B+ & WH1B+-HF, and 1 micron WH1-1 & WH1-1-HF models are very popular sediment pre-filters for Viqua (Trojan) UVMax and Sterilight whole house UV sterilizers.


Why choose one of our whole house sediment filtration systems?



The housings and filters used in these packages are individually tested and certified by NSF International against NSF/ANSI Standard 42 for material safety requirements only.
we use only the highest quality heavy duty filter housings with large diameter inlet and outlet for less pressure drop and better flow dynamics
all of our housings and cartridges are NSF-approved (for material requirements safety) for drinking water applications
we use standard filter sizes so you will always be able to obtain replacement filters for your system
many competitors use small 2.5" x 10" filters in their whole house filter systems, resulting in poor water pressure, short filter life, and less than optimal flow characteristics
we use filters with much greater surface area and dirt-holding capacity to maximize contaminant removal, improve water pressure and flow characteristics, and extend filter life so you have less maintenance to do!
great pricing on system packages and replacement filters - guaranteed best prices in USA and Canada on all replacement filters purchased by the case!
Standard 10 gpm Sediment Filter Packages
High Flow 20 gpm Sediment Filter Packages
Please Note:
The contaminants or other substances removed by this water treatment device are not necessarily present in your water.