Selecting the Correct Viqua (Trojan) UVMax Model for Your Needs
Selecting the appropriate Viqua (Trojan) UVMax UV water sterilizer model to suit the needs of your home and business is largely a function of the water flow rate that you need to treat and the features that you desire.
Flow rates are generally expressed in gallons per minute. The average home will rarely ever demand more than 7 or 8 gallons per minute of treated water at any given time, especially if the irrigation water is run on a separate untreated water line. Larger homes and light commercial operations (eg. bed & breakfast operations or restaurants) may demand higher flow rates, often up to 15 gallons per minute, or more. To help put flow rates into perspective, the average shower flows at about 2 gallons per minute and a kitchen faucet generally runs at 1 to 1.5 gallons per minute.
The Viqua VT1, Viqua VT4, and Sterilight S2Q-PA are used strictly for point-of-use applications, often as a supplement to various under sink water filters used to produce drinking water in the kitchen (especially reverse osmosis systems).
The Viqua (Trojan) UVMax D4 & UVMax D4 Premium are our most popular models for small homes. The Viqua VH200 is an economical unit that comes with a fair range of popular and important features and options. The UVMax D4 has several advanced features and capabilities including the ability to add a solenoid emergency shut-off kit which offers added protection in the event of a power failure or lamp failure (see below). For homes and commercial applications with more demanding water flow needs, we have the Viqua UVMax E4 and Viqua UVMax F4. There are no significant differences between the Models D4, E4, and F4 other than their UV bulb power output and consequently, their maximum flow rate capacities. To ensure that your water flow rates do not exceed the rated capacity of the sterilizer, we offer optional flow restrictors with all of our models.
The Models D4, E4, F4, G, H & J can be equipped with an optional UV intensity monitor. The UV intensity monitor continuously monitors the intensity of the UV light to ensure that the water is receiving an adequate dose of UV light to kill the bacteria, viruses, etc. The use of a model with a UV intensity monitor is generally recommended where a known E.coli or other serious problem is present or the feed water parameters may cause problems with UV transmittance from time to time (sediment flushing, iron or hard water scale build-up on the UV sleeve etc.). The UV intensity monitor MUST be purchased at the same time as the unit - it CANNOT be added at a later date. When equipped with the UV intensity monitor, it is referred to as the Models D+, E+, F+, etc.


Certain applications, including those in the food-services or lodging (bed & breakfast, lodges, camps, etc.) industries, require a UV sterilizer certified to NSF-55 Class A standards. For such applications, Viqua offers the UVMax Pro10, Pro20, and Pro30 models. The original Pro Series models were the very first models ever certified under this stringent standard. These models include a built-in UV intensity monitor and a flow restrictor, and have a full range of other features. The Models Pro10, Pro20, and Pro30 are based on the same platform as the Models G, H, and J (although it is more accurate to say that the G,H, and J are based on the new state-of-the-art Pro Series). Accordingly, they feature the same high output lamps, plug & play installation, cooling fan, intuitive interface etc. They also feature integrated flow restrictors that prevent you from exceeding the maximum NSF-certified flow rate. Many of our residential customers looking for the very best unit that they can get for their money also purchase a Pro Series Model.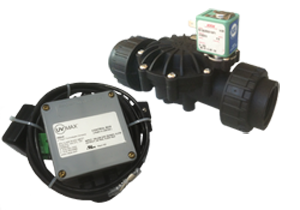 While not essential, we do recommend the use of Trojan's optional solenoid emergency shut-off kit. In the event of a power failure or electrical outage to your home, your UV lamp in your UV system will lose power. This could leave your home unprotected if someone turns on a water faucet. Some bacteria and other waterborne pathogens can also swim past an un-powered UV lamp and reach the downstream portion of your water system and therefore not receive a dose of UV light once the power is restored. The same situation could occur in the event of a UV bulb failure (rare, but possible). The solenoid emergency shut-off valve kit is installed at the output of your Trojan UV system and will physically close a valve in the event of a bulb burn-out, or power failure, thereby preventing any contaminant from passing through the system untreated. This feature will also turn off the water supply if there is a UV intensity loss (for models equipped with a UV intensity monitor). This kit is highly recommend for all homes with a known bacterial, virus, or cyst contamination problem, and for all homes with an electrical supply that is prone to frequent outages.
Should you still have any questions about selecting the right Viqua (Trojan) UVMax unit for your needs, please call us toll free at 1-866-376-2690. We would be pleased to assist you.