FREE Water Testing - UV Disinfection
We are pleased to offer FREE water testing to determine if pre-treatment is required to ensure proper operation of your UV sterilizer.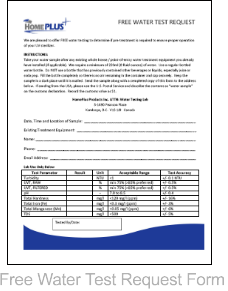 We will test the following parameters:
UV Transmittance (UVT), Raw/Unfiltered
UV Transmittance (UVT), Filtered (0.4 Microns)
Turbidity
pH
Total Hardness
Total Iron
Total Manganese
Total Dissolved Solids (TDS)
Other parameters may be tested depending on the results of the above
Download a copy of our free water test request form, answer a few short questions, and send the completed form with your water sample to:
HomePlus Products Inc.
ATTN: Water Testing Lab
5-1490 Pearson Place
Kamloops, B.C. V1S 1J9 Canada
Note: If sending from the USA, please use the U.S. Postal Service and describe the contents as "water sample" on the customs declaration. Record the customs value as $1.
How to Take Your Water Sample:
Take your water sample after any existing whole house / point-of-entry water treatment equipment you already have installed (if applicable). We require a minimum of 250ml (8 fluid ounces) of water. Use a regular bottled water bottle. Do NOT use a bottle that has previously contained other beverages or liquids, especially juice or soda pop. Fill the bottle completely so there is no air remaining in the container and cap it securely. Keep the sample in a dark place until it is mailed.
Results will be emailed to you within a day or 2 of the arrival of your sample at our lab together with our recommendations for pre-treatment.