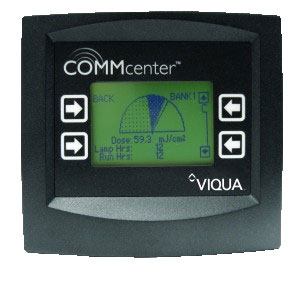 Viqua (Trojan) UVMax COMMCenter - #270272-R
The Viqua (Trojan) UVMax COMMCenter works with:
Sorry, this item is on long term back order due to a computer chip storage. The H2OnAlert Display from intuative water was develeoped to provide the same functionality at a similar price point.
The UVMax COMMCenter provides real-time dosage display so you can monitor the performance of your UV system. In addition to UV dose, the system displays alarm history, lamp hours, and other performance parameters. Moreover, the COMMCenter can be installed just about anywhere - simply connect the COMMCenter to the sterilizer using a standard computer cable.
The COMMCenter can also be connected directly to your computer where you can use Trojan's MAXtrack software to obtain real-time dose data, track alarm and dose history, etc. for any given period of time. This data logging capability allows operators to demonstrate proper system operation to regulators and consumers, provides troubleshooting insights, and allows for proactive maintenance.
These features make the COMMCenter an excellent choice for commercial applications where dosage reporting and logging is desirable to prove compliance with health regulations. It also accept standard mini-SD memory cards (same type used more many digital cameras) so you can download data and transfer to a computer so you can view and analyze the data in any standard spread sheet program.
A single COMMCenter can monitor up to 9 UV systems simultaneously. The MAXtrack software can be downloaded from the manufacturer's website at no charge.