Quick Change Twist & Loc Reverse Osmosis (RO) Water Filter
Nelsen
Quick Change Twist & Loc RO System
Model #: TWIST-LOC-RO-75
MSRP:

US

$

466.00
Our Price: US$299.95
You save: $166.05
Found a Lower Price?
Request a Price Beat


Lowest Price Guaranteed!
If you find a lower price on this product call us or Click here to request a price beat.
Easy cartridge removal and installation, just a quarter turn without even turning the water off!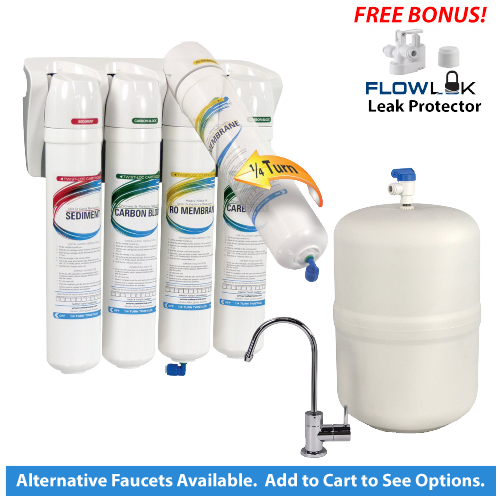 Description
Specifications
Parts & Accessories
Installation / Manuals
Reviews
Warranty
Description, Features & Benefits
The Nelsen quick change Twist & Loc reverse osmosis (RO) system is an innovative RO system designed for the ultimate ease of operation. Filter replacement can be done in literally a couple of minutes without any tools and wihout even turning the water supply off! Just a quick quarter turn to remove the old filter, and a quarter twist to lock in the new cartridge. It doesn't get any easier!
At the same time, the Twist & Loc RO system has all of the other features that you would expect in a quality RO system including sediment pre-filter, pre and post activated carbon filters, a thin firm composite (TFC) RO membrane, chrome faucet, storage tank and complete installation kit.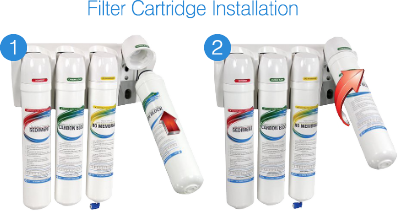 For more information of the removal/reduction of various contaminants by carbon filtration and reverse osmosis, please CLICK HERE.
---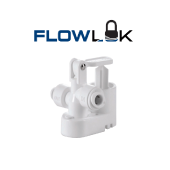 FREE BONUS: Flowlok Leak Protector
The FLOWLOK Leak Detector is an innovative device that installs right below your water filtration system in minutes. No special tools are required and it does not need electricity to operate. FLOWLOK Leak Detectors utilize a highly compressed safety disc that expands when it absorbs water. Once the safety disc has detected water it expands and trips the FLOWLOK safety lever to shut off the water entering the water filtration device. Safety discs are replaceable and are economical.
Specifications & Operating Conditions - Nelsen TWIST-LOC-RO-75 RO System
Stages and Specifications
Stage 1: Sediment Pre-Filter
TWIST-SEDIMENT 5 Micron Sediment Filter
Replace every 2,500 gallons or 6 months
- Traps silt/dust, rust and sand which may affect the taste and look of your water, while at the same time protecting the other filters from premature fouling.
Stage 2: Carbon Pre-Filter
TWIST-CARBON 5 Micron Activated Carbon Cartridge
Replace every 2,500 gallons or 6 months
- Reduces chlorine, organochlorine compounds, chlorination disinfection byproducts (THMs and HAs), many VOCs and more.
Stage 3: Reverse Osmosis Membrane
TWIST-MEMBRANE-75 75 Gallon Per Day Thin Film Composite (TFC) RO Membrane*
Replace every 2 years
- Removes 98% of most inorganic impurities.
Stage 4: Carbon Post-Filter
TWIST-CARBON 5 Micron Activated Carbon Cartridge
Replace every 2,500 gallons or 6 months
- Improves the taste and smell of your water by removing a wide range or organic compounds.
Self-Cleaning:
This system uses a process of crossflow to constantly clean the membrane to prevent pre-mature fouling and clogging.
Storage Tank Capacity:
3.2 gallons (12 litres)
Made in:
South Korea
This system is designed for use on all chlorinated and non-chlorinated potable water supplies. It is an excellent choice for most homes. If you do not receive your water from a municipal water system (you get your water from a well, lake or other non-treated source), you should have your water tested to ensure it is biologically safe (free of bacteria, viruses, and other harmful microorganisms) before using a reverse osmosis filter as your only water treatment. If your water is biologically contaminated, you should consider a point-of-use or whole-house ultraviolet purifier in addition to your reverse osmosis unit to kill any remaining microorganisms.
* Note: While the system membrane has a manufacturer's capacity rating of 75 gallons per day, this level of production can only be achieved under what would normally be considered to be ideal (and unrealistic) conditions. In real world conditions, actual membrane production will be much lower, generally in the range of 25% to 40% of the manufacturer's membrane rating. However, the manufacturer rating is generally a good method of comparing relative membrane capacity between different RO systems.
Recommended Source Water Parameters:
Pressure: 30-100 PSI (2.1-6.9 bar)
Temperature: 39-100F (4-38C)
pH: 5-10
TDS Level: less than 2000 ppm (mg/L)
Turbidity: less than 1.0 NTU
Hardness(CaCO3):<17.5 GPG (300 mg/L)
Iron (Fe): <1 ppm (mg/L)
Residual Chlorine: <3.0 ppm (mg/L)
Note: this product is not available in the State of California. CLICK HERE for more information.

Note: The contaminants or other substances removed or reduced by this water treatment device are not necessarily present in your water.
Replacement Parts and Popular Accessories
TWIST-LOC-RO-75 RO System Installation, Manuals & Resources
The filtration unit and storage tank mount under your sink, out of sight. Water supply is gained by attaching a simple adapter to your cold water supply pipe (copper or plastic). You will have to drill a hole in your countertop or sink frame to attach the faucet. It is a relatively easy do-it-yourself project, or if you prefer, you can have it installed by a handyman or plumber. The unit includes all installation hardware and a complete installation guide.
Nelsen Quick Change Twist & Loc RO System Model #: TWIST-LOC-RO-75 Reviews
Works perfect

This RO system works just as expected. It does fill slow. I don't think the listed flow rate is anywhere near accurate. It is not certified which I found out after I ordered it. It installed easily. I would order again if they get it certified. If the fill rate was faster and it was certified I would give this 5 stars.
- Dan C
TWIST-LOC-RO-75 RO System Manufacturer's Warranty
Nelsen Corporation (the manufacturer) warrants to the original owner (under normal use) to be free from defects in material and/or workmanship for one (1) year from the date of purchase.