Graphene water filters for desalination, heavy metals, bacteria & virus filtration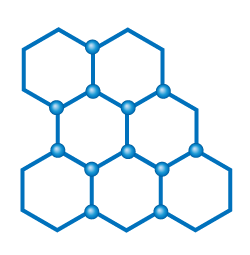 Graphene is the thinnest two-dimensional material in the world and a single sheet is nearly completely transparent due to this extreme thinness. It is remarkably strong for how thin it is, making it hypothetically possible to use in a wide range of industries including electronics, energy storage, water filtration, and more. Graphene is incredibly easy to produce as a base material and had been theorized for decades before finally being properly isolated in 2004 by researchers from the University of Manchester. In 2010, these researchers were awarded the Nobel Prize in physics for their work in the study of graphene.
Early studies and analysis have indicated that graphene has the ability to effectively remove most heavy metals such as uranium and arsenic from water. Graphene has also been successfully used to desalinate (remove the salt) from water. Unfortunately graphene water treatment technology is still in the development stage and is not readily available to consumers. However, HomePlus products offers various water treatment solutions for heavy metal removal, desalination, and virus / bacteria treatment that are both reasonably priced and effective.
Graphene filters for heavy metal removal
Early analysis of graphene water filters has indicated the ability for them to remove heavy metals such as arsenic and uranium from drinking water supplies. Arsenic and uranium are two of the most concerning heavy metals commonly found in water supplies and are often targeted by water treatment technologies. At high concentrations significant long-term health effects can be caused by the consumption of both these metals. Several water treatment technologies can currently be used to reduce or remove heavy metals from your drinking water supply.
The most similar method for heavy metal reduction to graphene based water filtration technology that is currently available today is Reverse Osmosis (RO). RO is essentially a very fine filter that is capable of removing various contaminants from your drinking water. When using RO it is important to understand that some water waste will occur as the filters must be regularly cleaned of the contaminants they have captured. This same waste would be present in a graphene based filter when they do come to market. This cleaning helps to prevent the very fine filters from clogging with sediment which would happen very quickly otherwise.
Another possible solution for heavy metal removal is with a Metsorb media filter system. Metsorb is a titanium dioxide based media that adsorbs (holds onto) contaminants. These systems are primarily used for removal of arsenic III and V (trivalent and pentavalent) but they also remove various heavy metals including lead, cadmium, copper, chromium+6, selenium, and zinc. Importantly, Metsorb is also able to remove uranium from your drinking water. Just like with RO systems, an occasional cleaning (backwash of the system in this case) must occur to prevent too many contaminants from sticking to the media. This backwash cycle also works to extend the life of the media.
Salt water desalination with graphene filters
One of the primary areas of study for graphene based water filtration methods is the efficient desalination (removal of salt) of water. This is primarily intended for a more industrial scale (the desalination of sea water for cities/townships/villages etc.), but could also be potentially downscaled to an in-home solution to high salt content in water.
Usually well/surface drinking water is not particularly high in salt and is not of any health concern. However, two possible situations can arise that could make higher salt content a worry. The first is if anyone in the home has health conditions that make them more susceptible to becoming ill as a result of increased salt content (heart conditions etc.). The other would be if you have hard water and are using a traditional water softener with salt brine for cleaning the media. While not extreme there is some increase in the salt content of water that has gone through a salt brine softener, and sometimes it is a good idea to remove the additional salt that has been added to the water.
The primary technology we use to remove salt from water is Reverse Osmosis (RO). RO will not only remove excess salt from water but can also remove other dangerous contaminants such as arsenic, uranium, fluoride, and more. While graphene based filters could likely also successfully remove all these contaminants, it is unlikely that graphene based systems could do so in a significantly more efficient way than the RO technology we already use today. While it remains to be seen what new innovations in desalination via graphene based filtration will enter the market, as of now RO based systems are the best way to ensure your drinking water is desalinated successfully.
Graphene for virus and bacteria removal
Not many studies have yet been done on the effectiveness of graphene for the removal of illness causing pathogens such as E. coli, cryptosporidium, and giardia. However, due to the ability for graphene filter pore sizes to be as small as 5 nanometers (about 20,000 times smaller than a human hair) they will likely be capable of removing most of these dangerous pathogens from water. The smallest infectious agent we commonly deal with is E. coli at about 500 nanometres in size. Due to the extremely fine nature of the filter pore sizes in graphene filters they should hypothetically be able to remove E.coli entirely from water sources. Giardia and Cryptosporidium are much larger in size and therefore could also be easily removed with a fine graphene filter. Reverse Osmosis (RO) can already remove all of these dangerous pathogens from water. However, this does indicate that graphene filters should also work for the removal of these bioorganic contaminants.
While fine filtration methods can technically remove dangerous pathogens from water, HomePlus highly recommends using Ultraviolet (UV) sterilizers to deactivate or kill these microbiological contaminants. This is largely because although RO can remove the contaminants from water, it is possible for bacteria and viruses to grow through the fine filters and infect the other side (filtered side) of your water. UV on the other hand does not have this flaw, and can be used either as a primary disinfectant in the case of surface or well water that is at risk of contamination, or as a backup in case anything does begin to enter or grow in your water. UV is simple to maintain and will completely deactivate or remove all the same parasites and bacteria in your water that graphene filters could hypothetically remove.
While there are some very interesting possibilities for graphene based filtration methods to enter the consumer market in coming years the technology is not yet ready. Several other current technologies do exist, however, that can help treat the various problems and water contaminants that graphene systems are currently being tested on. HomePlus products offer a wide range water filtration options for both whole house and point of use water treatment. If you need any assistance with sizing a system or further discussing treating your water for contaminants you can call us toll free at 1-866-376-2690 to speak with one of our certified water technicians.

---
Customer Questions & Answers