Fleck Seal & Spacer Kit for 2510, 2700, 2750, and 2900 (Upper) - Part #60121
Fleck 2510, 2700, 2750, and 2900
Replacement Seals & Spacers Kit
Part #60121
MSRP:

US

$

32.45
Our Price: US$21.18
You save: $11.27
Found a Lower Price?
Request a Price Beat


Lowest Price Guaranteed!
If you find a lower price on this product call us or Click here to request a price beat.
Guaranteed Genuine Fleck 2510, 2700, 2750, and 2900 parts. Don't be Fooled by Knock-Offs!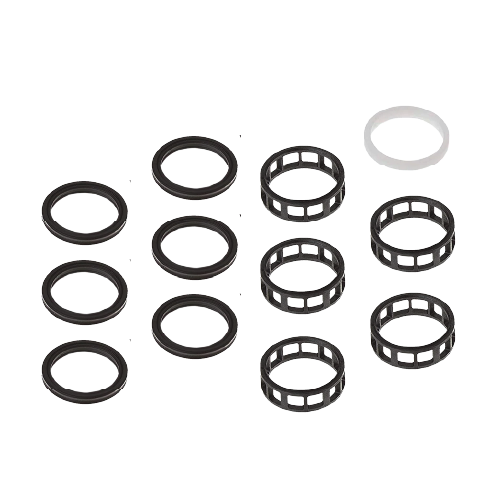 Description
Specifications
Related Products
Installation / Instructions
Reviews
Part Number: 60121
Genuine original equipment replacement seal and spacer kit for the Fleck 2510, 2700, 2750, and 2900 (upper piston only) valves.
This seal and spacer kit is used on all Iron Rival series filter systems that use the Fleck 2510 AIO control valve as well as a range of other iron filter brands that use this same control valve.
Over time, the seals can wear out due to due mechanical abrassion. This is especially true in iron or turbidity filters due the high level of oxidizing iron, sediment, and grit in such systems. The most common symptoms of a worn or damaged seal is that water will slowly dribble to the drain when the valve is in service mode. In an iron filter, we generally recommend that the seals and spacers be replaced every 2 years as preventative meaintenance. They can last considerably longer in water softeners and other types of filters. The piston should be replaced at the same time if it is badly scratched, scored, or otherwise damaged.
Replacement of the seals and spacers requires nothing more than a screw driver, some food-grade silicone lubricant, and a water-resistant piece of relatively stiff paper. See our video under the Installation/instructions tab for complete details of the replacement being done on one of our Iron Rival valves. A special tool kit composted of 3 tools (seal hook, stuffer, and puller) is also available from Fleck to help remove and install the seals and spacers, but the tool kit is priced by the manufacturer to discourage anyone other than dealers from purchasing the kit, so the special tools are a bit pricey.
Kit includes all 5 spacers, 6 seals, and PVC ring.
Fleck #60121 Specifications
Technical Specifications
Part #
#60121
Kit includes all 5 spacers, 6 seals, and PVC ring.
Fleck 2510, 2700, 2750, and 2900 Replacement Seals & Spacers Kit Part #60121 Reviews
Seal and Spacers for Fleck 2510

Homeplus sent helped diagnose my need for new spacers and seals and sent me the parts right away minimizing the down time. They are hard to install without the specialized tool, but I fabricated removal tool from coat hanger and made a custom fitting push rod to slide the the spacers and seals into place and that made the task manageable. This was my second replacement in 8 years and my only gripe is the company should be clear with customers regular maintenance repairs are needed for the unit.
- Mark Hicks