Enpress ONE Cartridge Tank Filter System - Standard 2" Inlet/Outlet
Ideal replacement for small, low capacity plastic housings and expensive commercial stainless steel housings!
Enpress
ONE Cartridge Tank Filter System
High Flow 2" Inlet/Outlet (CTF8-HF)
MSRP:

US

$

525.00
Our Price: US$347.00
You save: $178.00
Write a review.
Found a Lower Price?
Request a Price Beat

Note: Cartridges Sold Separately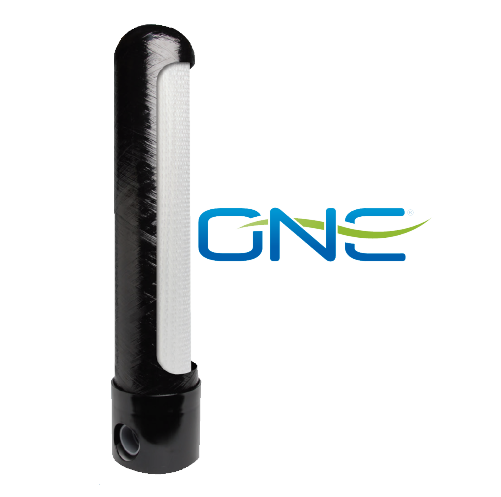 Description
Specifications
Available Cartridges
Literature
Warranty
Description, Features & Benefits
Alternative Part Numbers: CTF8-HF, SCT-200, EF-835-2, EF-840-2, 109711, NFS-HF-PLUS

The Enpress ONE Cartridge Tank is an ideal housing for a wide range of water treatment applications including high flow residential and light commercial applications that would normally require multiple small and inefficient 2 1/2 or 4 1/2 housings, or expensive stainless steel cartridge housings. The Enpress cartridge tank offers extended service life, will never rust, and is far more cost-effective. Moreover, cartridge replacement has never been easier! The Enpress ONE cartridge tank uses a patented industry exclusive "no tools required" snap-ring design for fast and efficient filter changes.
Press the red pressure relief button, pull the snap ring, and lift off the cap! It's just that easy!

The Enpress ONE Cartridge Tank is available in 2 configurations, the high flow model shown here with 2 inch inlet/outlet for flow rates up to 150 GPM, and a standard capacity version with 1.25 inch inlet/outlet ports for flow rates up to 60 GPM (sediment filters). See "available cartridges" tab below for a list of cartridge options and specifications.
Features and Benefits:
high flow rates with limited pressure drop
much cheaper and easier to install than multiple "Big Blue" housings, and dramatically cheaper than commercial stainless steel housings
100% non-metallic - will not rust!
patented no-tools required snap ring design for fast and easy cartridge replacement
wide range of sediment and activated carbon filter cartridges available
The Cartridge Tank is NSF 44 and 61 listed and has been tested to 150 psi operating pressure with 4:1 Burst Safety Factor.
Specifications & Operating Conditions - Enpress ONE Cartridge Tank Filter System - 2 Inch
| | |
| --- | --- |
| Size: | Approx. 8 Inches in Diameter x 39 3/4 Inches Tall |
| Inlet / Outlet: | 2 Inches, Glue Socket |
| Max Pressure: | 150 psi (<90 psi recommended) |
| Pressure Relief Button?: | Yes |
| Made in: | USA |
Typical Installation: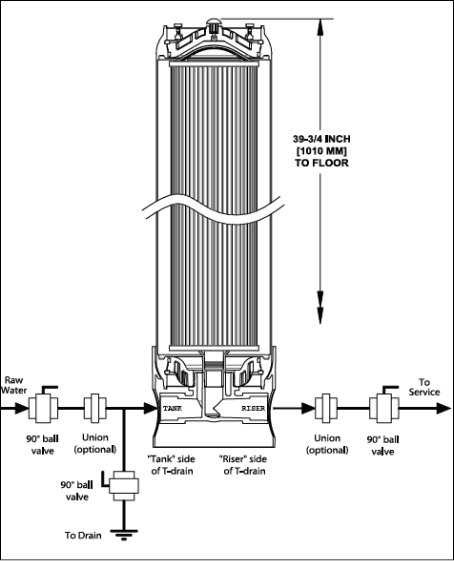 Note: Optional unions, ball valves and drain connections are not included. They can be purchased at any plumbing supply store.
This system is designed for use on all chlorinated and non-chlorinated potable water supplies. It is an excellent choice for larger homes and light commercial settings. If you do not receive your water from a municipal water system (you get your water from a well, lake or other non-treated source), you should have your water tested to ensure it is biologically safe (free of bacteria, viruses, and other harmful microorganisms) before using this filter system as your only water treatment. If your water is biologically contaminated, you should consider a UV sterilizer in addition to this system to kill microorganisms.

Available Cartridges for Enpress ONE Cartridge Tank (High Flow Size with 2" Inlet/Outlet)
Enpress uses colors to identify their various cartridge series. The high flow Enpress ONE Cartridge Tank with 2 inch inlet and outlet uses Purple and Red Series cartridge filters.
Manufacturer's Warranty
Enpress LLC (the manufacturer) warrants to the original owner (under normal use) to be free from defects in material and/or workmanship for one (1) year from the date of purchase.