Viqua UV Lamp / Bulb for UVMax Model C / D / C4 / D4 Series - #602805
Viqua UVMax
#602805 Replacement Lamp
for UVMax Model C / D / C4 / D4 Series
MSRP: US$138.00
US$119.00
You save: $19.00!!
Choose Option:

5.0

out of 5 stars (14
reviews)
Review this product
Found a Lower Price? We price match comparable systems!
Request a Price Beat
Guaranteed Genuine Trojan UVMax #602805 Original Equipment Lamp. Don't be Fooled by Knock-Offs!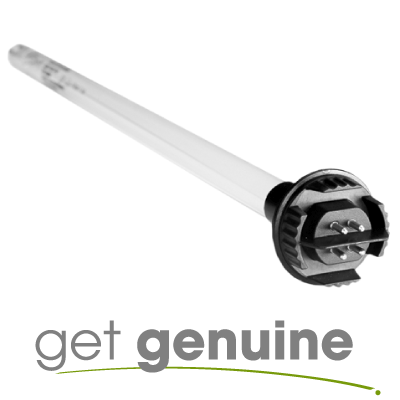 Description
Specifications
Related Products
Installation / Manual
Reviews
Why Genuine
This is a genuine Viqua UVMax OEM replacement lamp and should be replaced every 12 months for optimal sterilization and safety.
Viqua UVMax #602805 replacement lamps are designed only for use in Viqua UVMax UV sterilizers. We do not recommend that you attempt to use Trojan replacement lamps in models made by other manufacturers.
UVMax #602805 is the replacement lamp for the following models:
UVMax #602805 Specifications
Technical Specifications
Part #
#602805 (formerly #602727)
Lamp Length
16" (40.5cm)
Lamp Power
43 Watts
Lamp Life
12 Months
GTIN
00773058028059
How to change a UVMax #602805 Lamp
Turn off water supply valve to UV sterilizer
Turn on faucet elsewhere in the home to depressurize the system
Disconnect your UV system from power (unplug unit)
Allow system to cool for 5 - 10 minutes
Put on clean gloves
Remove dust cover by squeezing and lifting up
Lift lamp connector straight up
Remove UVMax #602805 lamp from system by unscrewing and lifting straight up
Insert new UVMax #602805 lamp into the system
Screw new UVMax #602805 lamp into the system
Push lamp connector down onto chamber
Attach dust cover and slide over top of chamber
Plug in UV system
System will beep
Hold reset button until system beeps and counter is reset to 365
Slowly open water supply valve to UV sterilizer
Check for leaks
Close faucet elsewhere in the home
Note: The UVMax UVMax #602805 is a fluorescent lamp and can be recycled at most hardware stores or your local hazardous waste facility.
Viqua UVMax #602805 Replacement Lamp
for UVMax Model C / D / C4 / D4 Series Reviews
Genuine Trojan Lamp

The first lamp I ordered from a website I won't name said it was a trojan lamp, but it wasn't when it arrived. I sent it back and bought the correct lamp here. Not much else to say, it does what it's supposed to.
- Jill
Great product/pricing and delivery

I will definitely purchase again given the ease and speed of delivery.
- Ed C
Lampe Trojan

Excellent
- andre r
TrojanUV

It helps alot.
- Natalie B
Best home water purifier

I have a rain water collection at my rural home it was either well water or collect rain water with this system I have the purest and best water you can get
- Wayne
Untitled

- Verified Customer
Replacement bulb/ sleeve

Very satisfied with the product as it pertains to price, delivery and ease of ordering.
- George A
New Water Filter UV Light Replacement Kit

The new UV Light Replacement Kit that you sent me worked out wonderfully. It was easy and quick to install and my well water system was back in operation with no fuss and no muss. Thank you!!
- Jim H.
Untitled

good
- Brian
Untitled

received my order quickly and in good shape. Price was competitive and quality was excellent.
- Scott
perfect

the product arrived quickly and the priceset was better than anywhere else I could find
- doug
Sleeve and Lamp replacement

Effective combination of "spare parts". I keep a spare sleeve because I've broken or cracked two during lamp replacement or sleeve cleaning. Manipulating the O rings when removing sleeve and for cleaning can be tricky...
- Pat
UV Light Replacement

Great service and the new UV Light works perfectly. Sadly, my original UV light failed at the eleventh month and I missed out on the 15% discount offer I got in the mail later.
- Mark H
Lamp uv C4 with tube

Good product and shipped very fast
- Marie-France

I received it fast and good quality. I'll use this company again next year, thank you.
- Galina W
Instructions Problem

Excellent kit. But very important to syphon out as much water as possible from Trojan tank before attempting to install the new(light gray) plastic bolt. The new sleeve/bolt installs perfectly when no water. But water floats sleeve back up & makes it go crooked. Can lead to sleeve breakage. I have worked with Viqua & hopefully new instructions will include this step.
- William
Replacement bulb

Fit perfectly.
- Cindy
Great service & product

The product works perfectly and was shipped promptly and securely making its way through multiple stops to Mexico.
- Savage
Blub Sleeve Replacement

Very satisfied with the product and the speed of delivery of it.
- George Archibald
Great service

Product works as specified. Service was excellent
- Gerry R
Great product

Ironically, I just installed the light this morning. One I had installed only this past October failed. Fortunately, I had this new light available. I have used this system for 12 years and this was the first time I had to replace a light because of short term failure, so I'm prepared to call it an anomaly. Other than this incident, I have always been very pleased with the product!
- Ed Martin
filter

good filter easy install good packaging long lasting fits as it should
- Ryan C
Great Way to Replace Bulbs

Quick delivery and easy to install. Good price too!
- Doug
Water Filters

- Garth P.
Viqua Ultraviolet Lamp

We have been using our Viqua UV Lamp for many years, basically as an insurance policy. We are on a dug well, and occasionally had surface water enter the well during spring. With this lamp in place, we can confidently drink the water. Currently we have tenants in the house so having the Viqua UV gives us the assurance that we will have no water quality problems. We change the bulb according to the manufacturers recommendations and clean the tube. I broke the tube this year when changing the lamp but it was time for a replacement anyhow.
- Osiah
It is critical that only genuine Viqua brand original equipment lamps be used in your system. It has come to our attention that a number of Chinese manufacturers are making knock-off replica UV lamps. While they may physically fit in a Viqua system, they are NOT compatible. Testing of a wide range of these lamps has shown that many do not provide a safe UV dose or offer protection for the stated lamp life, and in some cases have even caused the failure of the ballast/controller and melting of the lamp harness.