Viqua UV Lamp / Bulb for UVMax Model C / D / C4 / D4 Series - #602805
Viqua UVMax
Economy 12 Pack - #602805/12
MSRP:

US

$

1,838.00
Our Price: US$1,562.00
You save: $276.00
Found a Lower Price?
Request a Price Beat

Guaranteed Genuine Trojan UVMax #602805 Original Equipment Lamp. Don't be Fooled by Knock-Offs!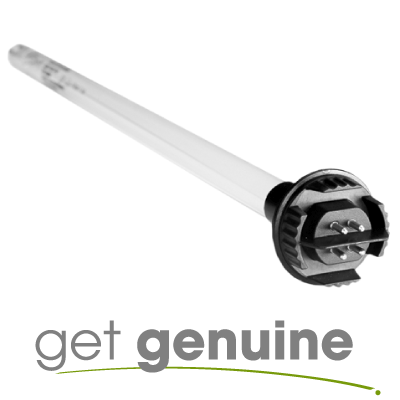 Description
Specifications
Related Products
Installation / Manual
Reviews
FAQ
Why Genuine
This is a genuine Viqua UVMax OEM replacement lamp and should be replaced every 12 months for optimal sterilization and safety.
Viqua UVMax #602805 replacement lamps are designed only for use in Viqua UVMax UV sterilizers. We do not recommend that you attempt to use Trojan replacement lamps in models made by other manufacturers.
UVMax #602805 is the replacement lamp for the following models:
Viqua / Trojan UVMax Model C / C4
UVMax #602805 Specifications
Technical Specifications
Part #
#602805/12 (12 Pack of #602805)
Quantity
12 Pack
Lamp Length
16" (40.5cm)
Lamp Power
43 Watts
Lamp Life
12 Months
How to change a UVMax #602805 Lamp
Turn off water supply valve to UV sterilizer
Turn on faucet elsewhere in the home to depressurize the system
Disconnect your UV system from power (unplug unit)
Allow system to cool for 5 - 10 minutes
Put on clean gloves
Remove dust cover by squeezing and lifting up
Lift lamp connector straight up
Remove UVMax #602805 lamp from system by unscrewing and lifting straight up
Insert new UVMax #602805 lamp into the system
Screw new UVMax #602805 lamp into the system
Push lamp connector down onto chamber
Attach dust cover and slide over top of chamber
Plug in UV system
System will beep
Hold reset button until system beeps and counter is reset to 365
Slowly open water supply valve to UV sterilizer
Check for leaks
Close faucet elsewhere in the home
Note: The UVMax UVMax #602805 is a fluorescent lamp and can be recycled at most hardware stores or your local hazardous waste facility.
Viqua UVMax Economy 12 Pack - #602805/12 Reviews
Other Similar UVMax Lamps Reviews
Genuine Trojan Lamp

The first lamp I ordered from a website I won't name said it was a trojan lamp, but it wasn't when it arrived. I sent it back and bought the correct lamp here. Not much else to say, it does what it's supposed to.
- Jill
REPLACMENT LIGHT

GOOD PRODUCT GOOD SERVICE HAPPY CUSTOMER AND SAFE WATER.
- LES B
Great product/pricing and delivery

I will definitely purchase again given the ease and speed of delivery.
- Ed C
TrojanUV

It helps alot.
- Natalie B
Very Satisfied

We have been using this product for several years and have been very satisfied with the system itself and also with the excellent service and courtesy your staff have provided when we had a minor issue. We will continue buying this UV system from you.
- Cheryl
Best home water purifier

I have a rain water collection at my rural home it was either well water or collect rain water with this system I have the purest and best water you can get
- Wayne
Untitled

- Verified Customer
Trojan Replacement lamp for UV 505

Was happy to find theses UV lamps for my older water purification system. They were well priced, included shipping and arrived promptly.
- Carol H
Untitled

good
- Brian
perfect

the product arrived quickly and the priceset was better than anywhere else I could find
- doug
Review

Great product
- Ed M
Trojan UV Max replacement bulbs

Good product. Good service.
- Nyborg
To be installed

Not the first time I ordered and every time I did, it was just perfect. Very satisfied.
- Claude D
Untitled

- Scott C
Uv lamp

I was quite glad to get this uv lamp and sleeve and the price was right. Good place to deal.
- Ed C.
UV Lamps

I have purchased my UV lamps for my water conditioner from this company for several years. I have also spoken by phone to their staff on a couple of occasions and have always found them to be very knowledgeable and courteous. The product is promptly sent to my home within the time period stated. I have also purchased other water-related items from them in the past and, again, very satisfied with the results.
- Florence A

I received it fast and good quality. I'll use this company again next year, thank you.
- Galina W
Great service & product

The product works perfectly and was shipped promptly and securely making its way through multiple stops to Mexico.
- Savage
Great purchase

Very happy with the service and performance of this replacement bulb. I had one last only a few hours and it was replaced very quickly with a fully working UV bulb. Both times the bulbs were packaged very well and shipped quickly. Couldn't ask for better service!
- Jazz003
VIQUA UV LIGHT

Best price and excellent delivery time
- Richard
Great Service

I require two Viqua UV lamps annually. I always order my lamps and filters from HomePlus. Service is fast and staff is courteous and helpful.
- Peter Merkel
Wonderful service

Always receive wonderful, prompt service from your company. Parts for my water conditioner are genuine top of the line. Always receive great satisfaction.
- Florence Armstrong
perfect

does the job
- doug
Great service

Product works as specified. Service was excellent
- Gerry R
works

I made the mistake of buying a cheaper lamp from Amazon. It ran hot and failed within 2 months. The controller thinks this lamp is working. I can feel that the S.S. container does not feel nearly as hot as the cheaper knock off.
- Cochrane
Great product

Ironically, I just installed the light this morning. One I had installed only this past October failed. Fortunately, I had this new light available. I have used this system for 12 years and this was the first time I had to replace a light because of short term failure, so I'm prepared to call it an anomaly. Other than this incident, I have always been very pleased with the product!
- Ed Martin
filter

good filter easy install good packaging long lasting fits as it should
- Ryan C
Great Way to Replace Bulbs

Quick delivery and easy to install. Good price too!
- Doug
Water Filters

- Garth P.
Works Great

Great product and service. Thanks.
- Grant Smith
Excellent Company

I have been dealing with this company for several years. I always purchase parts for my water conditioner on an annual basis and have found them to be an excellent company to deal with. They are knowledgeable and most prompt with shipping goods. If there is a problem, they are right there to solve it. I could not be happier.
- Florence A.
Viqua UV light

Product is working fine.
- Warren C.
Fabulous Product and Service

Easy to order. Fast delivery. Great product.
- Oregon landowner

Viqua UVMax D4 Premium with LCD Very happy with it, your customer service and people I spoke to we're great
- Brian C.
Thanks for the great service!

UV Replacement Lamp with Sleeve: Must be replaced each year and I can count on Home Plus Products to provide me with that replacement, receiving it well and carefully packaged, within a short and reasonable time, while providing pleasant and efficient customer service, be it by telephone or on line. Keep up the great work and thank you very much for helping to keep my well water safe for drinking. Cheers!
- Jim H.

- Margaret C.
HeavyDrinker-Water

Works like a charm and Homeplusproducts rock! Great customer service.
- Dan McLennan

-
Trojan UV Max

Slickest units going and easy to maintain with the help of our favourite supplier HomePlusProducts. They are many kms away in Kamloops but better to deal with than our local suppliers!
- Dan M
UV Lams and Filters

One of the best companies in terms of customer service, product selection and price. Would never use any other company....as I'm sure there aren't any!
- Garth P
nice

Great product easy to install well made would buy again
- Ryan
Ultra Violet Light

I have used the Viqua ultraviolet bulbs in my home water treatment system for years. Every year I receive a notice from the company telling me it is time for a new bulb and every year I buy another one, always at the best price, delivered to my door within days of ordering. No hassle, no fuss.
- Osiah Horst
Great service

Great service and prompt shipping. Product arrived in perfect condition. Works great.
- Robert
Customer Service

I bought a replacement bulb for Viaqua Lighting System. Product fit perfectly. Initially the wrong bulb was sent to me but customer service handled the problem and sent correct bulb. Return Postage was provided for the incorrect bulb. Very Satisfied with company. Will make future purchase.
- S. Thomas
great replacement product

great price great shipping great company great prices....
- Andrew
EZCELLENT PRODUCT

EASY TO INSTALL
- CHUCK TURBAK
Excellent Seller

Customer service is excellent respond to my request very quickly. Genuine product with competitive pricing, and quick delivery. Highly recommended.
- Chuan Cheng Lin
Ecellent Seller

Great service, competitive pricing, fast response and quick delivery. Highly recommended.
- Peter Wu
Reliable Company

I purchased my whole house UV water system from the company a year ago. The company had fair pricing, knowledgeable staff and quality support. Recently I had to purchase my replacement UV light. Again the entire experience was outstanding. I cannot imagine going anywhere else for my well water treatment needs.
- William Brinkman
Great Product for a Great Price!

The replacement lamp for my Viqua D4+ UV system works great and was less expensive than other websites. I will be buying my yearly replacement bulbs here!
- Joe M
Very good service

Good service from the company. Prompt delivery and well packaged.
- Sally
Good Product

Installed easily, works great. Wonderful customer service, product arrived quickly, and I really appreciate getting a loyalty discount each year when I order. Thank You
- BJ Hart
Great Price and excellent customer servive

A nice discount made replacement less painful, and the bulb was beautifully packed.
- Bob Gaus
Uv light

The lamp is very well priced and your service excellent
- Brian
Trojan UVMax Lamp

This is the third lamp I have ordered and am very pleased. We have well water and I use this to treat water for the whole house. The company is very easy to work with especially if you don't know what you are doing and we didn't. A water company put the unit in and then went out of business so we were glad to have the excellent help from this company. I get a reminder from them every year when it is time to replace the bulb.
- Sharon Deters
Quick. Quality.

Great product. Great customer service. They even sent me an annual reminder! Product shipped accross Canada without any issue.
- Erin
Good bulbs. Always taken care of any issues.

Good bulbs. Always taken care of any issues.
- Jacob Ingels
Great UV lamp

Product works for a year, which is the recommended time to replace it, no problem, and keeps on going.
- Robert
Easy to install

New light installation was easy. Only took a few minutes and will be good for another year of protection.
- Phil

- Peter A. Viglia II
Viqua/Sterilight Lamp

Bulb is of good quality. Have never had any problems with any that I have purchased from you.
- Dave Junop
Very satisfied

Full satisfied with the product.
- Claude Demers
Viqua/Trojan UVMAX Lamp

Easy to find product. Fast Shipping.
- Guy Spruhan
Viqua UVMax Economy 12 Pack - #602805/12 Customer Questions & Answers
It is critical that only genuine Viqua brand original equipment lamps be used in your system. It has come to our attention that a number of Chinese manufacturers are making knock-off replica UV lamps. While they may physically fit in a Viqua system, they are NOT compatible. Testing of a wide range of these lamps has shown that many do not provide a safe UV dose or offer protection for the stated lamp life, and in some cases have even caused the failure of the ballast/controller and melting of the lamp harness.