Pentek ST-1 10" Inch Stainless Steel Housing - #156017-02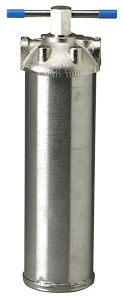 Part #: 156017-02
The Pentek ST-1 stainless steel filter housing provides heavy duty filtration for smaller filtration systems and point-of-use applications. Supplying flow rates of up to 10 gpm (38 Lpm) at a maximum water temperature of 300F (149C), the ST-1 housing is ideal for hot water and high-pressure applications that are not appropriate for plastic housings.
The brushed 304 stainless steel sump is available with either a pipe plug or petcock in the bottom for draining. Heads are manufactured from nickel-plated cast-brass. ST Series Housings are easy to install and maintain. They are compatible with a wide range of filter cartridges, adding to their versatility.
Uses standard 10" long filter cartridges (9.75").
brushed 304 stainless steel sump
nickel-plated brass head
rated to a maximum pressure of 250 PSI (17.2 bar)
rated to a maximum water temperature of 300F (149C)
NOTE: Maximum cartridge diameter is 3" (76 mm). Will not accept GAC, CC, CGAC, TSGAC, WS, PCF or PCC Series cartridges. Not recommended for applications with TDS or chlorides >1000 ppm and/or pH <5.0. Use of this product in these conditions will void the warranty.
Features & Specifications:
Sump Material:
brushed 304 stainless steel
Head Material:
nickel-plated brass
Inlet / Outlet:
3/4" FNPT
Temperature Rating:
40-300F (4.4-149C)
Pressure Rating:
250 psi (17.2 bar)
Dimensions:
12.88" x 4.13" (327 x 105 mm)
Flow Rate:
10 gpm (38 Lpm)
Gasket / O-Ring:
part #143216
Other Pentek ST Series Stainless Steel Housing Options:
Pentek ST-2 20" Stainless Steel Housing
Pentek ST-3 30" Stainless Steel Housing
Options, Accessories and Replacement Parts: