Pelican™ Lamp & Sleeve Combo Kit for PUV-8 Series - #PUV-8-LampSleeve
Pelican™
PUV-8-LampSleeve (#602810-102)
MSRP:

US

$

204.00
Our Price: US$173.00
You save: $31.00
Found a Lower Price?
Request a Price Beat

Original Viqua OEM Lamp & Sleeve for Pelican™ PUV-8. Viqua manufactures Pelican™ UV's for Pelican™.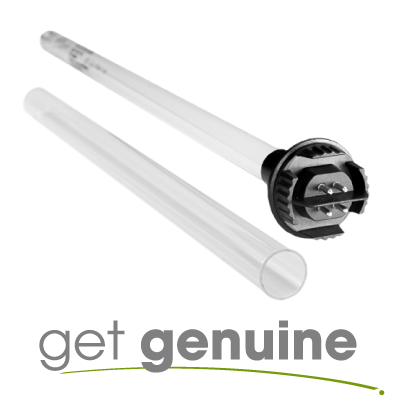 Description
Specifications
Related Products
Installation / Manual
Reviews
FAQ
Why Genuine
We are pleased to offer a complete selection of replacement lamps & sleeves for all Pelican ultraviolet (UV) sterilizers.
The Pelican™ PUV-8-LampSleeve replacement lamp & sleeve combo is designed only for use in certain UV sterilizers manufactured by Viqua as listed below. Viqua manufacturers several UV sterilizers on an OEM basis for other companies. This lamp/sleeve combo is also the OEM replacement for the Pelican™ PUV-8.
Pelican PUV-8-LampSleeve is the replacement lamp & sleeve combo for the following models:
Pelican™ PUV-8
Viqua UVMax Model C / C4
Pelican PUV-8-LampSleeve Specifications
How to change a Pelican™ PUV-8-Lamp
Turn off water supply valve to UV sterilizer
Turn on faucet elsewhere in the home to depressurize the system
Disconnect your UV system from power (unplug unit)
Allow system to cool for 5 - 10 minutes
Put on clean gloves
Remove dust cover by squeezing and lifting up
Lift lamp connector straight up
Remove Pelican™ PUV-8-Lamp from system by unscrewing and lifting straight up
Insert new Pelican™ PUV-8-Lamp into the system
Screw new Pelican™ PUV-8-Lamp into the system
Push lamp connector down onto chamber
Attach dust cover and slide over top of chamber
Plug in UV system
System will beep
Hold reset button until system beeps and counter is reset to 365
Slowly open water supply valve to UV sterilizer
Check for leaks
Close faucet elsewhere in the home
Note: The UVMax Pelican™ PUV-8-Lamp is a fluorescent lamp and can be recycled at most hardware stores or your local hazardous waste facility.
Pelican™ PUV-8-LampSleeve (#602810-102) Reviews
Lampe Trojan

Excellent
- andre r
Replacement bulb/ sleeve

Very satisfied with the product as it pertains to price, delivery and ease of ordering.
- George A
New Water Filter UV Light Replacement Kit

The new UV Light Replacement Kit that you sent me worked out wonderfully. It was easy and quick to install and my well water system was back in operation with no fuss and no muss. Thank you!!
- Jim H.
Untitled

received my order quickly and in good shape. Price was competitive and quality was excellent.
- Scott
Sleeve and Lamp replacement

Effective combination of "spare parts". I keep a spare sleeve because I've broken or cracked two during lamp replacement or sleeve cleaning. Manipulating the O rings when removing sleeve and for cleaning can be tricky...
- Pat
UV Light Replacement

Great service and the new UV Light works perfectly. Sadly, my original UV light failed at the eleventh month and I missed out on the 15% discount offer I got in the mail later.
- Mark H
Lamp uv C4 with tube

Good product and shipped very fast
- Marie-France
Instructions Problem

Excellent kit. But very important to syphon out as much water as possible from Trojan tank before attempting to install the new(light gray) plastic bolt. The new sleeve/bolt installs perfectly when no water. But water floats sleeve back up & makes it go crooked. Can lead to sleeve breakage. I have worked with Viqua & hopefully new instructions will include this step.
- William
Replacement bulb

Fit perfectly.
- Cindy
Blub Sleeve Replacement

Very satisfied with the product and the speed of delivery of it.
- George Archibald
Viqua Ultraviolet Lamp

We have been using our Viqua UV Lamp for many years, basically as an insurance policy. We are on a dug well, and occasionally had surface water enter the well during spring. With this lamp in place, we can confidently drink the water. Currently we have tenants in the house so having the Viqua UV gives us the assurance that we will have no water quality problems. We change the bulb according to the manufacturers recommendations and clean the tube. I broke the tube this year when changing the lamp but it was time for a replacement anyhow.
- Osiah
Highly recommend!

Best price and great service. I would definitely buy again!
- Trell
Viqua UV Lamp

When I first seen the knock offs on Amazon a few years ago I tried one. Didn't last 6-months. Only once in 10 years did the OEM fail short of the one year and home plus replaced it under warranty. They are the only ones to use. And the price, customer service and quick shipping is the best.
- Monte
Viqua UV

Great price on lamp and sleeve package. It's easier to replace the sleeve than try to clean it. Quick delivery too.
- Jeff
Quick. Quality.

Great product. Great customer service. They even sent me an annual reminder! Product shipped accross Canada without any issue.
- Erin
UV light

Nice product. Provides assurance of safe drinking water
- Tom Steele
Viqua Trojan UV lamp

As usual I am very pleased with the UV lamp etc. The service is excellent always. Thank you.
- Frances Betty Chun
UV bulb and sleeve

We have used this product for our spring water. We have a submersible pump in a 1500 gallon water tank down by our spring and a bladder pressure tank with a water filter and the UV purifier that we get the bulbs for. We have been extremely satisfied with the whole system and feel so good that we have spring water that is clean from debris and bad bacteria for our drinking. We have used this whole water system for over 20 years and have always been relieved knowing we have safe water. Thanks so much
- Diane Richardson
Lamp/Sleeve Combo

As always item got to me well secured and protected to get across the country in great shape. Always pleased with service and handling of product.
- George Archibald
Great quality product

Shipping was fast and efficient. I had the new bulb installed in about 5 minutes.
- Tim
Pelican™ PUV-8-LampSleeve (#602810-102) Customer Questions & Answers
It is critical that only genuine Viqua manufactured original equipment lamps & sleeves be used in your Pelican™ system. It has come to our attention that a number of Chinese manufacturers are making knock-off replica UV lamps and sleeves. While they may physically fit in a Viqua / Pelican system, they are NOT compatible. Testing of a wide range of these lamps has shown that many do not provide a safe UV dose or offer protection for the stated lamp life, and in some cases have even caused the failure of the ballast/controller and melting of the lamp harness.