Viqua AWP40B-V 3-Piece Housing Package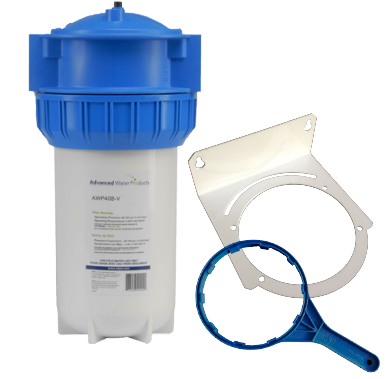 Part #: AWP40B-V
Made in Italy, the Viqua AWP40B-V 3-Piece housing is a premium water filter housing designed for residential and light commercial applications (flow rates up to about 15 GPM). For higher flow rate applications, multiple housings can be used in a parallel flow configuration.
Instead of twisting the filter sump against the filter head to compress the o-ring to obtain a seal (like a conventional housing), the 3-piece configuration of this housing uses a separate collar to twist on to threads on the filter cap. This design greatly reduces wear and tear on the o-ring, decreasing stretching and the risk of o-ring leaks. The large collar is also much easier to remove than traditional designs making filter changes faster and easier.
The sump features a drain port to remove water from the housing before replacing the filter. This reduces water spillage, making filter changes easier and less messy. The housing also comes equipped with a pressure release button and a threaded port that can be used to install a pressure gauge.
Enhancing value even further, all AWP High Flow Series 3-Piece housings come complete with a sturdy powder-coated mounting bracket kit and spanner wrench.
AWP40B-V 3-Piece housings accept standard 4 1/2" diameter x 9.75 inch long (10") filter cartridges.
unique threaded collar reduces o-ring stress and makes filter changes easier
sturdy powder-coated mounting bracket and spanner wrench included
convenient drain port at bottom of sump
threaded port for installation of optional pressure gauge (not included)
made in Italy with top quality reinforced polypropylene and SAN plastic
Features & Specifications:
Cap Material:
Reinforced Polypropylene
Sump Material:
SAN
Dimensions:
15.4 x 8"
Inlet / Outlet:
1" FNPT
Max. Temperature Rating:
100F (37.8C)
Pressure Drop:
1 PSI at 10 GPM
Maximum Pressure:
100 PSI
Spanner Wrench (included!):
WR40-50
Replacement O-Ring:
OR-40-50



Note: Housings shown with John Guest brand Speedfit quick connect inlet and outlet fittings - sold separately

Other Pentek Big Blue Housing Options:
Viqua AWP42B-V 3-Piece Housing 20 Inch - 1" Inlet Outlet
Viqua AWP50B-V 3-Piece Housing w/ Valve-In-Head, 10 Inch - 1" Inlet Outlet
Viqua AWP52B-V 3-Piece Housing w/ Valve-In-Head, 20 Inch - 1" Inlet Outlet
Options, Accessories and Replacement Parts: