Pentek GD and GDA Sediment Filters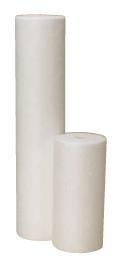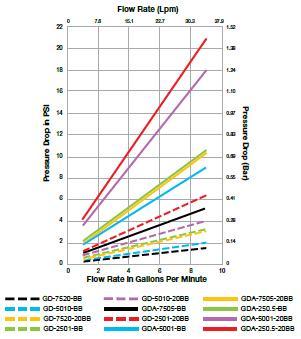 Pentek GD and GDA Sediment Filters have been discontinued by the manufacturer - please see the Pentek DGD page a possible alternative.
The Pentek GD and GDA Series of cartridges are manufactured in the USA from 100% pure polypropylene and are sized for use in 10" and 20" Big Blue filter housings. GD and GDA Series filters are designed for purity and will not impact taste, odor and color. Pentek GD / GDA filters also provide superior chemical resistance and are not prone to bacterial attack.
Two unique layers provide up to three times the dirt-holding capacity than pleated, string-wound and standard spun polypropylene cartridges provide. A larger outer pre-filter reduces the partial load to the inner post filter allowing the cartridge to operate at higher velocities and lower pressure drop. The effective filter depth is increased over 200% of string-wound and standard spun-polypropylene cartridges for extended life, performance and reliability.
The design and performance characteristics of the GD and GDA Series filter cartridges make them an excellent choice for all residential, rural, municipal, industrial, and commercial applications.
The micron rating for the GD Series is nominal while the GDA Series micron ratings are absolute.
Features and Benefits
100% polypropylene filtration media for superior purity without affecting taste, odor or color.
Two clearly visible gradient layers ensure higher efficiency and improved performance.
Micron ratings for virtually any application (75-25 micron for outer layer, 20-0.5 micron for the inner layer).
GDA Series has polypropylene inner support core for added strength and unimpeded flow.
Polypropylene filter media resists chemicals and bacterial attack.
Up to three times the dirt-holding capacity of similar-sized pleated, string-wound and spunpolypropylene cartridges.
Effectively reduces sediment as a pre-filter to softener and automatic filter systems.
Saves space: all-in-one, two-layer cartridge eliminates the need for additional filter canisters.
Typical Applications
Well water
City water
Homes
Cafeterias
Hotel/Motel
Laboratories
Laundromats
Restaurants
Schools
Factories
| | |
| --- | --- |
| | Tested and Certified by NSF International to NSF/ANSI Standard 42 for material requirements only. |