Hydronix SDC Sediment Filter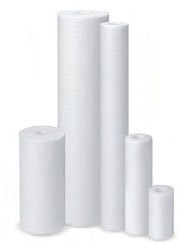 Sediment Depth Filters
Hydronix SDC SERIES 2.5" DIAMETER CARTRIDGES
The Hydronix Series 2.5" diameter SDC cartridge's coreless design is an economical solution to pre-filtration for many applications. They are used widely as pre-filtration for RO systems and post-filtration for GAC filters. They are also used in applications such as Ice Machines, Film Processing, Beverage, Coffee, Analytical, Wineries, and many others.
Hydronix SDC SERIES 4.5" DIAMETER CARTRIDGES
Our 4.5" diameter SDC filters have true multi-stage depth filtration integrated into their design. Utilizing our technology to create 4 separate layers of micron filtration, our outside-in flow allows the outer layer to trap the larger sized particles, resulting in a much lower pressure drop compared to conventional filters. Trapping various sized particles layer-by-layer, our SDC filters provide a much higher dirt holding capacity than standard spun polypropylene and string wound cartridges.
Manufactured from 100% pure polypropylene fibers
Graded density for higher dirt holding capacity

Tested and Certified
by NSF International to
NSF/ANSI Standard 42 for
material requirements only.
* Based on Manufacturer's internal testing.