Hydronix SDC-25-3075 Water Filter (#14815524)
Hydronix
SDC-25-3075 - Case of 20
MSRP: USD$197.40
Our Price: USD$142.30
($
7.12
per filter)
You Save: $55.10

Bulk Quantity Discounts Available,
Please call 1-866-376-2690 for Quote

City Water

Well Water
Recommended for the treatment/removal of:
Sediment, Dirt, Rust Particles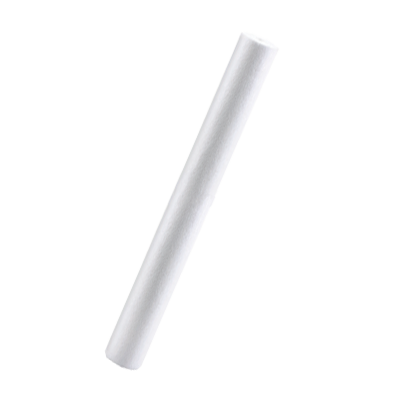 Description
In Series Filters
Alternative Filters
Reviews
FAQ
Description, Features & Benefits
Specifications:
Manufacturer/Brand:
Hydronix
Filter Series:
SDC
Part Number:
14815524
Type:
Sediment - Spun
Material(s):
Polypropylene
Size:
2 1/2 x 30 Inches (63 x 762 mm)
Micron Rating:
75 (Nominal)
Pressure Loss:
0.3 psi @ 15.0 GPM
Validation:
NSF42
Made in:
Taiwan
Specifications Sheet:
Hydronix SDC Series Specs
The Hydronix SDC-25-3075 cartridge's coreless design is an economical solution to pre-filtration for many applications. They are used widely as pre-filtration for RO systems and post-filtration for GAC filters. They are also used in applications such as Ice Machines, Film Processing, Beverage, Coffee, Analytical, Wineries, and many others.
Manufactured from 100% pure polypropylene fibers
Graded density for higher dirt holding capacity

In Series Filters
We do not currently have any recommended alternatives to this filter.
Hydronix SDC-25-3075 Reviews
Reviews from the same Filter Series
Does what is says

Seems to do what it says as it's pretty dirty when I take out the old filter and replace it.
- John
water filters

prompt, no-nonsense service. goods delivered as advertised
- paul c
Untitled

Good product and got it quickly.
- Anonymous
Good

Received product as described.
- Yulian
Did what they said they would

What can you say about filters, they arrived in a timely fashion, I installed them and they appear to be working just fine. Saved me some money compared to Home Depot
- Howard F
20 inch Water Filters/Case of 20

Very happy with my purchase. Easy to place order and I was amazed the next day when they were delivered to my front porch.
- Verified Customer
Hydronix Water Filters

These filters do a very good job of filtering our water. Recommended.
- W. Campbell
Hydronix SDS 45-2020 Filters

Works well for the application which is to filter out debris from surface runoff so that it can be used as process water. We use it in line with 5, 10 and 50 micron to get clearer water allowing it to be used in the process and not have to use potable water.
- Brian B
HYDRONIX SDC-25-2005 WATER FILTER

I am so pleased with the water filters. They do just what they are supposed to do. *****
- DAVID B
Filters DG -45-2001

Good product excellent service!
- Fred H
Sediment filter

Product shipped on time and as quoted.
- Anonymous

- James
Hydronix SDC-45-1001 Water Filter

Excellent product, timley and well packaged items. Year after year great service and products.
- Bruce R
Hydronix SDC-45-1005 Wter filter.

Great product, timely delivery and well packaged items.
- Bruce R
Great price, great product

Super fast shipping and I'm a return customer for life!
- Dr. W.

- Hugh R.
Value

Good value in Canadian dollars.
- Randy S
Hydronix filters

Vey happy with the service from home water purifiers
- PS
HeavyDrinker-Water

Work fine as far as I can tell but my water-user community told me to change to 1-micron filter. Homeplusproducts offered to swap them out. Best customer service!
- Dan McLennan
Water Filters

I have been using these products for nearly 15 years. My water supply is well water and their product is the best I have ever tried. Great products at a decent price.
- Michael Rossi

-
Hydronix Sediment Filters

Work like a dream and delivered right to the house by our favourite supplier HomePlusProducts. They are many kms away in Kamloops but better to deal with than our local suppliers!
- Dan M

very well priced
-
Pentek bag filter

excellent for initial filtering of rain water. I place it on the end of the collection pipe at the tank inlet
- PS
Spun Poly Sediment Filter

Excellent filter for the Big-Blue water filtration system. Only have to change out filter every six months. This Big-Blue filtration system works just fine for our household demand.
- S Brown
Uv lamp and filterd

For numbers of years, very satisfied of the products and the prices.
- Claude Demers
The best deal out there

These filters are great and maintain excellent waterflow and pressure for a long time. The graduated filtering of the filter prevents pre-mature clogging. I used to use any generic 5 micron filter until I found these 1 micron filters which are better and last just as long. HomePlusProducts was great to deal with and were very responsive to my questions and to shipping my order. I would highly recommend them.
- Dan
Recommended Filter Replacement

These are an excellent cost effective product as recommended by staff.
- Monte
Recommended Filter Replacement

These are an excellent cost effective product as recommended by staff.
- Monte
Quality Products

Been ordering the replacement filters for my home purification along with the UV light for several years. Product delivered quickly and always correct. The price is below others I have looked up on line. The customer service is also a step above the mark.
- Michael Rossi

Product met expectation
- Sarah
HYDRONIX CB-45-2010 AND SDC-45-2005

THESE WORK GOOD FOR WHOLE HOUSE APPLICATION IN A RESIDENTIAL APPLICATION, THE SDC SEDIMENT FILTER TRAPS WATER LINE SEDIMENT FROM THE TOWNS WATER LNE WITHOUT GOING INTO THE CB-45 FILTER IN WHICH IT CAN DO A GOOD JOB IN REMOVING CHLORINE AND ANYTHING ELSE. EXCELLENT SETUP.
- MARV
lacking something important

The filter works fine, but where are the 2 new O rings that should come with them? O-rings should be replace at least every other time.
- Richard Thompson
Good sediment filter

I find these good and inexpensive especially through Home Products
-
Hydronix SDC-25-3075 Customer Questions & Answers