Pentek DGD-5005 Water Filter (#155357-43)
Alternate Part Numbers: 15535743
Pentek
DGD-5005
MSRP: USD$153.01 ($19.13 per filter)
or
USD$104.95 case of 8
($13.12 per filter)
Choose Quantity:

Bulk Quantity Discounts Available,
Please call 1-866-376-2690 for Quote
Recommended Alternative Filters: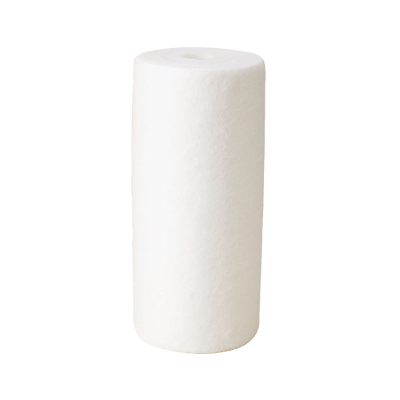 Top Seller

City Water

Well Water
Recommended for the treatment/removal of:
Sediment, Dirt, Rust Particles
Description
In Series Filters
Alternative Filters
Reviews
FAQ
Description, Features & Benefits
Specifications:
Manufacturer/Brand:
Pentek
Filter Series:
DGD
Part Number:
155357-43
Alternate Part Number(s):
15535743
Type:
Sediment - Spun
Material(s):
Polypropylene
Size:
4 1/2 x 10 Inches (114 x 254mm)
Micron Rating:
Multi-gradient, ending in:
5 (Nominal)
Pressure Loss:
1.0 psi @ 10 GPM
Made in:
China
GTIN:
051678357439
Specifications Sheet:
Pentek DGD Series Specs
The DGD-5005 dual gradient density filter cartridges are manufactured from pure 100% polypropylene and are designed to fit in the industry standard Big Blue® filter housings. Due to the 100% pure polypropylene construction they will not alter the taste, odor, or color of your water. Pure polypropylene also offers superior chemical resistance and is not prone to bacterial attack.
The large diameter exterior layer of the Pentek DGD-5005 filter is 50 microns, gradually working down to an inner layer of 5 micron filtration. This gradient density design allows the 50 micron prefilter to drastically reduce the load on the 5 micron inner layer, thus providing an effective filter depth that is a full 233% of standard spun-polyproplylene or sting-wound filters. Due to this increased filter depth, the Pentek DGD-5005 sediment filter provides very high particulate reduction efficiencies and up to 3 times the loading capacity of other spun-polypropylene filters.
The unique design and performance of the Pentek DGD-5005 dual gradient seditment filter make it an excellent choice for any application in which sediment is present. It is used as the sediment filter in our WH1B+ whole house filter package.
Manufactured from 100% pure polypropylene
Designed for purity and chemical compatibility
Two separate gradient density layers enhance cartridge performance
Three times the dirt-holding capacity of similar sized sediment cartridges

In Series Filters
Viqua CMB-510-HF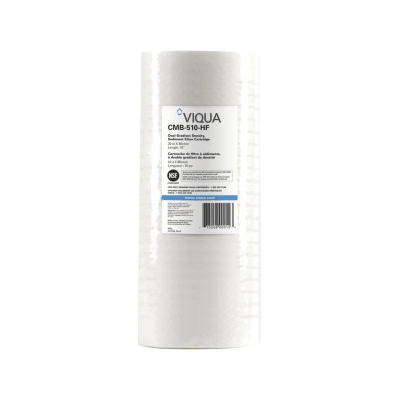 Starting at:
USD$12.08 per filter
Competitive Price!
- More Info -
Hydronix SDC-45-1005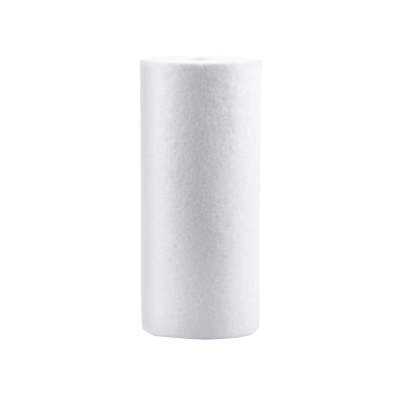 Starting at:
USD$9.97 per filter
4 Gradient Layers!
- More Info -
Ecosoft CPV45105ECO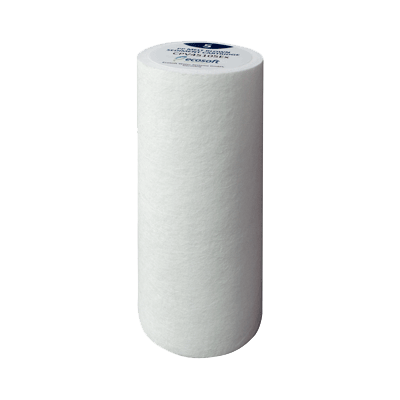 Starting at:
USD$0.66 per filter
Super Economical!
- More Info -
Pentek DGD-5005 Reviews
Lasts forever

The DGD 5005 filter lasts a lot longer than the generic filter I was using previously! I will definitely continue to buy these.
- Cara

- Bone Creek Wilderness Retreat
Pentek DGD-5005

Excellent quality, perfect fit in my big blue, great shipping and fast.
- Graham
Purchase and Customer Service

Purchased a Viqua D4 Premium System and Filters for a reasonable price, customer service and follow up was great. Product working great
- Brian
DGD-5505 Water Filter

Works really well and great value for the money.
- Bill Turnbull
Great products and they pass even a Virgo's litmus test

Great products, work wayyyyyyyyy better than the seller says.
- J Scott C
dgd5005

these filters meet the need at a fair price
- robert
Excellent Value

I bought this as a back-up filter as it is the exact filter I need for my "Big Blue" system. In the past I have purchased my filters and "O" rings through Amazon. These items are of excellent quality and I have advised neighbours of these items as I highly recommend them.
- Manch
Big Blue filters

I have ordered all my filters from Home-Water-Purifiers-&-Filters for the past two years, I am impressed by the quality of the filters, the price and the quick shipping!
- Manch
Reviews from the same Filter Series
Definitely works

I use this as a pre-filter in my whole house system. Our city has a great new water treatment facility, but there must still be sediment in the distribution system as this filter sure manages to remove a lot of it. It lasts about 9 months for me and you can actually see the different filtration sizes when you change filters due to the different coloured rings on the end of the filter.
- Mark C.
Home Water Filters

Excellent product. Easy to use. Does a good job in my water conditioner. No problems with it at all
- Patricia Y
Works Great

These filters remove a tremendous amount of iron from our water. We've used them for almost four years now.
- Scott H.
:-)

I could not be happier with this product - performs great !
- John F.
75 to 50 micron

These are the best filters I've ever used.
- Paul M
Untitled

Excellent product and service
- Frank C
Recommended company

Price is more competitive than other retailers.
- Gary
Great Filter

Does a great job at filtering various size particals. I will buy again.
- Mike Sullivan

- Claude Veilleux
water

good product and good service
- mark
Untitled

Easier and less expensive to order online. Your company is very good and works fast to get the product to you.
- Pat Y.

Excellent product. Never had any problem with them.
- Patricia Y
Pentair residential filtration

Pentek dual-gradient density spun polypropylene filter cartridge for reducing household sediment in water supply. These filters appear to do the job for which they are designed very well.
- Lorne W
Removes fine particulate matter

Any filter can remove "normal" particulate matter but have a great amount of difficulty removing ultra fine clay particles. This filter is fantastic about completely removing the clay particles. Also, changing the filter is exceptionally easy.
- Jimmy Bollman
Filter

Great price ,great service
- Tony Mack
Water Filter Purchases

I have purchased various filters for my home's well-water treatment system from Home Plus Products for several years now, and will continue to do so, for the following reasons: Good quality products, fair prices, simple ordering system, and prompt accurate shipments that arrive on time and in good order (with good e-notifications and tracking).
- Richard Turkheim
Pentek DGD

best filter on the market for primary filtration
- Barry
Excellent Service

These water filters ensure that my health is sustained; they are changed sooner than the recommended time frame but the extra cost has been worth it. The customer service from Home Plus has been friendly, receptive to my questions and prompt for many years.
- Lorraine
Works well!

Filter is doing a great job in making our water safe to drink.
- Shawn White
Pentek DGD 2501-20

Been using the Pentek DGD 2501-20 filters for a few years now. They are great filters! Home Plus Products are easy to deal with and offer great service
- Pentek DGD 2501-20
Works well!

Filter is doing a great job in making our water safe to drink.
- Shawn White
Quality product

Bought one to try (been using 5005s)..,2501 much better for my water system..and as always great price and fast shipping
- Jeff
Pentek DGD-5005 Customer Questions & Answers