Sterilight SPV410-IHS22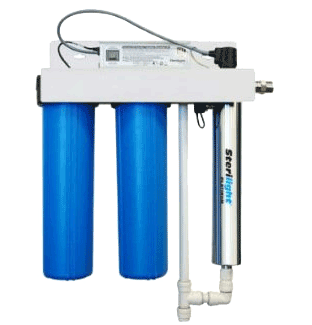 This item has been discontinued by the manufacturer.
It has been replaced by the Viqua PRO 10, which offers a Longer Warranty and a Higher Flow Rate.
Sterilight Model SPV-IHS22 Replacement Parts & Accessories
The Sterilight SPV410-IHS22 whole house water treatment system is a compact system offering sediment pre-filtration, activated carbon pre-treatment, and UV sterilization in one convenient, easy-to-install package. The system comes completely assembled on a very sturdy custom mounting bracket, thereby reducing installation costs. The system comes equipped with a 20" sediment filter to remove particles from the water and a 20" carbon filter to improve taste and odour. The first stage of treatment is a high flow 20" sediment filter rated at 5 microns. This is followed by a over-sized 20" activated carbon block filter, also rated at 5 microns. This filter not only removes organics responsible for bad tastes and odors, but it is capable of removing many harmful VOCs. The SPV410 UV is NSF certified to a maximum flow rate of 5.9 gallons per minute, which is sufficient for a small to average home, cottage, or similar.
The Sterilight SPV410-IHS22 system features Sterilight's NSF certified SPV410 UV sterilizer as the final stage of treatment. It is loaded with features normally only found in expensive commercial systems including UV intensity monitor, flow restrictor, powered solenoid outputs, flow pacing, and multi-function digital display. It is an excellent choice for applications with a known bacteria or other microbiological contamination problem.
Sterilight ultraviolet (UV) water sterilizers are designed specifically to kill harmful microorganisms such as bacteria and viruses in untreated water supplies (well water or private water systems). Ultraviolet (UV) systems are commonly installed by homeowners who have received a positive coliform, e.coli, cryptosporidium, or giardia water test result, as well as those with reason to suspect that they are at higher risk for such contamination, and those seeking to have peace-of-mind that their water is being properly disinfected prior to consumption. For more information on Sterilight SPV410 UV, CLICK HERE
Sterilight SPV-410 IHS22 Specifications
Applications
small home,
cabin,
small commercial
Max. Flow Rate
(UV dose >40 mJ/cm2 at 75% UVT)*
5.9 GPM (22 LPG)
Water Chamber Material
Electropolished 316 Stainless Steel
Chamber Length
26.0 inches / 66.0 cm
Chamber Diameter
3.5 inches / 8.9 cm
Controller Size
10.75 x 4.5 x 2 inches
(25.4 x 11.4 x 5.3 cm)
Lamp
Sterilume-HO
Model S410RL-HO
Sleeve
Quartz
Model QS-410
Electrical
90-265v, 50/60HZ
Power Consumption
60 watts
Lamp Power
46 watts
Inlet / Outlet Plumbing Ports
1" NPT
Size (W x H x D)
25" x 33.25" x 8"
"Power-On" Indicator Light
Audible Lamp Failure Alarm
Lamp Replacement Reminder
LED Display: Lamp Life Remaining, Total Controller Runtime, UV Intensity
UV Intensity Monitor
Powered Solenoid Output
Flow Pacing
Communications Port
Diagnostic Check
Flow Restrictor
NSF-Certification
*Note: Maximum recommended flow rates based on 75% UV transmittance. Actual dosage depends on flow rate, water quality, and maintenance (cleaning of UV sleeve). UV dosage will be lower when the UV transmittance capacity of the water drops below 75% and a UV intensity alarm will be triggered. We recommend a UV dose of not less than 40 mJ/cm2.


Feed Water Quality Parameters
Iron
0.3 ppm
(0.3 mg/L)
Manganese
0.05 ppm
(0.05 mg/L)
Tannins
0.1 ppm
(0.1 mg/L)
Turbidity
< 1 NTU
Hardness
< 120 ppm
(7 grains / gallon)
UV Transmittance (UVT):
> 75%
Maximum Temperature:
104F (40C)
Maximum Pressure:
125 psi