April Shower Royale Handheld Shower Filter - White
all the benefits of our best shower filter in a classy handheld wand shower
Item #: HRH5-WH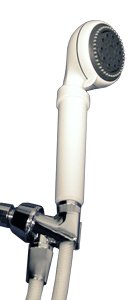 Sorry, No Longer
Available
April Shower Handheld Shower Filter - White
Sorry, this item is no longer available.
The Royale Series hand held shower wands are packed with features including adjustable shower spray and of course, a KDF-55 filter for optimal chlorine/contaminant reduction. Now you can have all the benefits of chlorine-free shower water in a hand-held wand shower (cord is 6 feet long!). Ideal for bathing the kids, pets, or for yourself.
Each replaceable KDF filter cartridge lasts about 3 to 4 months. When the filter cartridge has reached the end of its service life, you simply pop in a new filter cartridge! It's just that simple!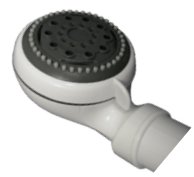 Installation is just as simple - the mounting bracket simply attaches to your existing shower arm. All parts are included including a quality long-reach hose. A complete installation guide will be provided with your unit.
The April Shower Royale handheld shower filter housing is backed by a 100% 5-year manufacturer's warranty against manufacturing workmanship defects!

Why choose an April Shower KDF media shower filter? ?
effectively removes harmful chlorine and other contaminants
long life - lasts twice as long as most carbon shower filters
easy installation - installs in minutes with no special tools required
effective at higher temperatures and flow rates
helps control growth of mildew, mold, and algae (bacteriostatic)
inhibits mineral build-up in shower head, tile, and glass shower doors
soap & shampoos will develop richer lather
softer, more manageable hair, and reduced dry skin, flaking, and itching
Specifications:
Media:
KDF-55
Removes/Reduces:
chlorine, sediment, trace metals, odors
Housing:
plastic - white
Maximum Water Temperature:
105F
Maximum Water Pressure:
100 PSI
Recommended Flow Rate:
2.5 GPM at 60 psi
Replacement Cartridge:
APHC - Handheld Cartridge
Cartridge Life:
3-4 months
Learn More About
KDF Shower Water Filters:
Options, Accessories and Replacement Parts: