Pentek U440 FreshPoint Ultrafiltration System - #61788-01
ultra-fine filtration for the reduction of colloidal sediments, fine turbidity, and certain microorganisms
Alternate Part Number: 160380
The Pentek U440 Freshpoint Ultrafiltration System was discontinued by the manufacturer in October 2017 and is no longer available. We are pleased to stock replacement UF membranes for the U440 system and have been informed by the manufacturer that they will be available for at least an additonal 5 years (until late 2022).
We are also pleased to offer an alternative ultrafiltration system, the UltraPlus+ UP-12 The UltraPlus+ UP-12 uses a superior outside-in membrane with much longer membrane life, but consequently costs more than a U440's initial price. However, over the life of a system, the overall operating cost and cost of ownership is lower due to the less frequent membrane replacement.
---
The Pentek U440 Ultrafiltration System provides complete point-of-entry filtration proven to reduce turbidity, particulates and cysts for safer, cleaner water at every tap. The system employs hollow fiber ultrafiltration membrane technology to filter impurities as small as 0.025 microns.

Features and Benefits:

designed for cyst reduction, turbidity, and fine sediment filtration applications
requires only normal line pressure to operate
> 98% reduction of 0.025 micron (25 nanometer) particles*
> 99.99% (> 4 Log) reduction of 0.065 micron (65 nanometer) particles*
retains natural mineral content of the water
forward-flush and back-flush cleaning cycles provide extended filter life in a wide range of applications (backflush kit STRONGLY RECOMMENDED)
proprietary hollow-fiber ultrafiltration membrane
multi-bore membrane structure combines seven single capillaries into one resistant structure to maximize membrane integrity, virtually eliminating the potential for fiber breakage
professional-grade housing, controller and flush valve
metered self-cleaning cycle flushes only when needed
day override feature flushes module daily with fresh water when system is not in use
protects during power outages or intermittent power
high surface area and tolerance to plugging
low pressure drop / high flow rates
peak flow rates up to 10 gpm (2271 L/h)

* Performance based on MS-2 (25 nm) and PRD-1 (65 nm) virus particle tests. Data available upon request.


| | | |
| --- | --- | --- |
| | | |
To maximize membrane capacity and service life, a metered flushing cycle is controlled using an advanced controller and high-performance turbine meter. The self-cleaning forward and back-flush cycles are initiated when the programmed capacity of the membrane is reached. During the backwash, flow is reversed and particles are ejected from the pores of the membrane and flushed to drain. In the forward-flush cycle, service water passes through the capillaries at a high speed, scouring particles from the membrane surface and rinsing them from the system. Since power is only required to flush the system, outages and interruptions will not jeopardize the integrity of membrane or its ability to provide safer, cleaner water.

The advanced electronic controller provides a programmable day override which allows the unit to flush every day with fresh water when the system is not in use. Critical system diagnostics, including totalized flow, instantaneous flow rate, and previous day's water usage, are available to optimize flushing cycles and monitor performance.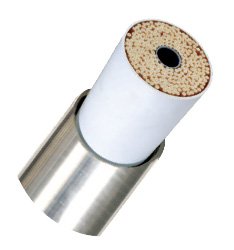 The high-performance industrial fiberglass housing is pressure rated to 300 psi. Inside the housing, the membrane is sealed with double radial o-rings, minimizing the potential for leak paths. Quick-connect endcaps allow the membrane to be easily removed for cleaning or replacement.
The system can be applied to solve "known" water problems including high turbidity, suspended solids, and certain microbiological contaminants. It can also serve as a flushable prefilter to extend the life of media filters downstream.
FreshPoint Back Flush Kit
We highly recommend that all installations of the FreshPoint U440 Ultrafiltration System include the optional treated water back flush kit (kit 61667-11). This kit includes a 3/4" normally open solenoid valve, solenoid wire harness, 3/4" PVC tee, 120 volt transformer, and a Pentek Structural ROMate 40 (40 gallon) backflush tank. The same kit is available without the actual backflush tank if you already have one (kit #61667-12). In back flush mode, treated water from the tank flows backwards through the membrane, providing a superior backwash to remove contaminants that may cause pre-mature membrane fouling, reduced service flow rates, and shortened membrane life. During the back flush cycle, treated water is also supplied to the home or business from the backflush tank.
For more information, see the FreshPoint Back Flush Kit Service Bulletin for details.
FreshPoint No Controller Option / Parallel Flow Configurations
The FreshPoint U440 is also offered without a controller. When used without a controller, the system flush can be triggered from the auxiliary relay of any Fleck brand softener or filter control with XT or NT controllers, a differential pressure switch, or even using manual ball valves. When multiple FreshPoint systems are installed in parallel flow configurations to increase service flow capacity, the flush cycle for multiple units can be triggered from a single meter and controller. Accordingly, only one system with a controller would need to be purchased, and all other systems can be purchased without a controller to reduce cost.
See the accessories section below to purchase the U440 without a controller.
FreshPoint Specifications & Performance Data:
Inlet/Outlet:
3/4 inch NPT
Membrane Housing Material:
Stainless Steel
Membrane
Material:
Polyethersulfone, modified (PESM)
Pore Size:
0.025 micron (nominal) / 0.065 micron (absolute)
Molecular Weight Cut Off (MWCO):
100-150 kD
Active Membrane Surface:
51 sq. ft.
Service Flow Rate @ 15 psi drop:
6.23 gpm to 10 gpm (1,416 L/h to 2,271 L/h)
Controller
Electrical Frequency:
50/60 Hz
Forward Flush Cycle:
1-99 minutes
Metered Volume:
1-9999 gallons
Meter Accuracy:
1-50 gpm +/- 5%
Please Note: The contaminants or other substances removed by this water treatment device are not necessarily present in your water.