Pentek U440-R Replacement Ultrafiltration Membrane (#355536-00)
Sorry, this item has been discontinued by the manufacturer and is no longer available. As servicing of older U440 ultrafiltration units is no longer possible, you may want to consider our UltraPlus UP-12 Ultrafiltration System as a replacement. It has superior resistance to membrane fouling and higher flow rate capabilities.
Replacement ultrafiltration membrane for the Pentek U440 Ultrafiltration System
Alternate Part Number: 61595-03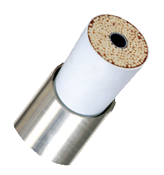 The Pentek U440-R Ultrafiltration hollow fiber membrane provides very fine point-of-entry filtration proven to reduce turbidity, particulates and cysts for safer, cleaner water at every tap. The membrane removes impurities as small as 0.025 microns.
For use in all Pentek FreshPoint U440 Ultrafiltration systems - not recommended for use in other models.

Features and Benefits:

> 98% reduction of 0.025 micron (25 nanometer) particles*
> 99.99% (> 4 Log) reduction of 0.065 micron (65 nanometer) particles*
retains natural mineral content of the water
multi-bore membrane structure combines seven single capillaries into one resistant structure to maximize membrane integrity, virtually eliminating the potential for fiber breakage
high surface area and tolerance to plugging
low pressure drop / high flow rates
peak flow rates up to 10 gpm (2271 L/h)

* Performance based on MS-2 (25 nm) and PRD-1 (65 nm) virus particle tests. Data available upon request.


Please Note: The contaminants or other substances removed by this water treatment device are not necessarily present in your water.