Pentek PBH Series Bag Filter Vessels / Housings and Accessories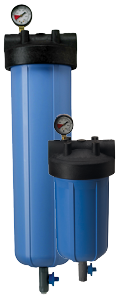 Pentek PBH Series bag vessel housing assemblies keep your system on stream longer by reducing bag filter change time. They are made of lightweight, corrosion resistant polypropylene to give you all the strength you need without the weight.
All PBH Series Vessels come complete with pressure gauge, spanner wrench, bag filter support basket, and 3/8" drain valve. The single large ACME thread closure ensures quick opening and positive sealing. Optional mounting brackets or support stands are also available (sold separately).
Molded from rugged, reinforced polypropylene, PBH Series bag vessel filter housings offer outstanding chemical compatibility and are ideal for use in a variety of low-flow applications. These applications include residential pre-filtration and food service, along with commercial and industrial applications for water filtration and chemical filtration.
We offer the Pentek bag vessel housings in 2 sizes, 10" or 20", and with 2 inlet/outlet sizes: 1", and 1 1/2".
The 10" bag vessels accept a standard 4" x 8.25" (102 x 210 mm) bag. The 20" bag vessels accept a standard 4" x 18.25" (102 x 470 mm) bag. Dimensions allow for 1" (25 mm) overlap on basket.
low pressure loss
Lightweight, corrosion resistant polypropylene construction
comes complete with pressure gauge, spanner wrench, bag filter support basket, and 3/8" drain valve
wide temperature rating: 40 to 100F (4.4 to 37.8C)