Powder Coated Double Mounting Bracket Kit For 2 Big Blue Housings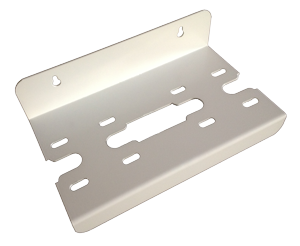 Part #: MB-BBx2-PC
This heavy-duty double mounting bracket is designed specifically for mounting two Pentek Big Blue filter housings. It provides a secure mounting point for the housings to reduce stress on the plumbing pipes. Unlike inferior mounting brackets on the market, it won't bend under the weight of heavy filter cartridges and water in the housings. Its white powder-coated finish reduces the risk of corrosion/rust.
The kit includes zinc-plated screws and to secure the mounting bracket to the housings.
A nipple is required to join the outlet of the first housing to the inlet of the second housing. A suitable NPT threaded nipple can be obtained at any hardware store that sells plumbing fittings.
white powder coating for corrosion / rust protection
heavy duty, won't bend under the weight of the full housing and filter cartridge