Nelsen NR04-FILTERPACK
Replacement Filter Kit for Nelsen NR04 4-Stage RO System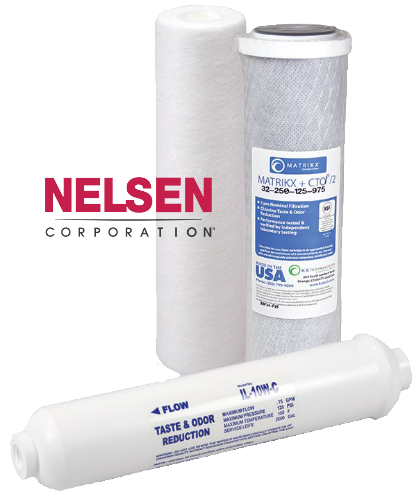 The Nelsen NR04-FILTERPACK is a kit containing each of the three primary filters for the Nelsen NR04 4-Stage Reverse Osmosis (RO) system. While the kit is designed specifically as the original equipment replacement for the Nelsen NR04 system, these 3 filters can be used on most 4-stage reverse osmosis systems that use conventional 2.5 x 10 inch pre-filters and inline carbon post filters.
This package includes:
(1) NP5 Sediment Pre-Filter Cartridge
(1) 32-250-125-975 Matrikx Carbon Pre-Filter Cartridge
(1) NINCF-10-QC Inline Carbon post Filter
Replacement RO Membrane not included.