Viqua (Trojan) UVMax Low UVT Ultraviolet (UV) Sterilizers
UVMax 50% UVT Rated Whole House UV Sterilizers
As part of their constant efforts to improve the field of UV sterilization, Viqua has adapted two of their trusted whole house units (E4+ and F4+) to operate effectively in situations where UV transmittance is below ideal levels while still allowing one to monitor treatment dosage. Previously, if faced with UVT levels of less than 75%, one would have to oversize a regular unit to guarantee adequate treatment or face constant alarms from their monitored unit; now, with these units calibrated to alarm at a UVT of less than 50%, there is a much greater threshold for those that would like to monitor dosage (i.e., those with known E.coli contamination) but have UVT levels between 55% and 75% due to contaminants present in their water supply.
Organic molecules are the main contaminant that reduce UVT after water has been passed through the required 5 micron sediment pre-filter. They are a byproduct of decaying organic matter and are most commonly found in surface water sources and wells under direct effect of surface water. A well that isn't properly sealed or has been drilled through a coal seam can also have issues with organic molecules. Some organic molecules, like certain types of tannins, can produce a visible colour in water, while others are completely clear. Ideally, one would remove the organics from their water supply entirely; however, due to the stubbornness of some organic molecules and/or the cost of implementing a system to treat them properly, these 50+ units are an acceptable alternative in many circumstances.
Trojan UV Max ultraviolet (UV) water sterilizers are designed specifically to kill harmful microorganisms such as bacteria and viruses in untreated water supplies (well water or surface water systems). Ultraviolet (UV) systems are commonly installed by homeowners who have received a positive coliform, e.coli, cryptosporidium, or giardia water test result, as well as those with reason to suspect that they are at higher risk for such contamination, and those seeking to have peace-of-mind that their water is being properly disinfected prior to consumption. Ultraviolet whole house water sterilizers are exploding in popularity due to their low maintenance requirements, ease of operation, economical purchase price and operating cost, and due to the fact that unlike other treatments designed for microbiological contaminants, UV does not introduce any harmful chemicals to your water. Viqua/Trojan Technologies is one of the world's largest water treatment companies and is regarded as both a pioneer and innovator in the area of ultraviolet water treatment for the home.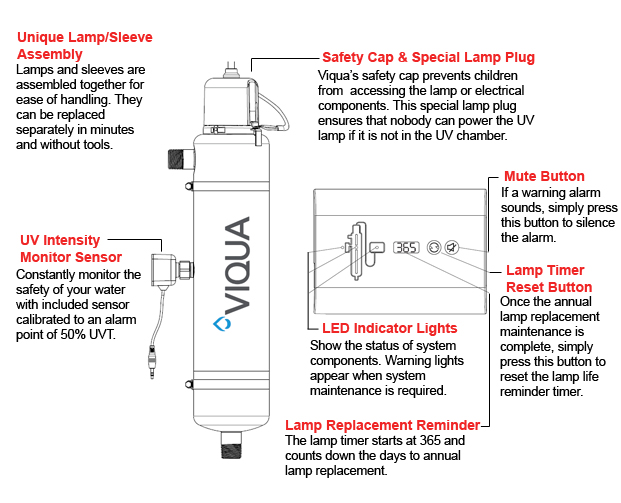 Advantages of whole house UV treatment with the Trojan UVMax
chemical free approach - no harmful bi-products or chemicals added to your water
effectively kills bacteria, viruses, mold spores, fungi, oocysts (cryptospridium and giardia), and other microbiological contaminants
simple operation, limited maintenance, and easy installation
low initial cost and ongoing operating cost relative to other treatment methods
The UV lamp, which is enclosed in a quartz sleeve, produces ultraviolet light that destroys waterborne pathogens such as bacteria and viruses by penetrating the cell wall and deactivating the DNA so they are unable to reproduce. The UV lamp should be replaced annually. For more information on the removal of various contaminants by ultraviolet purification, please CLICK HERE.
Pre-filtration (down to 5 micron level) to remove sediment and other general contaminants is required to ensure that an adequate dose of ultraviolet light reaches the microorganisms and to ensure complete disinfection. Optional in-line flow restrictors, emergency solenoid shut-off valves, and UPS back-up power supplies can be added to your system for added protection and functionality. Please call us toll free at 1-866-376-2690 if you would like to discuss your application.

High Output Whole House UVMax Models Rated For Low UVT Applications
Model E4-50+
Model F4-50+
Application
average
home
larger
homes
Max. Flow Rate
(UV dose >40 mJ/cm2)*
7 GPM
12 GPM
No Tools Maintenance
Audible/Visual Lamp
Failure Alarm
Lamp Timer Display and Reset
Constant Current Electronic Power Supply
Alarm Mute
Reference Card
UV Intensity Monitor w/ Diagnostic Test
Flow Restrictor Included?
optional
optional
Solenoid emergency shut-off valve kit
optional
optional
Water Chamber Material
316
stainless
steel
316
stainless
steel
UV Sleeve Material
quartz
quartz
Inlet/Oulet
1 inch NPT
1 inch NPT
Electrical
100-240v AC, 50/60Hz
100-240v AC, 50/60Hz
Max. Current (AMPS)
0.85
1.2
Max. Power (watts)
83
130
Lamp Power (watts)
70
110
Lamp Length
25.5"
65cm
39.75"
100.5cm
Chamber Assembly Size
30 x 4"
76 x 10cm
44.25 x 4"
112.5 x 10cm
Control Module Size
8.5 x 6"
22 x 15cm
8.5 x 6"
22 x 15cm
Free shipping within the U.S. and Canada on all Viqua (Trojan) UVMax UV systems!
Price
Model E4-50+
Model F4-50+
* For most residential applications, we recommend a UV dose of 40 mJ/cm2. All flow rate recommendations are based on this dose and 50% UV transmittance (UVT) and after 9,000 hours of bulb operation.

Viqua (Trojan) UVMax water purifiers feature the following benefits:
Learn More About Trojan UVMax:








1. High Output UV Lamps
The UV light is generated from a low-pressure, high-output lamp that provides a higher intensity of UV light making it possible to treat a given volume of water with smaller, more efficient units.
2. Unique Water Chamber Design
Trojan's unique water chamber optimizes hydraulic performance and increases disinfection efficiency. Designed by computer simulation and validated by bioassay testing, the water chamber maximizes exposure to the penetrating light. Trojan models to treat flow rates up to 45 gallons per minute (170 liters per minute) based on a minimum dosage of 30 mJ/cm2 are available.
3. New Power Supply Technology
Electronic advances in UVMax's power supply offer flexibility over a broad range of voltage supplies (100-240v). In addition, it can withstand fluctuations in voltage that most power supplies are unable to tolerate while maintaining lamp intensity to ensure continuous disinfection. Most models - see specifications for details.
4. Worry Free Operation
To help remind you when to replace the lamp (it is important to do it once every year), UVMax has incorporated visual and audio signals. And, at any time the display will tell you how many months the lamp has been in use. Should your lamp ever fail, your system will automatically sound an alarm. The Viqua (Trojan) UVMax features an intuitive control panels with indicator lights for each critical component, so at a quick glace, you can confirm that your system is operating properly.
5. UV Intensity Monitor
Viqua (Trojan) UVMax UV intensity monitors constantly assess the level of UV dosage within the UV reaction chamber to ensure that a safe disinfecting dose is always present. A 50% rated UV intensity monitor is standard equipment on all Viqua (Trojan) UVMax E4-50+ and F4-50+ units.
6. Optional Accessories
Whole house Viqua (Trojan) UVMax sterilizers can be equipped with an emergency solenoid shut-off valve which in the event of a power failure, lamp (bulb) failure, or decline in UV dosage below a safe disinfection level, will turn off your water supply to ensure no untreated water ever makes it to a faucet in your home.