Harmsco WB 5x170FL WaterBetter Filter Housing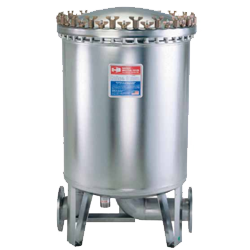 Harmsco
WB 5x170FL Stainless Steel Housing
Please call 1-866-376-2690 for price and availablity.
(0 Reviews)
Be the first to write a review.
Part #:WB 5x170FL
Harmsco's WB 5x170FL housing combines the potential of five WB 170SC units into one high-capacity housing. Being able to use the same WaterBetter cartridges found in the WB 170SC, this housing provides a variety of solutions for high capacity filtration needs at or below 750 GPM (for most cartridge types). The WaterBetter cartridge design allows for both easier filter changes and increased filter life, thus lowering operation costs. This housing's options allow one to choose between 304 or 316 stainless steel and a Buna-N, EPDM, or Viton rim gasket.
A chosen housing for commercial or residential drinking water, industrial waste water treatment, and reverse osmosis pre-filtration (among many other applications), this electropolished line also features a fail-safe closure system and Harmsco's patented upflow design.


wide variety of filter cartridge types
jumbo cartridge cluster design is easy to maintain
manufactured with a 1-1/2" NPT drain
minimal pressure loss due to Harmsco filter's large surface area
Features & Specifications:
Material:
304 Stainless Steel, standard
Cartridges:
Five 7-3/4" x 30-3/4"
Inlet / Outlet:
4" Flange
Temperature Rating:
up to 140F (60C), standard
Maximum Pressure:
125 PSI
Dimensions:
46" x 26" (1168 mm x 660 mm)
Flow Rate:
up to 750 GPM (2839 LPM)
O-Ring:
Buna-N, standard