E.coli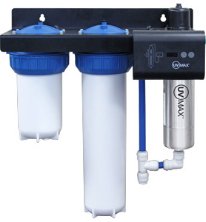 Trojan UVMax
IHS12-D4
MSRP:

US

$

1,745.00
Our Price: US$1,483.00
You save: $262.00
Found a Lower Price?
Request a Price Beat

E. coli (Escherichia coli) is a type of fecal coliform bacteria commonly found in the intestines of animals and humans. There are numerous strains of E.coli, the majority of which are relatively harmless. However, E.coli strain 0157:H7 is one of the most serious drinking water contaminants, responsible for numerous in North America deaths each year. Its small size (only 0.5 to 3 microns) makes it more evasive to catch in common everyday water filter systems. The presence of E. coli in water is a strong indication of recent sewage or animal waste contamination. During rainfalls, snow melt, or other types of precipitation, E. coli may be washed into creeks, rivers, streams, lakes, or groundwater.
E. coli O157:H7 produces a powerful toxin which can result in severe diarrhea (often bloody) and abdominal cramps. Frequently, no fever is present. Symptoms usually appear within 2 to 4 days, but can take up to 8 days. Most people recover without antibiotics or other specific treatment in 5-10 days. There is no evidence that antibiotics improve the course of disease, and it is thought that treatment with some antibiotics may precipitate kidney complications. Antidiarrheal agents should also be avoided.
In some people, particularly children under 5 years of age and the elderly, the infection can also cause a complication known as hemolytic uremic syndrome, in which the red blood cells are destroyed and the kidneys fail. Roughly 2%-7% of infections lead to this complication. In the United States, hemolytic uremic syndrome is the principal cause of acute kidney failure in children, and most cases of hemolytic uremic syndrome are caused by E. coli O157:H7. Hemolytic uremic syndrome is a life-threatening condition requiring blood transfusions and kidney dialysis. With intensive care, the death rate for hemolytic uremic syndrome is 3%-5%.

We recommend ultraviolet light (UV) disinfection systems to inactivate E.coli and other bacteria. They are cost effective, easy to operate, and reliable: