Where is POE installed?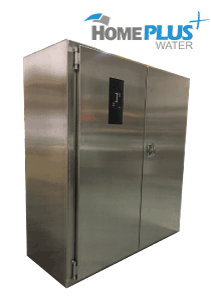 It is generally recommended that the POE equipment be installed inside the home at the location where the main water line enters the home. This reduces installation cost and provides the highest level of protection to the equipment. In most cases, only a standard electrical outlet is required. Consultation with the homeowner in advance is required to ensure that the equipment is installed in a mutually-acceptable location. Common installation locations include crawl spaces (subject to acceptable height), basements, and utility rooms.
The obvious disadvantage of these locations is maintenance access. For this reason, some POE applications have been installed outdoors either in a "box" mounted to the outside of the house, or curbside. This box must be heated and insulated and supplied with power. Outdoor installations, while offering much more convenient access for maintenance, are generally significantly more costly to install.
To reduce the risk of system tampering, some indoor-mounted POE systems have been installed in lockable enclosures.