Sterilight BA-ICE-SM Silver Plus Series Power Supply / Controller / Ballast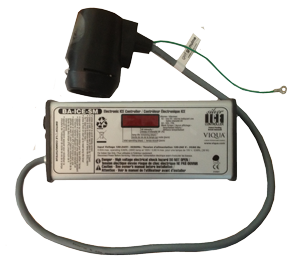 Discontinued
Replacement power supply/ballast for the following Sterilight Silver Plus Series (monitored) models:

SSM-14
SSM-17
SSM-24
SSM-37
SSM-39
This is the genuine original equipment replacement UV power supply / controller / ballast for Sterilight Silver Plus Series UV sterilizers (monitored models).
The BA-ICE-SM ballast features a water-tight case, 4 segment LED display showing % UV intensity, lamp life remaining and total operating time, audible indicator, and solenoid output. Comes with lamp connector.
Specifications:
Voltage: 100-240 volts
Power cord sold separately - do not discard your power cord with your old ballast!
We only sell genuine Sterilight brand replacement parts from Viqua. The use of non-original equipment with your UV system could void your warranty and/or result in system damage, pre-mature lamp failure, loss of equipment validation, inadequate water disinfection, and even hazardous electrical shorts. Don't settle for anything less than genuine Sterilight parts for your system. Beware of knock-offs!