UltraPlus+™ UP-12 Replacement Ultrafiltration Membrane (UP-12-REPL)
Replacement ultrafiltration membrane for the UltraPlus+™ UP-12 Ultrafiltration System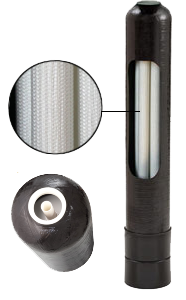 At the heart of every UltraPlus+™ UP-12, The UP-12-REPL hollow fiber membrane provides very fine point-of-entry filtration proven to reduce turbidity, particulates and cysts for safer, cleaner water at every tap. The membrane removes impurities as small as 0.02 microns (absolute). This membrane is also capable of removing certain types of organics and tannins, and can acts as an effective part of a multi-barrier treatment system for microbiological contaminants such as bacteria and viruses.
For use in all UltraPlus+™ UP-12 Ultrafiltration systems - not recommended for use in other models.

Features and Benefits:

Removal of very fine sediment, turbidity, suspended colloids, cysts (cryptosporidium and giardia), and other physical particles down to 0.02 microns absolute
Peak service flow rate of up to 12 GPM (10 GPM continuous flow) - higher flow than the competition!
Easy to install and maintain
Very low water waste - membrane back flush uses only about 10 gallons per day
Unique bundle of 4 hollow-fiber ultrafiltration modules with a massive surface area of 194 square feet - more than 4 times the surface area of its largest competitor
Longer membrane life
Please Note: The contaminants or other substances removed by this water treatment device are not necessarily present in your water.